Two well-known films about autism are "Rain Man" and "The Accountant."
"Rain Man" starred Dustin Hoffman who played Raymond Babbitt and co-starred Tom Cruise who played his brother. The film won four Oscars in 1988.
The other major film about autism was the 2016 film "The Accountant" starring Ben Affleck and co-starring Jon Bernthal as his brother.
These two films featured characters who were autistic savants.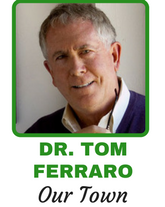 In "Rain Man" Dustin Hoffman demonstrated the autistic traits of repetitive speech, flat affect, poor eye contact, unusual hand movements, and rigid routines. He also showed uncanny memory and rapid calculation.
In "The Accountant," Ben Affleck played a character who was able to see hidden patterns in numbers and a zeal to complete tasks and these two abilities allowed him to achieve unusual success in the field of accounting.
In this column, I will explore the impact that autism has on the families.
Autism is considered a neurodevelopmental disorder striking about 1 in 68 as of 2012.
The diagnosis can now be made early on. There are a surprising number of famous people who have been diagnosed or who are thought to be either autistic or Asperger's including Albert Einstein, Charles Darwin, Mozart, Mark Twain, George Orwell, Lewis Carrol, Temple Grandin, Daryl Hannah, Andy Warhol and Dan Aykroyd.
The symptoms include repetitive speech, lack of social awareness, inability to sustain friendships, poor eye contact, failure to understand personal boundaries, rigid routines, narrowed interests, an insistence on finishing tasks, excellent pattern recognition, and superior math skills.
Unfortunately, they are often ridiculed and bullied by their peers for being different or odd. Much has been written about the autistic sufferer but far less about the families of the autistic child. The parents uniformly report feelings of exhaustion, stress, financial burdens, isolation, shame and anxiety.
Siblings of the autistic children often feel neglected, ashamed and worried.
I am a sports psychologist and naturally, I know much about the people in the world of sports.
I would like to tell you about two exemplary cases of athletes who have been touched by autism and developmental disability and how they managed to cope.
The first case is that of "The Big Easy," Ernie Els. He is a Hall of Fame golfer who has won four majors and 65 titles worldwide.
This South African was labeled "The Big Easy" because of his smooth effortless swing and his casual relaxed manner.
Ernie and his wife Liezl were living the good life with a young daughter Samantha but when their second child was born the family learned about autism first hand.
Ben Els was soon diagnosed with autism and the way Ernie described it was "first we were in shock, then we felt a phase of disappointment but then we knew we must move ahead." And their way of 'moving ahead' was to establish the Els Center of Excellence in Jupiter, Fla.
The center opened its doors in 2015 and is one of the world's state of the art centers for research and treatment of autism. It has divisions in education, research, global outreach, recreational services, therapy and adult services.
The second case is that of the Jordan Spieth family.
Jordan Spieth is a professional golf superstar and you may have noticed his image on the Wheaties box.
In 2016 Time Magazine included him in the list of "100 most influential people in the world" stating he "exemplifies everything that is great about sports."
He is young, handsome, fearless, a multiple major winner, and has already been ranked No. 1 in the world. But his story has been defined by his younger sister Ellie who is not autistic but who is seriously developmentally delayed.
The reason that Spieth is so well loved is that he consistently displays an attitude of kindness, loyalty and respect for his peers and his fans. In turn, they love him right back. He is the only golfer that has the charismatic warmth and genuine likability of Arnold Palmer.
Spieth has toughness and warmth. And I guarantee you he acquired this goodness of character because of his disabled sister.
Any hint of narcissism that he may have had was extinguished and replaced by empathy and compassion.
I described the films "Rain Man" and "The Accountant" two films showing how a sibling of an autistic child is destined to develop a special warmth, protectiveness and sympathy for the more unfortunate one.
Life works in mysterious ways.
When tragedy comes into a family there is shock and then there is grief. Any family who has raised an autistic child understands this all too well. But the way human nature works is that we have an enormous capacity to adapt, to endure and to overcome.
Humans beings grow beyond tragedy in remarkable ways. The most beautiful flower in existence is the ghost orchid that is only found in the darkest and most dismal swamps on earth.
Susan Orlean's book "The Orchid Thief" was all about this miracle flower.
Jordan Spieth overcame his family's tragedy and so did Ernie Els and his wife.
But they are merely two examples of what happens in every family with an autistic child. The siblings and the parents suffer mightily but the suffering creates in them something kind and good and gentle.
I see this in the families I treat who have an autistic child. It is just like Jordan Spieth said when asked about his sister "Ellie is the best thing that ever happened to our family."
So if you have been raising an autistic child or one of your siblings is one do not lose hope. Take a moment to think about all that goodness and strength and compassion that has been born within you.
That will be your legacy.