Here's how 8-year-old Avery Gray said he came up with the story for his published book The Story of Zachary the Cookie: "I just thought a lot."
He thought about food and then he thought about cookies and soon he had a whole book about the friendship between a man and a talking cookie, which Gray's mother, Tasha Bolling, helped him publish.
Though The Story of Zachary the Cookie officially makes Gray a published author in the third grade, it's by no means the only book he's written.
He has shoeboxes full of books he made, Gray said.
He asked for paper for Christmas, his mother said.
"That's all he does," she said. "Most of the kids will go to the video games. He'll read and write."
Gray, who lives in Manhasset, said he writes because he likes to tell stories. He gets inspiration from things he likes, often sports, videogames and superheroes.
But his inspiration to write came from Bolling, he said, who is an author herself.
Bolling has self-published three books through CreateSpace, an independent publishing service owned by Amazon.
She said she started in poetry then transitioned to fiction.
"I can express myself," she said. "I can say whatever I want. I can be whoever I want. I can imagine."
Now her 8-year-old is doing the same. Every day, when he goes home, he writes in his room, Gray said.
"He's good at it," said Gray's older brother Ty'Shaun Gray. "He said to me he has more books to publish."
Before going home from Shelter Rock Elementary School, Gray spends a few hours at Adventures in Learning, an after school program for Manhasset and Great Neck students that he's been attending since kindergarten.
On a Thursday afternoon, he goes to grab his backpack. Out comes another book he wrote.
Each letter of the title, Animal NFL, is a different color. The thick paper is fastened with two staples.
It's a comic book, a differing format from most of his other books, Gray said.
The story is about two competing teams consisting of variety of animals, and the dialogue reads like a sportscast.
"Tortoise passes it to monkey for a TD," Gray wrote. "They go for a 2-point conversion. It is good."
He said the next book he plans to publish is about a superhero determined to take down someone "who escaped out of jail three times and got arrested four times."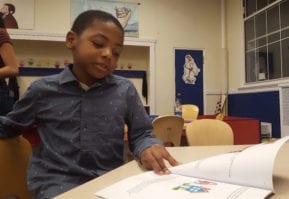 "We're just so very proud of Avery," said Diana Holden, Adventures in Learning executive director who helped edit The Story of Zachary the Cookie. "He's one of our shining stars."
Since publishing his book, Gray gave a copy to every student in his class at Shelter Rock Elementary School. Bolling is in talks with staff at the school about it being sold at the school book fair. It's also for sale on Amazon. 
Gray has the publication date, Sept. 22, easily memorized, and he said he feels happy that his book was published.
Why?
"Because I'm an author," he said.