No matter if you are someone who is into working out and hiking or someone who wants to grab a snack while working, energy bars are a good option to go for. These snacks come in different flavors and options and are rich in nuts, dried fruits, and whey protein to keep you full and provide you with the necessary nutrients.
However, with so many brands to buy from, finding the right ones that don't contain a lot of amounts of sugar is not easy. Therefore, we have gathered a short list of recommendations according to taste, caloric efficiency, and ingredients that the snack has. So if such products are something that interests you, keep reading to find out our choices for an energy bar that you can find on the market.
5 Best Natural Energy Bars Of 2022 In the Market
#1. Authentic Bars – Overall Best Energy Bar
Authentic Bar is a top choice for us, and it is a product made by a well-known brand Jacked Factory. The brand started in 2014, and it is dedicated to research in order to create the finest products and make your fitness journey the best possible.
The effectiveness of their products comes from the scientific-backed ingredients they use, which also don't contain any artificial fillers. The brand is also very transparent about the products it makes and sells and is determined to make them affordable but effective and accessible for everyone.
Features
Authentic Bar Ingredients
Jacked Factorys' energy bars are rich in protein as the main ingredient is a whey protein isolate. The bars are sweet because they contain natural honey and are available in several different flavors to choose from, such as Cookie Crumb, Birth Cake, Peanut Butter Candy, Chocolate Chip, Cookie Dough, Coconut Cashew, Kitchen Sink, Mint Chocolate Chip, and Caramel Apple.
Besides these, the Authentic Bars contain almonds without any soy protein, making them ideal treats to recover your energy no matter what you do throughout the day. What is more, the bars have a soft texture and easily melt into your mouth. Other ingredients that you can find in such an energy bar include coconut, salt, brown rice syrup, natural vanilla flavoring, etc.
What we really like about Jacked Factory's Authentic Bars are the organic ingredients used and the fact that they don't contain any artificial sweeteners and added sugar alcohol, which is very significant. Their energy bars are manufactured in the USA, using cGMP guidelines and using industry standards for quality, safety, and potency.
If you are looking for energy bars that have a lot of protein and are suitable for increasing energy, the Authentic Bars are the ideal treat, containing 15g-16g of protein in each bar. These delicious snacks are also perfect for taking on the go whenever you like, and they are healthy. In addition, the bars provide you with the necessary carbohydrates, proteins, and healthy fats to improve your healthy lifestyle, and they don't have a weird aftertaste.
Price and Customer Policies
Popular as a reliable brand, Jack Factory wants to make its products not only highly effective but very affordable. With that being said, if you would like to be able to enjoy these delicious treats, you can purchase them from the brand's site for a price of $12.99-$24.99. You can purchase a pack of 12 or a pack of 6 bars and enjoy the benefits they provide.
The company also offers free domestic shipping, which is very fast, but also ships internationally, and the rate depends on the country and the amount of product that you buy. Additionally, there is a 90-day money-back guarantee in case you are not satisfied with these treats.
Pros
The energy bars are available in several mouth-watering flavors
The snacks are high in protein, and their texture is amazing
No stomach discomfort or aftertaste after eating them
Ideal for on the go and making you full and energized
Made with real-food ingredients for an affordable price
Cons
The company doesn't ship to all countries worldwide
The website is not very informative about the product
=> Click here to visit the official website of Authentic Bars
#2. ALOHA – Energy Bars Suitable For A Broad Audience
The ALOHA energy bars are made from a Colorado-based brand with the same name ALOHA. The brand values health and wellness, so the team behind the brand is dedicated to creating plant-based products that are natural and organic. ALOHA puts a lot of thought and cares into the whole product creation process and, as a result, offers effective and delicious products for reasonable prices.
Moreover, the brand caters to a wide audience of customers, so their products are vegan, gluten-free, soy-free, and dairy-free for easier digestion. Their line of products includes delicious energy bars, protein drinks, and protein powders. The brand has a large customer base and also have been featured in several popular media outlets.
Features
Aloha Energy Bars Details
Whether you are exercising daily, going to work, running errands, or doing other daily tasks, your body needs additional energy so it can function properly. ALOHA energy bars are delicious and portable treats that you can enjoy wherever you go and come in a wide range of flavors to select from.
These are: Peppermint White Chocolate, Peanut Butter Cup, Chocolate Chip, Chocolate Chip Cookie Dough, Chocolate Mint, Coconut Chocolate Almond, Chocolate Fudge Brownie, Vanilla Almond Crunch, and Caramel Sea Salt. The snacks are organic, vegan-friendly, and gluten-free without any artificial ingredients.
We can safely say that ALOHA has something for everyone's taste. These snacks contain a natural protein blend and other natural ingredients, depending on the flavor that you select. For instance, the Coconut Chocolate Almond bar contains organic coconut, vanilla extract and powder, chocolate chips, 14g protein, and others, while the Vanilla Almond Crunch has brown rice crisps, organic sunflower butter, roasted pumpkin seeds, 14g protein, etc.
In the same way, ALOHAs' Chocolate Mint option contains an organic protein blend that will provide you with the energy that you need, along with other organic ingredients like cashew butter, cocoa powder, sunflower oil, organic peppermint, tapioca fiber, etc. and the similar ingredient list can also be found in the Chocolate Fudge Brownie options.
Since these treats are vegan, they also don't contain many calories, their texture is smooth, and the consistency holds everything together well. What is more, the energy bars don't contain any extra added sugar, alcohol, or stevia, and they are USDA-certified.
Benefits and Customer Policies
All of the brands' energy bars are nutrient-packed. They are made only with natural ingredients and suitable for a wider customer base. If you are someone who likes to often try something new and can't decide which of the delicious options to choose, we understand. Luckily, ALOHA also sells a sampler pack of all of the flavors, so you can try and decide which ones are your favorites.
You can order the sampler pack from the brands' official website, costing $34.99. On the other hand, if you know your flavor, you can get a 12 bar box for a price of $32.99 and $19.99 for the Peanut Butter Chocolate Chip. The brand also offers fast shipping on all orders and free shipping for orders above $40. Additionally, if you subscribe, you can save 10% of the order. However, if the product is already shipped, you will not be eligible for a return.
Pros
Energy bars are made from natural ingredients sourced from organic farms
They are suitable for people with different meal diets
The energy bars will provide you with necessary nutrients and make you full and energized
Plenty of flavors to select and enjoy for reasonable prices
These products are also safe for kids
Cons
There is no return policy once the energy bar is already shipped
The company only ships to USA and Hawaii
=> Click here to visit the official website of ALOHA
#3. Primal Kitchen – Popular For People With A Keto Diet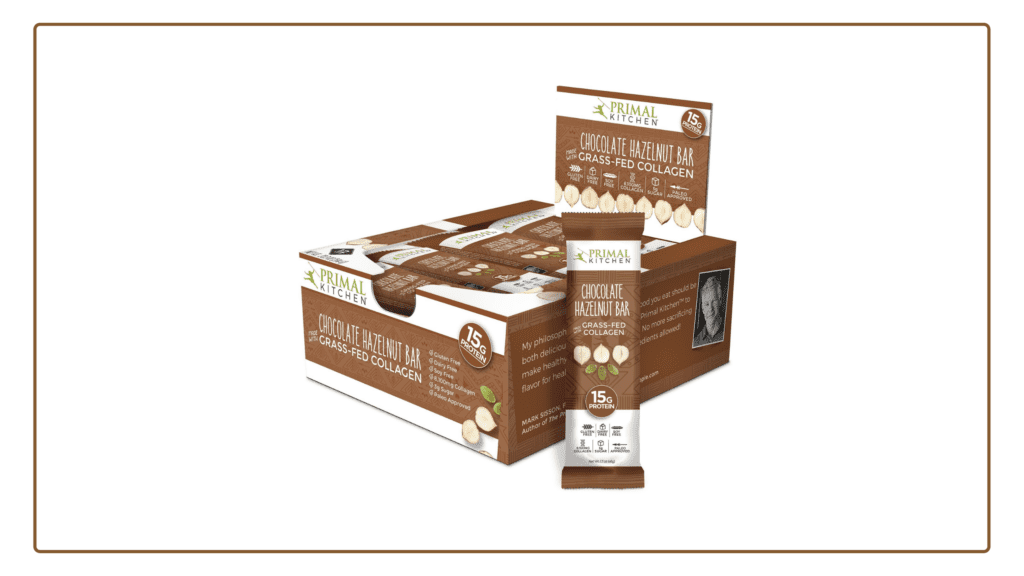 Next on our list are the well-known protein bars made by Primal Kitchen. The brand was founded by Mark Sisson who believes that food is the optimal key to health and wellness, so the brand is dedicated to creating products that will not only be great-tasting but healthy and effective as well.
The range of products that Primal Kitchen sells include mayo, dressings, sauces, ketchup, and mustard, as well as vegan and whey protein products. The brands' main goal is to create products that will improve the healthy lifestyle of all of its customers.
Features
One of their most desired products is the protein bars which are made to keep you full of energy throughout the day. The bars come with 8-9g protein, 9-10g carbs, 2g added sugar and are gluten free making them an ideal daily treat.
These snacks are made from real ingredients such as cage-free eggs, coconut oil, nuts, and flax seeds, which makes them Keto friendly. Moreover, Primal Kitchen Protein Bars have no refined sugar, stevia, or sugar alcohols. These delicious snacks come in three flavors that you can select from Chocolate Sea Salt, Coconut Lime, and Almond Spice.
They are sweetened due to the natural sweeteners like honey, and organic monk fruit extract used but contain only 2g sugar. Another essential thing worth mentioning is that the energy bars are suitable for a wider range of customers as they are gluten-free, soy-free, grain-free, whey-free, and dairy-free. The texture is soft, which we really like, and easy to chew.
If you are searching for a tasty and keto-friendly energy bar that you can snack on anywhere that you go, then trying the Primal Kitchen protein bars might be the ideal solution for you. Despite the convenience, these treats are tasty and rich in nutrients that are necessary for your health.
The Peanut Butter option is perfect for those who enjoy that taste, and they have the right amount of flavor, whereas the Almond Spice bars have a subtle taste and notes of cinnamon and gingerbread. The Coconut Lime is also a delicious treat for those who enjoy the taste of coconut.
The reason why we really like Primal Kitchen Protein Bars is that they are a great source of protein that we need and are easy to digest. They are not only keto-friendly but also paleo-friendly as well. Due to the ingredients used in such energy bars, these snacks are also allergen-friendly. However, if you have allergies, it is important to check the ingredients list before eating the energy bars.
Price and Customer Policies
All of these delicious treats are sold on the Primal Kitchens' website, and you can purchase them for a price of $33 for a pack of 12 bars. The brand also offers free standard shipping if your order costs more than $50 and international shipping. However, there are some restrictions regarding some products, so if you are unsure whether a certain product can be shipped to your country, you can contact the brand.
Pros
There are three delicious options to select for reasonable pricing
These energy bars will give you a protein boost
All of the options are keto-friendly, which may help you maintain weight
They are suitable for customers with different diets
The snacks don't contain ingredients that can be harmful to the health
Cons
The energy bars come in a smaller size
Some people might prefer a higher amount of protein
=> Click here to visit the official website of Primal Kitchen
#4. Quest Nutrition – Unique Delicious Favors For Selection
Quest Nutrition is a brand that is focused on the users' experience, so they want to make products that customers enjoy. The brand specializes in creating protein products with a minimized level of carbs and sugar and which come in delicious flavors. Quest Nutrition spends a lot of time looking for ingredients that will make its products effective.
Moreover, the company uses low-calorie sweeteners for its products as well as FDA-approved fiber sources. Quest Nutritions' products are often recommended by customers and experts, such as personal trainers, which is of great significance for many buyers.
Features
Flavor Options and Ingredients
As we have mentioned, Quest Nutrition values the customers' experience, so they offer an extensive range of unique flavors to select from regarding delicious energy bars. Their line includes flavors such as Birthday Cake, Blueberry Muffin, Chocolate Chip Cookie Dough, Mint Chocolate Chunk, Pumpkin Pie, White Chocolate Raspberry, Lemon Cake, and more.
The ingredients used and the protein amount depend on the option that you select, so there is something for everyone's taste. With this in mind, the Birthday Cake energy bar contains 20g of protein along with protein blend, natural flavors, sea salt, sunflower lecithin, as well as milk and almonds.
On the other hand, Chocolate Peanut Butter has 20g of protein and contains ingredients such as milk, cocoa butter, stevia sweetener, unsweetened chocolate, and others. One of the brand's most wanted flavors is the Mint Chocolate Chunk that is refreshing but sweetened.
It contains 20g of protein as well as milk, almonds, cocoa butter, etc. Additionally, if you are fond of white chocolate, then you can try the White Chocolate Raspberry energy bar, containing 20g protein, protein blend, milk and almonds, and other ingredients. No matter what kind of flavor or texture you prefer, you will probably find what you are looking for at Quest Nutrition.
These tasty snacks are easy to digest. And are ideal for people who are on the go, fitness enthusiasts, people who enjoy hiking in nature, and others. Moreover, you can eat them as they are, or for an even more delicious experience, microwave them for at least 15 seconds and enjoy the treat.
What makes them different from many other energy bars in the market is that their texture and consistency are made to make the flavor more intense. Although when you eat the energy bar, you will have an impression of eating a sweet snack. The sugar levels that such products have been low.
When it comes to calories, these treats contain from 170 to 210 calories and have a higher fiber content. They are intended to make you full and provide you with the energy that you require throughout the day, no matter what you do or where you go.
Price and Customer Policies
All of the energy bars from Quest Nutrition can be bought for a price of $27.49. But you can also purchase a Peppermint Bark or Dipped Chocolate Chip Cookie Dough for $9.89. Additionally, if the cost of your order ranges between $65 and $199.99, you will get free shipping as well. The brand cares about all of its customers, so if you are not satisfied with their energy bars, you can contact them to find the most convenient solution.
Pros
Different flavors to choose from for a reasonable price
The energy bars are rich in protein but have low sugar and carbs
Made with ingredients that are safe to consume
The texture is amazing, and the unique flavors are delicious
Made from a trustworthy and customer-oriented company
Cons
The price can be high for some customers
The sugar alcohol may cause stomach discomfort
=> Click here to visit the official website of Quest Nutrition
Another spot on our list of some of the greatest energy bars on the market secures the Crunchy Peanut Butter bar from the brand Kind. The brand was founded in 2004 by Daniel Lubetsky, who is dedicated to providing healthy snacks for all customers.
As the name suggests, the brand wants to make the customers both kinder and healthier versions of themselves, so they want to create high-quality products that everyone will love. What is more, the brand is an advocate for social changes, so they state that kindness can change everything.
Features
Crunchy Peanut Butter Ingredients
If you are a fan of peanut butter, then you will certainly enjoy this delicious snack. The bar contains whole peanuts, and its texture is crunchy. Furthermore, this treat contains 12g of plant protein, as well as ingredients such as peanuts, soy protein, honey, peanut flour, milk powder, sea salt, glucose syrup, and others.
If you are highly allergenic, it is significant to know that this product may also contain tree nuts, sesame seeds, and shell fragments. Also, such an energy bar is gluten-free, and it doesn't contain any artificial colors, flavors, or preservatives that can put your health in danger.
The Crunchy Peanut Butter energy bar by Kind is not only delicious, but it is a great source of protein and fiber. The treat is suitable for everyone on the go with a busy life. It works as a snack that can replace a meal for some time and provide you with the energy and nutrients that the body needs. This energy bar also doesn't contain fat. It has a low glycemic index and sodium as well. Moreover, the treat is kosher and is free of any genetically engineered ingredients.
Price and Customer Policies
The price for 12 Crunchy Peanut Butter bars from Kind is $21.10. But if you subscribe, you can save up to 10% of your purchase. Kind also provides many user-friendly policies. Such as fast and free shipping on all orders above $40, along with free shipping on all subscriptions. In addition, the brand offers free snacks and even 50% off your purchase for every fourth order, which is an excellent deal.
Another amazing thing about Kind is that it provides 15% discounts for first responders, military, doctors, teachers, nurses, and students. You can also customize your snack box containing 20-40 snacks for a reasonable price. And get an opportunity to try some of the Kind's best products or make a perfect gift for a loved one.
Moreover, the brand offers a rewards program. For which you earn rewards every time that you make a purchase. Later you can redeem them as discounts. If you are not satisfied with your purchase, notify the brand within 15 days to become eligible for a return.
Pros
A delicious energy bar that will keep you full and energized
A great source of protein and fiber
The bar doesn't contain artificial ingredients, and it is gluten-free
Made from a reliable brand that offers generous discounts and policies for all customers
A perfect treat for people on the go made with safe ingredients
Cons
Some individuals can be allergic to the ingredients used in the treat
The level of protein is lower as opposed to some other energy bars
=> Click here to visit the official website of Kind Crunchy 
Factors to Consider When Looking for an Energy Bar
People who are looking for tasty treats that will fuel them with sustained energy after a workout or satisfy their appetite and provide them with necessary nutrients often search for energy protein bars.
However, there are plenty of options to choose from, and not all of them are made with safe ingredients. Therefore, when buying, especially if you are looking to buy for the first time, finding the right energy bar for yourself can be challenging. Here we present you with some tips that can help you make the right healthy choice.
Check the Ingredients
The main factor that you need to take into consideration when looking for an energy bar is the ingredients that the product consists of. The reason for this is because the ingredients make the products quality, and they also affect your health and wellness.
Therefore, we suggest looking for energy bars that are made out of natural ingredients that are safe to eat and staying away from products that contain artificial ingredients and flavors that can be dangerous for your health.
Protein and Carbs Content
While we are on the topic of safe ingredients, what you need to do is check the amount of protein that the bar contains as such a product is a source of protein that the body needs. In the same way, if you are looking for a snack that will provide you with energy, you need to look at the number of carbs that it contains and make sure that the ratio between carbs and protein is balanced.
Another important thing regarding the bar's ingredients is to check whether you are allergic to them before you spend your money and place an order in order to avoid any unwanted effects.
The Amount of Sugar
Another factor that is worth considering is the amount of added sugar that the energy bar has. The reason for this is that most energy bars contain similar sugar content to some well-known chocolate bars, which is not the result that you require. For that reason, we suggest looking for an energy bar that has 10g or less sugar and is made with natural sweeteners to provide the best flavor.
Variety and Taste
The energy bar should not only provide you with the benefits that you need but also need to be delicious for a better experience. With this in mind, we suggest looking for a brand that offers a variety of flavors that you can try and enjoy and look for ones that are tasty, have a good texture and consistency and don't have a weird aftertaste. The energy bars on our list are highly-rated by numerous customers regarding taste, and they are easy to digest as well.
Price 
Before you decide to buy an energy bar, we also suggest determining your budget. However, buying budget-friendly options is not always the right path to go as it can lead you to poor-quality products. For this purpose, we suggest comparing prices and checking whether the energy bars are good quality and safe to consume and then checking which one to select, as you probably don't want to spend more money than you initially wanted to.
Brand Reputation and Customer Reviews
Another thing to keep an eye on during your search for energy bars on the market is the brands' reputation. How well a brand is established on the market can tell you a lot about the product it makes and sells, so we suggest doing small research before you spend your hard-earned money.
Another thing that can help you make the right decision is reading reviews and comments from other customers who have expressed their experience using the specific energy bar. By doing so, you will know what to expect from the product and whether you can trust the brand.
Who Can Use Energy Bars and How to Stay Safe Using Them
Anyone who is looking for a tasty treat and a source of protein and energy can use such a product. However, if you are struggling with a medical condition and following a specific diet, you need to consult a physician and get advice before you decide to replace a meal with an energy bar.
In addition, pregnant women or women who are nursing should also contact a medical expert to get advice on how many calories they should consume on a daily basis. Another thing to keep in mind is that although some energy bars don't contain ingredients that you are allergic to, they might be manufactured in a place with other products they have.
Therefore, it is essential to check all the product labels before consuming. In addition, it is significant to eat the energy bars moderately and don't exceed the amount that you eat, to ensure that you will not experience any unwanted effects such as diarrhea, cramps, stomach bloating, and other uncomfortable symptoms.
How We Listed Of Some of the Best Energy Bars That You Can Buy 
Now that you are familiar with the tips that can help you find the high-quality energy bar for yourself, let's have a look at some of the criteria we followed to create our list. This will also help you make the right decision and inform you more about the brand and the products they sell. Here are the guidelines that we followed:
We included energy bars that are not only tested for quality and safety but also tested by various people, including ones that often go on outdoor adventures about the effects they provide.
We were looking for a variety of flavors to enjoy and energy bars that taste great without any weird aftertaste.
The ingredients used in the creation process of the energy bar were also criteria for us as we made sure to include only natural energy bars without artificial additives.
Another thing we looked at was the energy bars' texture which included energy bars that are easy to eat with a similar texture to other food.
Caloric density is also something that we have included in our research as we were looking for energy bars that are effective.
Along with the ingredients, we took a look at the amount of dietary fiber, fats, and other ingredients that can affect your body and your energy.
The energy bars that we included on our list contain organic ingredients, are non-GMO, have unprocessed ingredients with low sugar levels, or are made with natural sweeteners.
Also, we conducted research about all the brands that sell these products to find the ones that are well-reputed and highly rated by numerous customers.
Frequently Asked Questions About Energy Bars
What exactly do these energy bars do?
The energy bars are delicious snacks that work as a supplement filled with nutrition to provide you with additional energy during the day. It is because they contain protein, carbs, and calories.
They can be consumed between meals for more energy and muscle strength. When you feel hungry during the day, the energy bars are healthy snacks that you can eat to fill your stomach for some time, and they are a better option than hopping on junk food.
Can energy bars help you lose weight?
The energy bars are not for weight loss. However, if you combine them with regular exercise and a healthier diet, you might notice a difference.
Since these bars are low in energy and used as a high-calorie meal replacement during the day, by eating them and working out, you will be able to burn more calories than you are consuming, so there is a possibility of weight loss.
How quickly do such products work?
When you eat a good quality energy bar, your body will be able to digest it immediately. Although the results may differ, these tasty snacks can help you reduce hunger and keep you full for at least a few hours after you eat them. If you are working out, you can also eat an energy bar for at least 1-2 hours before you start working out. With that, if you are looking for a quick snack between your meals, energy bars are worth it.
Is there a difference between energy bars and protein bars?
Even though they are very similar, the purpose of eating them is different. In other words, energy bars are snacks that will boost your energy through the carbs that it contains. Protein bars have a lot of protein and are for those that want to increase their intake before working out.
As you have probably noticed, energy bars also contain protein. But the amount is not as high as compared to protein bars. With this in mind, if you are looking for a treat to keep you full during meals and increase your energy and make you less tired, the energy bar is a healthy treat that you can enjoy.
How many energy bars in a day?
There is no universal answer to this frequently asked question. Usually, people eat one or two energy bars a day. Still, you can eat more if that is your preference. Do not exceed more than four energy bars in one day.
The body also needs other nutrients that you can get from eating meat, fruit, vegetables, grains, and other meals. Find an energy bar that contains the correct amount of nutrients to provide the desired effects. Do not eat more than what is recommended by experts.
Are there any side effects from eating an energy bar?
High-quality energy bars are made from natural ingredients and contain vital nutrients. Such products are less likely to have any side effects but can make you feel full and bloated if you eat more than is suggested.
As we have already established, such treats can assist you in filling the gap between the meals. But they are not a replacement for meals, as your body also needs other nutrients, minerals, and vitamins to function.
Look for energy bars made from organic ingredients. Go through the label to see the amount of protein, carbs, fats, and sugars that the product offers. Buy according to the results of your choice to avoid any potential side effects and uncomfortable symptoms.
You need to be aware of certain ingredients such as sugar alcohols, inulin, and chicory root fiber since they can cause bloating and stomach ache.
Conclusion: Whats Most Important To You In An Energy Bar?
Whether you are busy at work or going out for outdoor activities during the weekend, these delicious bars are a great energy booster. They provide you with many necessary nutrients that your body needs. You can find such treats everywhere, as many online brands sell them, and you can also buy them at the local stores.
Try to find the right energy bar that doesn't contain artificial ingredients. A decent amount of sugar in it will work and make you energized and full throughout the day. All of the energy bars on our list are from well-reputed brands that are determined to create the highest quality products, and they are very customer-oriented.
The Market is full of a variety of energy bar brands. Since it is difficult to find the right ones from so many options online, having recommendations can help.
Therefore, we suggest checking all of the energy bars on our list and selecting the one that helps your healthy journey deliciously.