With today's fast-paced life, not many of us have the privilege to visit the gym. But have you ever thought about bringing the gym into your home? It is easy and affordable, and it will save you a lot of precious time.
One of the most popular machines at all gyms is the treadmill. They are famous because you can burn calories and also tone your muscles at the same time. Overall we can say it is a versatile machine that provides you with many benefits, one of which is calorie burning.
So, in this article, we will review some of the treadmills that are perfect for home use. They are all completely safe to use and compact so that they will fit in a small apartment or anywhere in your home.
Best Treadmills Brands For Indoor Running & Home Workouts 
The following names are some of the best, highly reputable brands that can provide you with excellent performance and long-lasting treadmills.
XTERRA Fitness: Overall Best Brand for Treadmills, Editor's Pick
Bowflex: Top Brand To Buy Folding Treadmill in the Market
NordicTrack: Most Recommended & Affordable Home Treadmill for Incline Training
Horizon Fitness: Most Popular Brand For Best Value Streaming Treadmill
#1. XTERRA Fitness: Overall Best Brand for Treadmills, Editor's Pick
Brand Overview 
XTERRA Fitness is one of the best leading brands in the fitness industry. They are based in Jonesboro, Arkansas, and their main goal is to provide everyone with easily-accessible fitness to achieve their fitness goals at home, instead of visiting the gym.
Their teams focus on providing high-quality products that can help everyone, starting from beginners and even professional athletes. Their machines are affordable and compact and have a unique design to fit your interior. They will make sure you get a product that will provide you with the best exercise and cardio in the comfort of your home.
As we mentioned earlier, this company is dedicated to providing you with quality products meant to last you for many years. They provide extensive warranties to ensure that your machine will last a long time.
Moreover, they have various products, such as trade mills, ellipticals, bikes, rowers, seated steppers, and many accessories. Overall this is one of the best fitness equipment online stores that can provide you with many different options. We chose our two favorite Xterra fitness machines to review below.
TRX5500 treadmill is an excellent choice for everyone who would like to get an affordable and high-quality treadmill. It has built-in Bluetooth and also a touchscreen for easy control. Moreover, it has a powerful motor, and it is foldable for easy storage. It has a unique deck cushioning that provides maximum impact absorption while jogging, walking, or even running. Let's go on and see its features in more detail.
Features 
One of the best features is the compact and unique design that this treadmill has. It is made with a premium 10.1″ touchscreen for easy control and easy navigation of the speed. Also, it is foldable, so you can store it at any place in your apartment. It has a great 20″ x 60″ surface and provides you with 0 up to 12 mph speed.
Another great thing is the powerful 3.25HP motor that provides an excellent working capacity. Also, the motor comes with a lifetime warranty. This means that the motors are great and made to provide you with the best workouts and will serve you for many years.
As we have mentioned before, this treadmill has built-in Bluetooth FTMS 4.0. You can connect the Bluetooth device to your favorite fitness apps. In this way, you will always get the results from your interval training, and you can always compare them and measure your overall exercise duration and much more.
Another thing that we need to mention is the handlebars controls. This is an additional option added to the treadmill to provide you with a more comfortable and secure workout. You can easily change the speed and adjust it in just a second.
Shipping and Return Policy
This company provides free shipping on all of its products. Moreover, they accept credit applications with rates ranging from 0% to 29.99% APR. Remember, this depends on your credit qualifications, the amount to be financed, and terms. But you can also pay using pay-over-time plans that are specially made loans made by Comenity Capital Bank.
They have a 30-day money-back guarantee policy, So in case you are not satisfied with the product, you can feel free to contact their customer care service and return the product. You will get your money back in no time.
Pros 
Smooth and quiet 3.25 HP motor
0-12 mph speed
15-level incline
Bluetooth included
20″ x 60″ running surface
USB charging
Built-in speaker
Cooling fan
Hands pulse sensors
Wi-Fi
Cupholder
Transportation wheels
Remote handlebars
Cons
Financing depends on applicants credit qualifications
Customer Experience 
The users of this treadmill are astonished by the high quality of the product. They are happy with the overall performance and also the free shipping and lifetime warranty. The 30 preset programs make this machine even better, and the soundless motor adds to the five-star ratings. Overall, all the customers are satisfied, and they will continue using this machine, and they recommend it to everyone who needs a portable treadmill.
One of the best and award-winning treadmills from XTERRA Fitness is the TRX4500 treadmill. If you want to bring your exercise and fitness journey to the next level, then this is the perfect treadmill for you. As the previous treadmill that we have reviewed, this is almost the same but more advanced in many ways.
It is foldable and easy to store. Also, it has one of the best high-quality build-in speakers and Bluetooth FTMS that can connect your treadmill with your most-used fitness device. So let's go on and see the specifications and all the features for this treadmill in more detail.
Features 
One of the best features is the smooth and quiet motor with a high capacity and lifetime warranty. This motor is built to last you for a lifetime and not just a week or two. Also, it has a 110V Cord power source 0.5 up to 12 mph speed range and 15 levels of electronic incline.
Other great features are the Bluetooth and handlebars specifically designed to help you navigate and control all of your exercises easily. You have the option to connect Bluetooth with your favorite fitness apps. Additional options are added to the handlebars so you can easily control the speed and incline that will make your exercise more comfortable.
As, the previous treadmill, this one has the same cushioning that provides maximum impact absorption. It has a conveniently designed console to easily keep all of your necessary tools nearby and has a rack where you can put your tablet or phone. And the cup holder is a must so you can stay hydrated all the time.
We must mention that this treadmill has a large 20″ x 60″ belt and a 350 lb user weight limit. This treadmill is specially designed for every person's shape and size.
Shipping and Return Policy
As we have mentioned before, they offer free shipping on the product. And you can use a credit card to pay or loan, and it all depends on your preferences. Also, they offer pay-over-time plans that are also very convenient.
If you are not satisfied with this great treadmill, you can go on and return it. You will get a 30-day money-back guarantee. And as we said before, you can always contact their customer care representatives if you have any trouble with using this treadmill, or you can contact them about anything else. They will be happy to help you out.
Pros 
LCD large display
Time, speed, pace, distance, pulse, incline, and calories-burned feedback
1 heart rate, 2 custom, and 30 preset control programs
Bluetooth FTMS
Audio jack
Direct speed buttons 1-12 mph
Direct incline buttons 0-15 incline
Accessory tray
Cupholder
Lifetime warranty
Cooling fan
Easy folding treadmills
Soft deck cushioning
5.8 step-up height
3.25 HP motor
110V outlet power source
Hand pulse sensors
Cons 
May not be affordable to everyone
Customer Experience 
The users of this great treadmill are amazed by the quality and the overall performance of this machine. Many professional athletes use this treadmill, and they are astonished. They recommend using this treadmill to everyone who wants to focus on achieving their fitness goals.
#2. Bowflex: Top Brand To Buy Folding Treadmill in the Market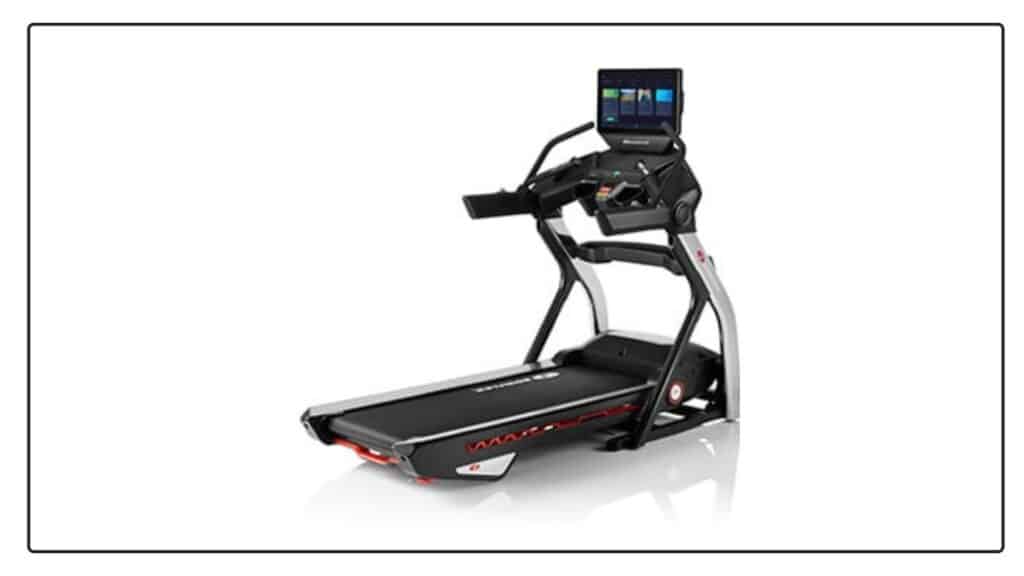 Brand Overview
Bowflex has been a major fitness equipment provider since 1986. They were mainly focused on building innovative and easy-to-use, gym-quality machines that were designed for home use, but their mission today is to decide on more convenient products that are smarter, faster, and will provide you with great results.
This company is one of the most famous when it comes to providing people with the best, high-quality home treadmills. Bowflex is a mixed team of pros, ex-athletes, beginners, dads, moms, bikers, hikers, and many more people.
The following is a list of awards that they have won in recent years:
ISPO Award – 2018
IDA Design Awards Silver Winner – 2017
Best Buy by EllipticalReviews.com
ISPO Award Product of the Year – 2017
German Design Award Special – 2017
Reddot Award – Best of the Best – 2016
Reddot Design Award – 2015
Gold Winner IDA International Design – 2013
Reader's Choice Winner – Best Premium Treadmill – 2013
Features 
This brand has designed four high-quality treadmills for home use. They are made available on the U.S. market and also all over Europe. The company has manufactured five different treadmills: the Treadmill 56, Treadmill 25, Treadmill 18, Bowflex 22, and BXT 128 Treadmill. One of their best-known and sold treadmills is the Bowflex 22, which we review below.
The best Bowflex Treadmill 22 is used by thousands of satisfied customers. It is specially designed with a built-in JRNY. You get 1-year membership included with your purchase, which is a value of $149.
Also, this machine has an adjustable HD touchscreen that is user-friendly. The touchscreen is perfectly designed and it can provide you with the best experience. You can comfortably binge-watch your favorite shows on Netflix, Hulu, HBO, and many more apps on the wide HD touchscreen. Also, they come for free since they are included in the price.
You can always get access to a personal coach using the JRNY app. You can take your workout experience to the next level and see some results in a short time. The voice-coached workouts are specially designed and they can adapt automatically as your running improves.
Of course, this treadmill has sky-high incline control. Meaning, you can get 20% of incline, which is great for burning fat and also building muscles. This product also has a SoftDrop folding system and Comfort Tech deck cushioning.
The running path measures 22 W x 60 L. It is amazing for all beginners and also for all professional athletes. You can always connect your smart devices and heart rate monitors to the Bluetooth that is attached to the machine. Also, you get a heart rate armband included.
Shipping and Return Policy 
The company offers fast shipping in the contiguous U.S. There might be some charges included when it comes to the shipping. Also, in any case, if you are not satisfied with the product, you can always contact their customer service department within six weeks of delivery for a return or exchange.
Pros 
Highly awarded brand
5 great treadmills
Up to 15% incline on all treadmills
Built-in JRNY
Great HD touchscreen
1 year of JRNY membership is included in the price
Personal voice coaching
You can binge-watch your favorite shows on HBO and Netflix
22 W x 60 L running path
Easy treadmill folds frames
Soft Deck cushioning
Heart rate armband included
Standard warranty is included
Cons 
Does not deliver internationally or to Alaska or Hawaii
Customer Experience 
Customers are satisfied by these easy-to-use treadmills. Overall they say these are affordable and high-quality compact treadmills that can fit into any home. The users of the Bowflex Treadmill 22 are delighted by the unique design that is easily foldable and easy to store. Moreover, they are happy with the incline options that are up to 20% and provide the best workouts. Voice coaching is another feature that provides an overall amazing experience while using this treadmill. Also, they are satisfied with the quality and the performance.
#3. NordicTrack: Most Recommended & Affordable Home Treadmill for Incline Training
Brand Overview 
NordicTrack is a company based in Utah, and it is managed by iFIT Health & Fitness Inc. They have been famous on the fitness market since 1975, and they are still creating some of the best fitness equipment available. So no matter if you need the equipment for your home gym or office, they have ensured that they can provide you with one of the best treadmills.
If you require a high-quality machine that will last you a long time, then this brand is perfect for you. Below, we review one of their best treadmills.
NordicTrack 1750
Features
The NordicTrack commercial 1750 is one of the smoothest and most quiet treadmills on the market since they have a 3.75 CHP motor. This DurX Commercial Plus motor is specially designed to power up a 15% incline and 3% decline. Also, the treadmill has an incredible 10″ HD Smart touch screen that is easy to use, and it will make your overall experience with using this machine easy and comfortable.
Since 2021, NordicTrack has included Quiet Drive Incline Technology in its treadmills. You will not be able to hear any noise from this machine since it is extra quiet. So if you live with many people or have a baby at home, this treadmill is the perfect option for you.
You can use the treadmill for walking, jogging, and running since it has multiple speed options. Moreover, its weight capacity is 300 lbs, and the top speed is 12 mph. You can easily fold it and store it anywhere in your home. The running area that you get is 22″ x 60," and it can fit anywhere.
Shipping and Return Policy 
There are shipping charges for this product depending on the delivery option you choose. Currently, NordicTrack offers Threshold Delivery, Room of Choice Delivery, and White Glove Delivery & Assembly. The Threshold and Room of Choice options will have your treadmill delivered to your doorstep or into your home, respectively. Their White Glove Delivery will deliver your product into the room and include assembly by a professional technician. Their return policy states that you have 30 days after your delivery to request a return. If you receive a damaged product, you can always contact their customer care representatives who are always there to help you and are always friendly according to the user's comments.
Pros 
High-quality 3.75 CHP motor
Quiet
Up to 12 mph speed
300 lb capacity
Bluetooth connectivity
iFit Coaching compatible
Different workout programs
15% incline and -3% decline control
22" x 60" tread belt
Processor cooling for improved graphics performance
Great customer care service
Runners Flex cushioning to mimic road-feel
Cons 
Complex warranty restrictions
Credit card required for treadmill activation
Customer Experience 
According to the customers, this is a great quiet treadmill that you can use at home. It is excellent for larger families since everyone can use it anytime with only minimal noise. Also, users are satisfied with the customer care support that is always available and helpful.
#4. Horizon Fitness: Most Popular Brand For Best Value Streaming Treadmill
Brand Overview 
Horizon Fitness is dedicated to providing each of you with high-quality treadmills and other types of fitness machines. They have an average customer rating of 4.5 stars. This means that this brand is becoming one of the best on the market day and has one of the industry-leading warranties.
The lifetime warranty on all of their products makes Horizon Fitness a favorite among home fitness fans. Of course, they provide high-quality treadmills that are designed with new technologies to fulfill your needs.
The smart features included in their treadmills are inspired by many fitness instructors. You can use the Horizon Fitness app and coaching to get better results from your overall fitness journey. Their machines use advanced Bluetooth connectivity that will help you connect all of your favorite fitness apps and headphones.
7.0 AT Treadmill
Features
One of the most famous treadmills by this company is the 7.0 AT treadmill that has thousands of positive reviews and many satisfied users. This is one great machine that can provide you with fast calorie-burning options and a high-quality design.
It has built-in Bluetooth that provides fast connectivity with your smartwatch, phone, all apps, and also your headphones. You can easily use one of the best fitness tracker apps, such as Zwift, Peloton, and Studio.
Moreover, the treadmill is built with QuickDial controls, and you can use them to change your incline and speed quickly for better incline training results. We need to mention that it has a great capacity motor that is ultra-quiet. This treadmill is compact, flexible, and you can store it anywhere in your house. The low volume and compactness of this treadmill make it an excellent option for use in your home.
Also, it has a unique 20" x 60″ deck with 3-Zone Variable Response Cushioning that can help make running, jogging, or walking more comfortable. Additionally, it has a rapid-charge USB port and device holder so you can put your water, phone, or any other device next to you.
Shipping and Return Policy 
Horizon Fitness offers Curbside Shipping, Threshold Delivery, In-Room Delivery, or White Glove Delivery & Assembly. Charges vary depending on the product. You can schedule a four-hour delivery window with your order so that you know when to expect your package or technicians.
In case you are not satisfied with the product, you can return it. This company offers a 30-day return window.
Pros 
Great customer ratings
20" x 60″ 3-Zone cushioned deck
Powerful 3.0 CHP Rapid Sync motor
Easily foldable
QuickDial controls
Rapid charge USB port
Great shipping options
No subscription fee for use
Cons
It doesn't have a touch screen
Customer Experience 
According to user reviews, this product is excellent and built with incredible quality for a much more manageable price tag than some of its competitors. The users are happy with the lifetime warranty, and they recommend this treadmill to everyone who is in search of a high-quality, affordable treadmill.
How We Chose the Best Treadmills For Home Use
We began by researching the most popular brands that produce fitness equipment, particularly treadmills. We then compared these brands based on the following criteria:
So many brands manufacture cheap versions of more prominent and reputable treadmills. However, we saw quite a few reports of these lower-priced versions malfunctioning or becoming otherwise unusable after a relatively short period.
We concluded that the four brands above produce the best quality treadmills with appealing features for reasonable, competitive prices. They might be slightly more expensive than some copycat products, but they can serve you for many years, according to the reviews and user feedback.
As we have mentioned earlier, there are many cheap products that you can find online, but they have a far shorter product life. You don't want to spend your money on something that will not provide you with the wanted effects.
The materials that the cheap brands use are not as same as the legit brands are using. They are mostly made out of cheap plastic, and their purpose is, of course, to take your money and provide you with a low-quality product that you will probably never use or will not function after a few uses. The brands we selected for our list use top-notch materials in the construction of their machines
There are many comments in the customer care section. This provided us with information, such as the brand's reputation, the quality of their treadmills, and so forth. Overall, the brands that are fake and produce low-quality products have low ratings and bad comments.
We made sure that the brands we chose had many positive comments and five-star ratings. This ensures that the product is actually high-quality and can help you reach your fitness goals.
The price is another thing that we took into consideration. We have mentioned many times that there are cheap copies of high-quality brands. So, the cheaper the product, the less quality you get for the price you pay. We made sure that all of the above brands provide high-quality but reasonably-priced treadmills.
Shipping and Return Policy 
A brand's return policy is typically indicative of the quality of the product. Brands with an unreliable product will usually have no return policy or an unusually short return window. Better brands will clearly state their product return policy on their website and have an average return window of 30 days.
High-quality brands will also provide a range of shipping options. The best brands will provide at least one shipping option that includes assembly.
Treadmills For Your Fitness Goals: Buying Guide for Beginners 
If you are ready for your fitness journey and you want to get a good treadmill for your home, then this simple buying guide will be of great help.
Keep in mind how much space you have in your room or where exactly you can keep your treadmill. Your treadmill running area should be at least 20″ x 60″ to comfortably match your stride.
Many treadmills now have speed capabilities up to 12 mph to meet the needs of new runners and fitness professionals. Remember, you can constantly adjust the speed according to your needs.
The incline of the treadmill helps you to burn calories. As long as the treadmill has up to a 10% or 15% incline, it is perfect for home use. You should be able to adjust the incline according to your needs.
Some of the most famous treadmill programs are iFit workouts and also Passport Virtual Active technology. These are the most popular options for each home treadmill. So, all you have to do is get a membership and start using the programs to help you get motivated and get better results faster.
Frequently Asked Questions About Treadmills 
Q1. Can I lose weight if I use a treadmill? 
The answer is yes. Treadmills are made for losing excess fat and improving cardiovascular health. To do so, you should partner exercise with a balanced diet. Before using a treadmill, you should consult with your PCP to make a fitness plan that matches your needs.
Q2. What should I do before going on a treadmill?
First, you should stretch your overall body. You can do different types of exercises that you can find on the internet, such as a stretching routine and easy body-weight exercises. By doing light stretches, you will loosen your muscles and prevent injury.
Q3. How long should I use a treadmill?
This depends on your fitness goals and your health situation. It is recommended for everyone to use the treadmill for at least 30 minutes a day, but make sure you check with your PCP before your treadmill workouts and discuss your current health to avoid injury.
Conclusion: Which Treadmill Is The Best For Home Use?
The brands we chose for our list manufacture some of the best treadmills for at-home use. As you have noticed, they all have a high motor capacity and are quiet, making them ideal for your home. 
Besides, all the links here are availed through our affiliate advertising program with Flexoffers. In addtion, this program is desigened to provide the best products that suit your convienence.
Their ability to connect with various fitness apps and programs makes getting coaching an easy process, even if you suffer from gym-shyness. As you pursue the above brands, think about your own needs and goals. Good luck!