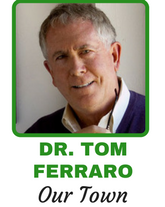 Brooklyn has produced many famous artists and actors including Jean Michel Basquiat, David Salle, Kenny Scharf, Harvey Keitel, Mel Brooks, Henry Miller, Jimmy Kimmel, Jimmy Fallon, Jackie Gleason and Eddie Murphy.
It's not clear why so much talent comes out of Brooklyn but it does.
And now I have discovered another hidden genius who was raised in Brooklyn but who now resides right here in Williston Park.
Meet John S. Fackre.
You may have noticed him sitting on one of the town benches bent over in a concentrated fashion doing some sketching.
Fackre was born and raised in Brooklyn, educated at the prestigious Pratt Institute and became industrial designer and interior designer of some note. He was the guy who designed in interiors of the Allegheny and the American Eagle airplanes, which was so popular that the military adopted it for their C23B Sherpa planes.
I had a chance to catch up with Mr. Fackre this weekend to discover more about him and the type of work he's currently involved with.
He may have gotten his creative genes from his mother and father.
His mom was of Polish descent who was a fashion designer and opened a tailor shop in Ridgewood, Queens with his father. He graduated from Pratt with a combined art and engineering degree. He was drafted and served in Vietnam as a data analyst.
I think that the reason John can do careful design work as he sits on that bench on busy Hillside Avenue is because he grew accustomed to working on data analysis with rackets, mortars and machine guns firing day and night in Vietnam.
That's what I call café writing on steroids.
Upon his return to the states John went to work at Michelin tires in charge of their architectural identity design.
Over the years he has done product design work for detergent companies like Proctor and Gamble and currently does commercial building design for MGD Enterprises on Long Island. Commercial building design is needed when a company like Starbucks wants to build something on one of our suburban streets and needs to show both the company and zoning boards what the building will look like.
Locally John has done design work for the Haller–Zaremba Agency on Hillside Avenue, the East Williston Village Hall and Peter Masterson's State Farm Insurance building on Hillside.
But do not fear.
If you have a home and you'd like to have it rendered in order to hang it on the living room wall John does that as well. He showed me gorgeous illustrations of homes in Mineola, Williston Park and East Williston Park that he's done over the years.
When John came up to my office he noticed a large illustration of my office building, which I had hung in the hall way. It was done by one of my more talented patients as a gift to me.
But I think I just may ask him to do two illustrations of my home from the front and the backyard. What better way to celebrate having a home.
If you want to get in touch with him for either residential or commercial illustrations of your home or business he can be reached at jsfackre@optonline.net or by calling (516) 448-9247.
By the way if you are looking for a nice surprise gift to give your spouse for an anniversary or holiday present he also does family portraits. And he's not too expensive either.
Support our local artist in residence. Is there a better way to spend your time and money? I doubt it.