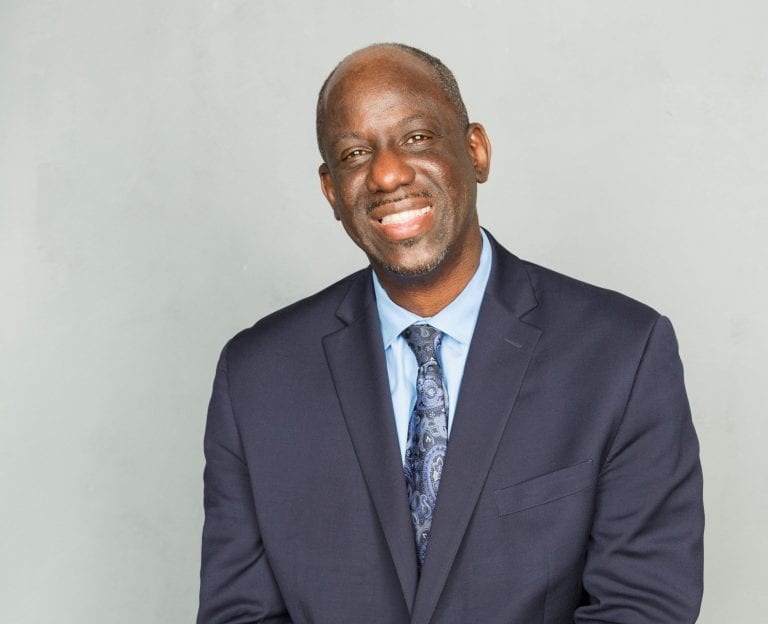 New York Institute of Technology's Chief Medical Officer and Associate Professor Brian Harper, M.D., has added the role of Vice President for Equity and Inclusion to his current responsibilities and joins the President's Council, comprised of the university's administrative leaders.
This newly created position builds on Harper's role as co-chair of the Diversity, Equity, and Inclusion Task Force, established in 2018. Under his leadership, a team of faculty, students, and staff are charged with pursuing projects, activities, and programming that promote diversity, equity and inclusion, and creating a roadmap and strategies for continued success in these areas.
"Through his vast experience and impressive public health advocacy, Dr. Harper's leadership has been a key driver in the success of New York Tech's Diversity, Equity, and Inclusion Task Force," said President Henry C. "Hank" Foley. "The strength of our institution lies within its ability to encourage and foster a diverse mosaic of perspectives. I look forward to working with Dr. Harper in his new role to continue building an environment where individuals of all races, ethnicities, and backgrounds can thrive."
"My vision is that New York Tech will be known throughout the region for its efforts to assure that the individuality of all students, staff, and faculty is not only welcome but embraced," said Harper. "My expectation is that all New York Tech community members will understand that a diversity of people and perspectives actually strengthens our institution. This vision will ultimately be achieved through educational efforts and dialogue, institutional policy changes when appropriate, and new program initiatives."
Harper joined New York Tech in 2012 to oversee NYIT College of Osteopathic Medicine  Academic Health Care Centers in Old Westbury and Central Islip, N.Y. as chief medical officer.
In that role, he is responsible for assuring compliance with all federal, state, and local regulatory requirements, assessing and promoting medical guidelines and quality measures, and approving medical and operational policies. He also serves as an NYITCOM faculty member on the Long Island campus.
Throughout the COVID-19 pandemic, he has played a crucial role as a lead member of the university's COVID-19 task force, helping to ensure the safe operation of New York Tech campuses as well as updating both the campus community and the public on the latest health recommendations and safety measures.
Harper has worked as a physician at the Rikers Island Medical Unit, served as the first Director of the Bureau of HIV Services at the Nassau County Department of Health, and as the Senior Vice President of Community Affairs at the Nassau University Medical Center.
In this role, Harper also served as the medical director for a network of seven community health centers, where he remodeled medical services to conform to hospital standards and successfully passed two JCAHO (Joint Commission on the Accreditation of Health Care Organizations) surveys.
Harper was then appointed as the first African American Commissioner of Health for Suffolk County.
During his tenure, he successfully managed a department of 1,500 employees with a budget of approximately $450 million. Harper also created innovative programs including a HIV Commission and an Office of Minority Health to address health inequities.
Harper then served as the chief operating officer and medical director of the Ralph Lauren Center for Cancer Care and Prevention. This center was a partnership between Memorial Sloan Kettering Cancer Center and North General Hospital that was initially designed to provide quality cancer care to the residents of Harlem and surrounding areas, irrespective of a patient's ability to pay.
He received his B.A. in Biology and Afro-American Studies from Brown University. He earned his medical degree from the State University of New York, Health Science Center at Syracuse, and a master's degree in Public Health from Columbia University. Harper is board certified in Preventive Medicine and Public Health.