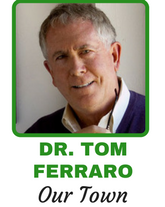 It is increasingly difficult to take pride in being American. 'American Exceptionalism,' first described in 1831 by Alexis de Tocqueville, was said to describe our practicality, our energy and our clever down to earth commercial nature but this term seems out of date and even laughable.
The ugly American is on the rise. Every day we're greeted with news of yet another mass shooting, more political corruption, lack of civility, road rage, shallow consumerism, drug epidemics and obesity problems and the dismal tide has arrived.
Yet there is always hope and in an effort to find some hope about America I took advantage of an invitation from two of my dearest friends, John and Toni Klingler who have recently established residence at the Watergate in the Foggy Bottom section of Washington D.C. to be near their son who is an astrophysicist teaching at George Washington, University which is right across the street from the Watergate.
The Watergate address does conjure up memories of Richard Nixon and all those nasty tricks that led to his downfall so with some trepidation I booked my hotel room anyway and off I went.
As I traveled down to D.C. on Amtrak I recalled the quip John Kennedy once made that "Washington D.C. combines the rudeness of the north with the inefficiency of the deep south" and I prepped myself by expecting the worst. When I arrived I jumped into one of their red cabs and Off I went to the Watergate.
As I was driven we passed along the National Mall with all those impressive museums and just across the street were row after row of immaculately maintained sandstone and marble buildings with signs on them such as Department of the Interior, Department of Environmental Protection and Treasury Department and I thought to myself that Manhattan symbolizes money, London symbolizes history, Paris tells us of beauty and Rome provides romance but there is not a city on earth than can match the sheer unadulterated and obvious power that Washington D.C. carries.
Arriving at The Watergate complex and to see it I realized that it is far more than the place where the DNC was broken into. The Watergate consists of six seductively curvaceous sexy looking buildings designed by Luigi Moretti of the University of Rome.
It has always been one of the most desirable places in live in Washington and was designed to be a self-contained village with seven acres of parkland, water views and a swimming pool. Its residents include Ruth Bader Ginsburg, Bob Dole among other celebrity types.
On my first night we strolled along the Potomac and ate at a seafood restaurant. The promenade was filled with the young and the beautiful and reminded me of Las Rambles in Barcelona.
On day two we started at Arlington National Cemetery where over 400,000 soldiers are buried on 624 rolling acres. We visited President John Kennedy's gravesite where he, his wife and his children are buried and then ambled over to the Tomb of the Unknown Soldier and watched as a soldier of the 3rd US Infantry Regiment took 21 steps, clicks his heels, faces north for 21 seconds, turns and faces east for 21 seconds and then walks back with the same 21 steps.
Another soldier takes his place every 30 minutes and they have performed this duty repeatedly round the clock, night and day since 1937. It is impossible to watch this ritual without crying.
We left the cemetery, crossed the Arlington Memorial Bridge and entered the National Mall which is a mile long park filled with towering American elm trees and all the famous national monuments.
We first passed by the Lincoln Memorial designed like a Greek Doric temple where Martin Luther King Jr. made is famous "I Have a Dream" speech. We went to the Vietnam Veteran's Memorial where the names of the 58,230 American soldiers killed in Vietnam are etched on a long highly polished black granite wall.
We eventually cabbed our way to the Jefferson Memorial to look at this Pantheon inspired beauty and had dinner at the Hamilton Restaurant with all those huge tropical bird paintings by abstract expressionist Hunt Slonen.
On day two we ventured into the museums on the mall including the Hirschhorn and the I M Pei designed National Gallery of Art. The National Gallery is so large that it is impossible to see more than a fraction of its works which include all the greats including Warhol, Johns, Rauschenberg, Pollack, and Frankenthaler.
We exited and made our way to the monolithic Kennedy Center with its three large concert halls and perfect acoustics to catch a free concert by an Italian classical guitarist. That was enough for me and I walked back to the hotel thinking about the magnificence of this city and what it says about America.
It is said that one can see a nation's character by observing its architecture. To see the Eiffel Tower is to understand that France is all about feminine beauty. To look at Big Ben is to understand that Great Britain represents dignity and history. To look upon Sagrada Familia is to see that this Spain of Picasso and Gaudi and Miro is the land of creativity. The streets of Capri and Rome tell us that Italians love romance.
And who is Washington D.C.? Its Washington Monument borrows the look of ancient Egyptian pyramids, the White House designed is by an Irishman, the Smithsonian is a medieval castle, the Lincoln Memorial is really a Greek temple, the wonder of its avenues are designed by the Frenchman Pierre L'Enfants, Watergate was designed by an Italian, its Capitol Building is modeled after the east front of the Louvre in Paris, and Union Station is inspired by the Arch of Constantine in Rome.
America has borrowed heavily from every nation on earth and in doing so we have vastly improved on what we have been given. We have created a remarkably solid foundation that you can see both in the capitol's architecture and in the American character.
In Ronald Reagan farewell speech to the nation he said " I've spoken of the Shining City all my political life…It was a tall, proud city built on rocks stronger that oceans, windswept, God-blessed, and teeming with people of all kinds living in harmony and peace; a city with free ports that hummed with commerce and creativity. And if there had to be city walls, the walls had doors and the doors were open to anyone with the will and the heart to get here."
If you are looking for some hope and inspiration and to reacquaint yourself with our character take a trip to Washington and see for yourself who we are. You may come home feeling happy and proud to be an American.