The Herricks Public Schools' Center Street School launched its inaugural Health and Wellness Week from Oct. 9-13. Students in grades K-5 participated in a variety of activities that emphasized good health, wellbeing and safety in positive, fun and interactive ways.
One highlight of the week was the iGame4 Fitness Program, which got students moving as they followed video game cues with guidance from an on-site instructor. Each class participated in multiple sessions and enthusiastically took on group challenges that involved jumping, jogging and fitness choreography to improve endurance, flexibility and balance.
Visits from the Garden City Park Fire Department and third precinct POP officers provided critical lessons in fire and bicycle/street safety, and the Yello Dyno stranger danger program emphasized ways that students can be aware of their surroundings and protect themselves. Additionally, students arrived before the start of school on Tuesday-Friday for early morning yoga classes.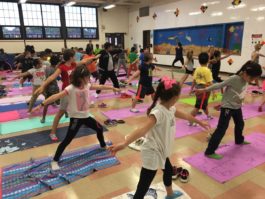 The safety and wellbeing of students is a top priority within the district, and lessons on related topics are infused into the curriculum across the school year. Searingtown School also celebrated Health and Wellness throughout this week, and Denton Avenue will host a Safety Week from Oct. 16-20.