If you've ever wanted to say hello to a dinosaur, play with robots or dabble in art, the Great Neck Library's newest laboratory might be able to help.
The library system's science, technology, engineering and math lab, funded by a $50,000 Nassau County grant, is open to the public after a ribbon cutting last week.
The project had been in the works since at least 2016, according to a community revitalization program project application filed by county Legislator Ellen Birnbaum (D-Great Neck).
After the grant came through in summer 2018, the Main Library transformed an old office area into a space of new tech.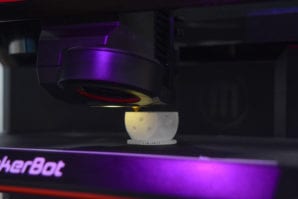 "I think that our mission is along the lines of providing the most cutting edge and traditional services to a diverse community … and having this kind of equipment enables us to do this," Adam Hinz, the youth services coordinator, said in an interview last Thursday.
Dozens of people saw a showcase of new technology at the ribbon cutting and afterward, ranging from coding laptops fitted with circuits to laser cutters, 3D printers and virtual reality equipment.
There are Maker Bot 3D printers, for example, where patrons have been constructing dice and other small objects. The Cricut electronic cutting machines, paired with laptops that allow patrons to create their own designs, have also been hard at work creating nametags and cards.
The library's laser cutter and engraver, meanwhile, works with nearly all materials except PVC, or polyvinyl chloride, Hinz said. This gives patrons the opportunity to engrave wood, mirrors, glass, leather and pizza dough – yes, administrators tested this – and even make their own custom jigsaw puzzles.
"We're just scratching the surface," Hinz said. "There's going to be so much."
The lab also utilizes Oculus Go and Oculus Rift, virtual reality equipment which will allow people to be submersed in both passive and interactive virtual environments by way of a headset.
The programs offer many possibilities, like venturing to a museum to meet a live dinosaur and playing with a floating robot companion, which can simulate everything from butterflies to floating soda cans.
"What you're seeing is a lot more realistic because you don't have a disconnect from what you're visually perceiving," Christopher Van Wickler, the emerging technologies librarian, said of the Oculus Rift.
The lab is also home to littleBits coding kits, where children can learn to code and build games and artistic software, and several Sphero bots, which can have programs written for them using an app.
Van Wickler said the library plans to use these little coding robots for a game of mini-golf May 11, when people have to get them into holes – minus the golf club, of course.
"We'll be running a course where anyone can use the Spheros as the ball – no golf club," Van Wickler said. "You'll code them to tell them what to do or maybe if it's grandma or grandpa not comfortable coding it, they can use it as a remote control car."
The library plans to build on the STEM lab, Hinz said. One item librarians are already looking into is a 360 VR camera, which could allow people to record fully dimensional scenes. This could let them create virtual tours of landmarks like the Stepping Stones Lighthouse and Saddle Rock Grist Mill for people who can't experience them, Hinz said.
"We really want to use a lot of this to partner with the community in different ways," he said.
Ultimately, Hinz said, the STEM lab provides a lot of unique opportunities for patrons both basic and advanced, whether it's learning how to use an iPad or program games.
"It gives people an opportunity to try and experience things that they normally wouldn't have in their own homes. It provides an opportunity for us to give all types of new programming," Hinz said. "And I would say we've been showing off all this high-end tech, but as part of having this room in a central location, we're able to offer a lot of basic technology services that there have been a lot of demand for."
Birnbaum, who pushed for the STEM lab in 2016, also recommended people drop by.
"Whether by exploring new scenes through virtual reality goggles or utilizing the 3D printers to create usable and decorative items, this state-of-the-art facility will allow people of all ages to interact with emerging technologies," Birnbaum said. "I encourage everyone to visit the STEM lab and take advantage of the wide variety of educational and recreational opportunities it presents."
Registration for courses and workshops with the STEM lab, which start April 1, can be done online, in person or by calling 516-466-8055, ext. 230, starting March 25.
Topics include introduction to computers, applications, Google, smartphones, Microsoft Office, coding, 3D printing and design, digital painting and laser engraving.