Two Great Neck South High School Seniors were recognized for receiving their Eagle Scout Awards during a reception at the Inn at Great Neck on Oct. 1 at which numerous dignitaries, including local politicians, school administrators and scout leaders paid tribute.
Jason Biviano and Aaron Banwer of Troop 10 in Great Neck were commended for attaining the highest rank in Boy Scouts.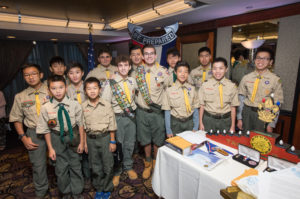 Requirements include earning at least 21 merit badges and demonstrating Scout Spirit through the Boy Scout Oath and Law, service, and leadership. Achieving the rank includes an extensive service project that the Scout plans, organizes, leads, and manages.
Biviano and Banwer earned more than 21 merit badges and fulfilled many requirements in the areas of leadership, service, and outdoor preparedness. They were also required to plan, develop, and lead their Eagle Service Projects.
Banwer's Eagle Scout Project involved organizing and managing a team of volunteers and scouts to build benches and bird houses for Alley Pond Environmental Center, in Douglaston, NY. This project will allow both the people that visit the facility and the animals that live there to further benefit from and enjoy the sanctuary.
Biviano's Eagle Scout Project included a beautification project for the Great Neck South High School in which he created a leisure space for the school community and a display location for the award-winning Robotics Team's trailer, involving planting trees, bushes and flowers and creating a brick path.
Town Supervisor Judi Bosworth, Town Clerk Wayne Wink, Assemblywoman Lee Seeman and Legislator Ellen Birnbaum commended the scouts. Both scouts were presented with legislative resolutions sponsored by Sen. Thomas Suozzi in honor of their accomplishments.