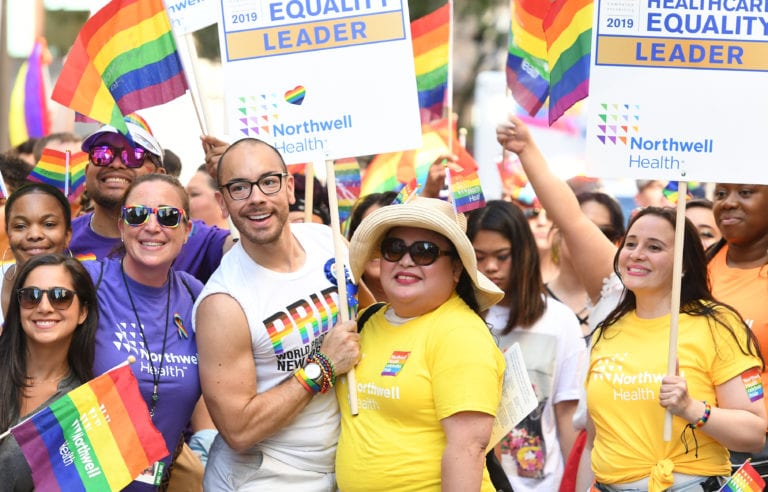 The lesbian, gay, bisexual, transgender and queer watchdog organization Human Rights Campaign (HRC) Foundation has ranked Northwell Health as the No. 3 health system in the nation and first in New York State based on the number of facilities designated a Leader in LGBTQ Healthcare Equality, according to its 2019 Healthcare Equality Index (HEI). Twenty Northwell Health hospitals – 25 facilities in all – earned the designation in the newly released findings.
The HEI is a national benchmarking tool that evaluates health care facilities by examining patient, visitation and employment policies to measure inclusiveness of the lesbian, gay, bisexual, transgender and queer community at large. The HEI 2019 scoring criteria included a higher benchmark, requiring participating facilities to demonstrate that they offered at least one company-wide health insurance plan that affirmatively provides transgender-inclusive coverage in order to earn the top score of 100.
"Northwell Health continues to take great pride in its commitment to provide culturally sensitive, respectful and humanistic care to our diverse communities," said Jennifer Mieres, MD, chief diversity and inclusion officer and senior vice president of the health system's Center for Equity of Care. "This has been substantiated by our participation and recognition in the HRC Healthcare Equality Index for 2019. We strive to break down barriers and offer individualized, compassionate health care to each and every person inclusive of members of our community who identify as lesbian, gay, bisexual, transgender and queer. It is a great privilege – and a great responsibility – as we continue our call to action to re-ignite humanism in health care."
The 12th annual survey saw Northwell facilities score high marks from 1,680 facilities nationwide that either actively participated or were independently researched by the Healthcare Equality Index.
Twenty Northwell hospitals were honored: Cohen Children's Medical Center in New Hyde Park, Glen Cove Hospital, Huntington Hospital, Mather Hospital in Port Jefferson, Lenox Hill Hospital in Manhattan, Long Island Jewish Medical Center in New Hyde Park, LIJ Forest Hills, LIJ Valley Stream, Manhattan Eye Ear and Throat, North Shore University Hospital in Manhasset, Northern Westchester Hospital in Mt. Kisco, Peconic Bay Medical Center in Riverhead, Phelps Hospital in Sleepy Hollow, Plainview Hospital, Southside Hospital in Bay Shore, South Oaks Hospital in Amityville, Staten Island University Hospital (North and South campuses), Syosset Hospital, Zucker Hillside Hospital in New Hyde Park. In addition, the Center for Transgender Care in Great Neck, Feinstein Institutes for Medical Research in Manhasset, Lenox Health Greenwich Village, Orzac Center for Rehabilitation and Stern Family for Rehabilitation each earned the designation.
"Partnerships with LGBTQIA+ organizations and communities are critical components in our journey to health equity and have enhanced our delivery of culturally sensitive, respectful and humanistic care," said Michael Wright, vice president for Diversity and Health Equity at Northwell.
Northwell's commitment to the LGBTQIA+ community focuses on respect and inclusion such as asking for proper pronoun identification as part of the health care record and offering a host of services highlighted by the Gerald J. Friedman Transgender Health and Wellness Program at Lenox Hill Hospital in Manhattan, the Northwell Health Center for Transgender Care and employment and career development services at Zucker Hillside Hospital in Glen Oaks, Queens.
"This is an esteemed honor for our health system to not only continue to participate, but to receive the designation as a national LGBTQ leader by the Healthcare Equality Index," said Edward Fraser, vice president of Community Relations at Northwell. "By engaging our LGBTQIA+ employees and our allies through our business employee resource group, 'EXPRESSIONS,' we have seen tremendous organizational impact and growth each year we participate, which continues to demonstrate Northwell's commitment to the LGBTQIA+ community."