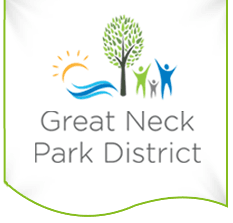 Nature Program: Birding Around Great Neck
Sunday, Feb. 25, 12:30 p.m., meet in front of the main branch of the Great Neck Library on Bayview Avenue and then carpool to various birding spots where we'll search for winter waterfowl and other birds. Bring binoculars. Register now online gnparks.org or call (516) 482-0355. Children under 16 may not attend.
Sunday @ 2: Louis & Joann
The popular Long Island singing duo, Louis & Joann, offers a lovely afternoon filled with Broadway show tunes and Italian favorites on Sunday, Feb. 25 at 2 p.m. Admission to Great Neck House requires a park card.
Great Neck House Classes
A new session of classes, for adults and children, will begin at Great Neck House the week of Feb. 26 and run through the week of June 4. Non-resident registration fees apply. Check out the classes we offer and register online at www.gnparks.org or come to Great Neck House, 14 Arrandale Avenue. For more info call (516) 482-0355.
Birthday Parties in the Park District
Book your child's next celebration with the Park District. Choose a skating party at the Andrew Stergiopoulos Ice Rink by calling (516) 829-4323, or a unique-themed party package at Steppingstone Park by dialing (516) 482-0355. Our parties include a private party room, two party hosts, invitations, pizza, cake and more. Check the Park District website at gnparks.org.
Defensive Driving Classes at Great Neck House
Great Neck House continues to offer Empire Safety Council Defensive Driving Classes. The classes run from 9:30 a.m. to 3:30 p.m. The next class is Saturday, March 3. To sign up for a class or for more information, call Great Neck House at 482-0355.
Winter Swim Program
Winter Swim programs for children, ages three and up, continue at the Great Neck North Middle School every Saturday afternoon between 12 and 4 p.m. It is never too late to register. There is an extra fee for non-residents. Call (516) 487-2975, ext. 118 for more information.