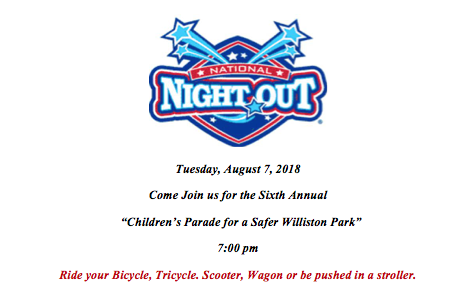 On Tuesday, August 7, join Williston Park for the sixth annual "Children's Parade for a Safer Williston Park" at 7 p.m. for National Night Out.
Ride your bicycle, tricycle, scooter or wagon – or be pushed in a stroller.
The parade starts at Broad Street and Amherst Street and ends at the Kelleher Field picnic area.
Neighborhood Watch Block Captains who are able to assist should contact Village Hall at 746-2193.
Ice Cream will be served by Neighborhood Watch Block Captains at the finish of the parade.
A Police Officer from the third precinct will be the guest speaker.