BY GRACE MCQUADE
Ready to get your game on? Then head on over to the Cradle of Aviation Museum as it hosts its second annual Cradle Con on Saturday, June 1, 10 a.m. to 7 p.m., and Sunday, June 2, 10 a.m. to 5 p.m.
Last year's inaugural event celebrating comic book culture drew about 5,000 artists, collectors and fans over the course of the two days. According to Bill Herring, the assistant director of events at the museum and the co-creator of Cradle Con, this year promises even more fanfare.
"The first year out, we had such an incredible time," Herring said during a recent phone chat about this year's festivities. "As a matter of fact, at the very final hour on Sunday we had pretty much every vendor and guest resign up for it because they had such a wonderful time."
Herring considers Cradle Con a "punk rock comic book convention" because it is "no-nonsense," forsaking the bells and whistles of the larger comic book conventions to keep the focus on the art.
"What sets us apart from the big New York Comic Con is we're grassroots," Herring said. "We like the local artists and cosplayers … we want to keep it local and family-friendly. We want to keep it real, essentially."
Like last year, there will be opportunities for fans to meet and greet local comic book creators, for collectors to find rare books and toys, for cosplayers to show off their cool costumes, and for gamers to compete with fellow gamers.
This year Herring said they "hit the pavement" in terms of planning and enlisting contacts at local comic book shops. "We're going to have a lot more activities… a lot of children's activities," he added.
These activities for visitors to either watch or join include Chinese Lion Dance with Gregg Zilb on the Main Stage, Lightsaber Training 4 Kids with Endor Temple in the Junior Hero Club, and Rocketcraft with SCLA Fandom Outreach in the Space Gallery.
The cosplay costume contest is returning. "This year it's going to be really big," Herring said. "We were able to get influential cosplayers to come to this edition of Cradle Con… We actually have the New York Avengers coming, a cosplay group that dresses like (Marvel's) Avengers with Hollywood quality costumes."
Herring recalled last year's children's cosplay winner, a young girl who dressed as the clown Pennywise from the film "It." He predicted there would be a lot of "Avengers: Endgame" at this conference. "And I do think you're going to see a lot of 'Game of Thrones' cosplay," he said.
Cradle Con will also bring back the Retro Game Lounge, with video games like "Space Invaders," "Pac Man" and "Star Wars" that Herring said are owned by the museum, as well as panel talks.
"We have Larry Kenney," Herring said. "He was actually the voice of the '80s' cartoon 'ThunderCats,' and he did the voice of Count Chocula," the famous breakfast cereal character. "Last year he did all the voices. He does a talk with one of the docents at the museum… they do a riff off each other. Then he answers questions. He talks about how he got into the industry. It's interesting."
Edgardo Miranda-Rodriguez is another well-known comic writer who will speak at the conference. "He does a lot of Marvel comics," Herring said. "He's from Puerto Rico and he's going to do a talk about Puerto Ricans in the comic industry."
While these are two of the bigger names within the tight-knit comic book universe, Herring said they like to support local, up-and coming talent.
"I'd love to one day hear that one of them got picked up by say Marvel or DC and they're drawing Spider Man comics," Herring said. "And then they say, 'I got my start at a local convention called Cradle Con.' That would be our dream."
One of these local talents is Jay Stuart, who is leading a panel talk on self-publishing. "We met him through the art store Blick in Carle Place," Herring said. "He is a really genuine guy who also teaches classes at the Art League of Long Island. It would be wonderful to see somebody like him have his name somewhere."
These local heroes are a draw for Long Island comic fans. "When they see a lot of people they know from their hometowns being highlighted, they get excited about that," Herring said. "For instance, Jay is from Westbury, so a lot of Westbury people come out just to hang with him."
Another promising local artist returning to Cradle Con is Tom Travers, who grew up in New Hyde Park, moved to Manhasset and attended Manhasset High School. He currently lives in Williston Park.
The Fordham University graduate, who studied visual art and created the fantasy action comic character Battle Skull, spoke to Blank Slate Media about what he loves about comics and Cradle Con.
"I've always been drawing," Travers said. "I got more serious about it in middle school when I discovered comic book art. It really blew my mind — all of these incredible artists who were doing this amazing artwork and they were doing it for a living."
"Unfortunately, I don't get to do this full time as my career," Travers went on to say. "When I do the conventions, I get to live the dream for that period of time. It's cool to do the local shows because you see familiar faces. There's a great community of friendly, positive, creative people — I wish it could be every day."
Travers spends most of his two days at Cradle Con in Artist's Alley, where he sells his prints and artwork. This year, he will have a new, mini Battle Skull comic book to share with visitors, who he speaks to about his work, sketches for, and sometimes accepts commissions from for more elaborate works.
"The best experience I had was when a young kid who was into comics came to my table to talk and show me his drawings," Travers recalls from last year. "It was a great experience to see a kid who, similar to myself when I was his age, was into drawing and comics."
Travers hopes to meet more artists at this year's gathering. "I'm looking forward to getting a chance to break away from my table and walk around, do some shopping," he said. "I like to go to all the comic shops at the show and discover new artists."
With all that Cradle Con has to offer, perhaps the best feature is its location, a museum that represents more than 100 years of aviation history and celebrates all those who succeeded in shooting for the stars.
"I honestly think it's the best place to have a comic book convention," Herring said. "Where else can you be digging for comic books or just hanging with an artist and right above you is Charles Lindbergh's Spirit of St. Louis. Or you could be taking cosplay pictures next to the actual Grumman lunar module."
Comic book enthusiasts can get lost in the museum's many nooks or partake in all the fantastical fun on display at Cradle Con by going to www.cradleofaviation.org for tickets. Advance discounted tickets are $20 for adults and $10 for kids. Weekend passes are $30. On the day of the event, adult tickets are $25 and kids are $12.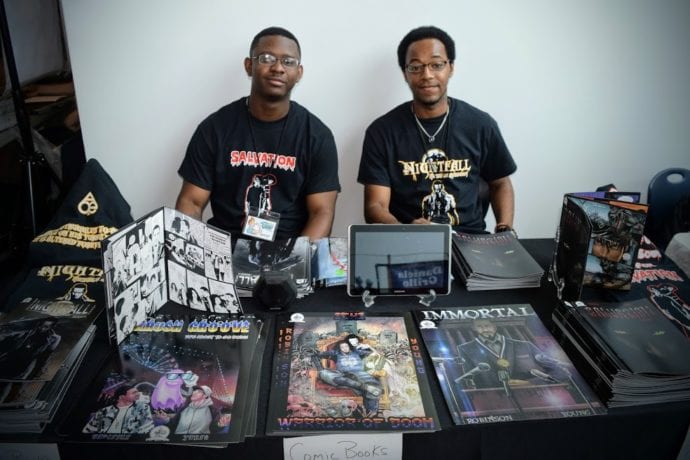 All proceeds support the museum's education and preservation programs. The event will raise funds for the museum's Women in STEM education programs, a new computer lab partly sponsored by Microsoft, new equipment like 3D printing machines, free classes, films in the planetarium and more.
The Cradle of Aviation Museum is located on Museum Row, Charles Lindbergh Blvd., in Garden City.
For more information about the event, call 516-572-4111 or go to www.cradlecon.com.