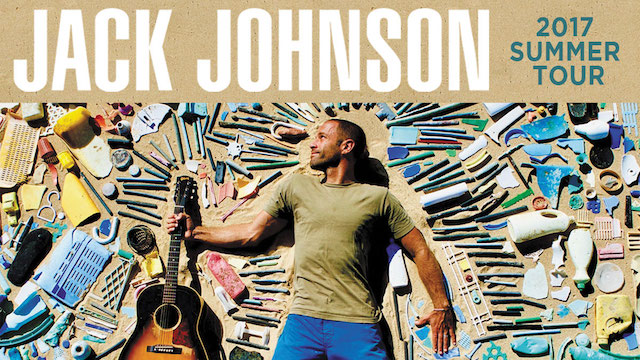 Forest Hills Stadium will host American singer-songwriter, actor, record producer, documentary filmmaker and former professional surfer Jack Johnson on Wednesday, June 14 at 6 p.m. (doors open at 5 p.m.).
Known primarily for his work in the soft rock and acoustic genres, Johnson achieved commercial success after the release of his debut album, Brushfire Fairytales, in 2001.
He has since reached number one on the Billboard 200 chart with his albums, Sing-A-Longs and Lullabies for the film "Curious George" in 2006, Sleep Through the Static in 2008, To the Sea in 2010, and From Here to Now to You in 2013.
Johnson's "In Between Dreams" album peaked at number two on the chart in 2005 and again in 2013.
Johnson is active in the ecology and sustainability movement, often with an ocean-centric focus.
He and his wife Kim created the Johnson Ohana Charitable Foundation and the Kōkua Hawaii Foundation.
In 2008, Johnson adopted the concept of greening (reduce and reuse), and donated 100 percent of the proceeds of the Sleep Through the Static tour to the Johnson Ohana Charitable Foundation.
Similarly, the proceeds from the 2010 To the Sea album tour went to All At Once, a Johnson-backed collaborative of greening charities promoting fan involvement.
Now for the first time since 2014, Johnson is taking his chart-topping catalog on the road for a North American summer tour, where he will be performing new songs, including "Fragments," along with special guest, Bahamas.
This highly-anticipated, new material accompanies the film, "The Smog of The Sea," a documentary that provides a new perspective on the once pristine oceans of the world while making an artful call to action for rethinking single-use plastic.
Curbing the use of single-use plastic has been at the forefront of Johnson's work for over a decade.
Since 2005, his crew has implemented a plastic-free backstage, and since 2007 all of his shows have offered fans free water through water-refill stations.
In 2014, Johnson successfully helped launch a Reusable Pint Program at the Santa Barbara Bowl, which has since inspired venues across the country to follow suit, including the Les Schwab Amphitheatre in Bend, OR, and all venues owned by Live Nation.
This summer, more venues will adopt a Reusable Pint Program, which provides fans with an alternative to disposable plastic cups.
Fans who purchase this reusable stainless steel cup at venue concessions will receive a discount on all beverage refill purchases for the life of the cup.
In addition to these plastic-free initiatives, Johnson and his production team, alongside Reverb, will continue to pave the way in green touring practices with extensive sustainability programs at every show.
On the 2017 tour, additional greening actions include sourcing sustainable biodiesel for tour vehicles, producing up-cycled and eco-friendly merchandise, and expanding waste reduction, composting and recycling.
The tour will also source local, organic food as part of a "farm to stage" program and offer bike valets and alternative transportation incentives, as well as offset all remaining CO2 emissions.
Through Johnson's All At Once campaign, the summer tour will support over 140 non-profit partners and engage fans to take action in support of sustainable local food systems and plastic-free initiatives.
The son of a well-known surfer, Johnson was born and raised on the North Shore of Oahu, Hawaii.
He began to learn how to surf at the age of five.
At 17, he became the youngest invitee to make the finals of the Pipeline Masters, one of surfings most prestigious surfing events, on Oahu's North Shore.
One week later, however, his stint as a professional surfer ended when he suffered a surfing accident at the Pipeline that put more than 150 stitches in his forehead and removed a few of his teeth; this later became the inspiration for the song "Drink the Water."
Johnson graduated from Kahuku High School in Oahu and later attend the University of California, Santa Barbara, and graduated in 1997 with a B.A. in Film Studies.
While Johnson learned the guitar at the age of eight and started songwriting at the age of 12, his passion for music grew when he played rhythm guitar for the band Soil (not to be confused with the heavy metal band of the same name) in college.
Johnson credits his songwriting influences as Bob Dylan, Jimi Hendrix, Radiohead, Otis Redding, G. Love and Special Sauce, Ben Harper, Sublime, The Beatles, Bob Marley, Neil Young, and A Tribe Called Quest.
Hendrix is his all-time favorite guitarist.
For more information about Johnson, go to www.jackjohnsonmusic.com.
"The Smog of The Sea" is available to stream via www.smogofthesea.com.
Tickets to the event are $75.
Forest Hills Stadium is located at 1 Tennis Place in Forest Hills.
For more concert information and to order tickets, visit ForestHillsStadium.com.