In our home late spring means soft shell crab and fresh clam season.  My  husband and son often ask for either of these foods at least once a week.
Late spring into early summer is when the blue crabs molt their shells.  They loose their hard shell and then it takes approximately 14 days for  their delicious soft shell to become hard again.
This is the time to enjoy these tasty crustaceans.  Soft shell crabs lend themselves to frying,  grilling and sauteeing.
My favorite preparation is in the "Meuniere" style.
Nothing is as delicious as plump, freshly shucked clams.  Briefly sauteeing them with garlic in olive oil and butter highlights their sweet ocean  flavors.
Be sure to have your fishmonger shuck the clams for you. This  makes preparing Bucatini with fresh white clam sauce fast and easy.
Once  you use fresh clams in your clam sauce, you will NEVER want to use canned  clams again!
Round out either of these two entrees with a salad and you have dinner. Don't  forget to add a crusty baguette to soak up all the delicious juices! I hope  you will try my favorite Seafood dishes and make them part of your weekly meal line-up.
MENU
(Serves 2)
Soft Shell Crabs
Meuniere or Bucatini with
Fresh White
Clam Sauce
Salad of Choice*
Baguette*
*Recipe Not Given
Soft Shell Crabs
Meuniere
3/4 cup whole milk
1/4 tsp. black pepper
4 small live soft
shelled crabs, cleaned
(your fishmonger will
do this)
3/4 cup  Wondra  flour
4 tblsps. butter
1 1/2 tblsps. unsalted butter,
cut into 3 pieces
1 tblsp. fresh lemon juice
2 tblsps. chopped fresh flat
leaf parsley
1. In a bowl, combine milk and pepper and soak crabs for, at least, 10 minutes and up to 30 minutes.  Lift 1 crab out of milk, letting excess drip off and dredge in Wondra. (I put my Wondra on a paper plate so clean up is easy) Knockoff excess flour and transfer flour coated soft shell crab to a tray.  Repeat with remaining crabs.
2. Heat butter in a 12-inch nonstick skillet over moderately high heat until hot but not smoking.  Then saute crabs, shell side down for 2 minutes.  Turn over and saute until golden brown, 2 to 3 minutes more.
3. Place 2 crabs on each soup plate.  Finish the sauce by adding butter pieces to skillet and cook until golden brown with a nutty aroma.  Add lemon juice and parsley (this will bubble up) and remove from heat.
4.  Season sauce with salt and pepper and drizzle over crabs.
Bucatini with
Fresh White Clam Sauce
18 cherrystone clams,
shucked
with liquid
2  cloves garlic, peeled and
crushed
1/4 cup olive oil
3 tblsps. butter
1/4 cup dry white wine
3 tblsps. fresh lemon juice
1/2  lb. bucatini
2 tblsps. parsley, chopped
Grated Parmesan cheese
1. In a saucepan, melt butter.  Add oil and saute garlic.  When garlic begins to turn golden, add whole  shucked clams and sautee for 2 minutes.
2. Add wine and lemon juice and continue stirring.
3. Meanwhile, cook bucatini in a large, deep pot in rapidly boiling salted water until al dente.  Drain. (reserve one cup of pasta water)
4.  Add Bucatini to clam sauce.  Combine.  (If you would like the clam sauce thinner, add pasta water) Sprinkle with parsley.  Divide between 2 bowls and serve.  Top with grated Parmesan cheese.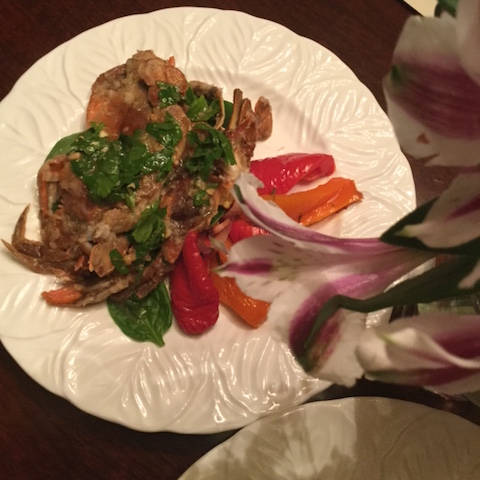 Multiplex Content Recommendation - 1