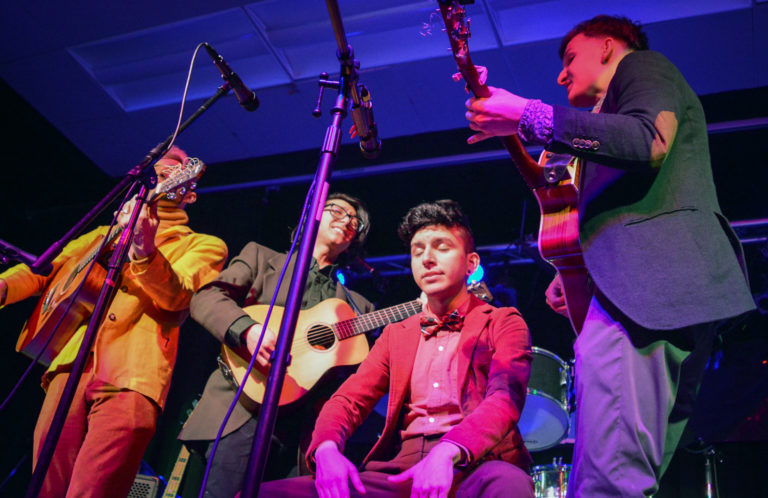 While New York City-based alternative band All Types of Kinds was the official winner at the sixth annual "Your Big Break" at the Gold Coast Arts Center on Saturday night, musicians said the biggest benefits came from two things: bonding over music and performing.
The annual contest, co-hosted by the Gold Coast Arts Center, Love Revolution Organization and Rick Eberle P.R., seeks out young but untapped talent through three rounds of performances. The winners then get a chance to perform at venues like the Paramount in Huntington – after performing for an audience and judges in Great Neck.
"It definitely felt good up there. I think it was the lighting and the audience really had a good energy and we rode it," said Rocco Stroker, one of the band's three guitarists, who played in the final round of "Your Big Break." "We were feeling that energy, even if our instruments liked to go out of tune every now and then."
In between performances, musicians could be seen congregating with fans and competitors alike. Lydia Von Hof, a 16-year-old singer and songwriter from Commack, for example, took a photo with All Types of Kinds.
Von Hof, who was also a finalist at last year's Your Big Break, said she loves this show because of the chance to witness other musical styles, share her own work and be inspired.
"It's not really the winning spot that matters at the end of the day," Von Hof said. "It's the experience and the music – that's what really matters."
Kaylee Shahira, a 21-year old soloist from Northwestern Indiana now residing in Queens, said she moved to New York to pursue music a few months ago as she works on her new album.
In fact, Shahira said "Your Big Break" was her first real show in New York – and a humbling one, at that – and that she looks forward to building friendships and branching out.
"It's also just really nice to connect with likeminded people. Everybody here does have one thing in common: we either love music or we're making it," Shahira said. "There's just a frequency in the room I really enjoy."
For Great Neck band Psychopompous, made up of Great Neck South alumni Justin Kelly, Beni Hahitti and Maximillian Nero, it was also an opportunity for get to know each other again.
The group, which they first formed in middle school, had relegated itself to playing during vacations, band members said, because of obligations with college.
But the "Your Big Break" contest gave them a rallying point of sorts.
"Honestly, we didn't come for the competition," Nero, the group's bassist, said on Saturday. "We came because we like to share our playing and our music with other people."
The group 37 Stripes, consisting of multi-instrumentalist Andrew Hahn and vocalist and guitarist Oscar Cellura, both of Manhasset Secondary School, as well as drummer Zach Levine of Syosset, recalled getting together for two hours every Friday night and Sunday morning to make sure they got everything right.
Ultimately many friends and family members came out to support them, applauding with each line Eugenia Kelly-Viner, the co-director of Love Revolution Organization, read of their biographies.
And while the group did not win in the strict sense, members said performing there was definitely a worthwhile experience.
"Getting all the practice down, you ultimately get to a point where you're so confident, you're up there, no worries, everything is good, vibes are bouncing off each other – just having a good time," Cellura said. "At the end of the day, win or lose, it was a great session."
Music executive Mark Ambrosino, one of the judges, said skill level and originality were factors in rendering a decision. But for him, he said with a snap of the fingers, "it hits me or it doesn't."
And while one group "stood out above the rest," Ambrosino said the contest was more of a "learning process" for contestants and that performers gave him hope about the future of the industry.
"I'm very concerned and I hold close to my heart the state of the music industry – or the lack thereof," Ambrosino said on Saturday. "And I got a lot of hope from seeing some of the artists tonight."
"I didn't know what to expect and I walked out of here saying, 'oh man, these guys, girls, kids, bands, are doing really creative stuff.'"