Kimberly Esquilin said she quickly learned two things when she came to the Wheatley School in eighth grade: coffee can be cold and not everyone loved Jesus as much as she did.
Esquilin, one of the 2018 graduating class honor essay speakers during Sunday's commencement at the Tilles Center, had only attended parochial school before starting at Wheatley.
"The only thing I knew about about public schools was I didn't have to wear a pleated skirts and button down shirts," Esquilin said.
Esquilin said she also quickly noticed that everyone was always drinking iced coffee.
Before, Esquilin thought coffee had to be hot, with milk and no sugar – because that's what her dad told her, she said.
Learning that coffee could be consumed hot or cold and sweet or plain was just one of the ways Esquilin's horizons grew during her time at Wheatley, she said.
Esquilin said she would've classified herself as a "Jesus freak" before coming to Wheatley.
Now, she'd call herself an "educated Jesus freak."
"Wheatley has prepared me in ways I would not have been had I stayed in parochial schools," Esquilin said. "… This is not to say I was close minded before, I just didn't know enough about the world and it's vastly diverse viewpoints to have an informed discussion with someone without justifying my answer with 'because.'"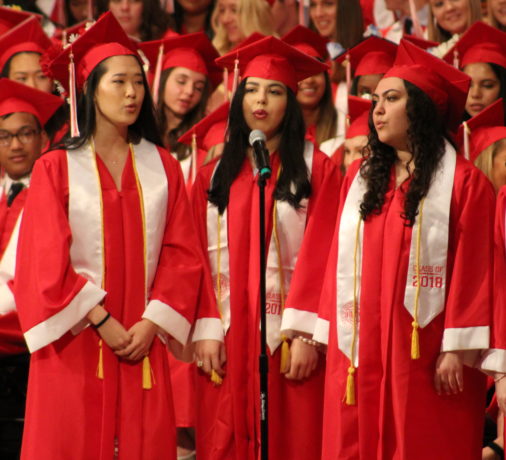 Perhaps most importantly, Esquilin said she learned she can form friendships with people with different views from her own.
"Here I discovered that I didn't have to have friends that are exactly like me, there's not a set group of people that I'm allowed to cherish or reject all together," Esquilin said. "I can love and show compassion to everyone, as long as there's a common level of respect … what can I learn from people who already agree with me?"
Esquilin's lesson is an important notion for the graduating class, according to Principal Sean Feeney, who told the graduates to hear and feel compassion for each other despite the divisive, tumultuous world they're entering.
It is world flooded with violence in schools, shifting international alliances, attacks on the press and the conflation of opinion with facts, Feeney said.
"Fortunately, on this very stage sit students who already demonstrate both a desire and ability to bridge the division in our country," Feeney said.
In addition to Esquilin, there were two other honor essay speakers and an address from the 2018 Class President Herbert Cumming.
Cumming urged his classmates to put down their phones – take a break from Fortnite and social media – and enjoy the moment.
Megan Kirschner, an honor essay speaker, told graduates that they have the ability to change what they see as a loss or a win.
Kirschner used her class's defeat in Showdown, which she described as a week-long field day for the high school during their junior year.
Kirschner said that although the grade lost by four points, when she focused on the loss alone she didn't think about all the little victories and fun times she and her classmates had in the games.
"Change what you define as a loss and search for the triumph in everything," Kirschner said. "If you can't lose you never will."
Jacob Chimerine, another honor essay speaker, said the world is in the hands of him and his fellow graduates.
It can seem like a daunting task, but despite what anyone's background is he or she can make a difference, Chimerine said.
"If we all stopped asking ourselves why or when and just did something, maybe the world will be a better place," Chimerine said.
In addition to the speakers, there were four musical performances at the ceremony.
Hallie ArbitalJacoby sang "This Time" by Darren Criss, with Rick Allen Wilson on piano.
A group of student vocalists performed an a capella "Pop Mashup Medley," arranged by Justin Vega.
Tessa Karikas sang "I'll Always Remember You" with Mitch Allan and Jessi Alexander on piano.
A group of students also performed an original arrangement called "Showdown Symphony," consisting of songs related to the class's showdown themes over the years, conducted by Kirschner.
Merly Fordin, president of the East Williston Teachers' Association, presented the David K. Israel Scholarship to Caroline Crimmins.
Robert Fallarino, vice president of the East Williston Board of Education, presented the Dr. Jane Ann Smith Citizenship award to Rachel Fuzaylov.
Reach reporter Rebecca Klar by email at [email protected], by phone at 516-307-1045, ext. 204, or follow her on Twitter @rebeccaklar_.