The Democratic minority in the Nassau County Legislature proposed a local law that would add a five-cent fee for single-use plastic bags.
If approved, Nassau would join Suffolk County and the City of Long Beach in adding the cost to consumers – a measure that Legislator Debra Mulé said would "help protect our waterways and encourage green living."
Majority Leader and Presiding Officer Richard Nicolello (R-New Hyde Park) said he is opposed to the bill and it will not be moving forward.
All seven members of the minority either introduced or co-sponsored the bill.
Nassau County Executive Laura Curran joined Mulé and other Democrats, including Legislator Arnold Drucker, Legislator Josh Lafazan and Legislator Delia DeRiggi-Whitton, as they announced the proposed law on Monday outside the Theodore Roosevelt Executive and Legislative Building in Mineola.
Curran said she supports the bill.
"We have to protect our environment, and to do that we all must play a part," Curran said. "Minimizing the use of plastic bags is a logical and important step in keeping our bays and oceans free of the perils of plastic bags and the dangers they pose to our marine life."
The law would require stores to charge a five-cent free for single-use plastic bags; the money collected will go to the stores.
Residents who use the New York state Supplemental Nutrition Assistance Program or New York state Special Supplemental Nutrition Program for Women, Infants and Children are not subject to the bag fee.
Drucker said this is not a political issue, and legislators across the aisle have to step up together to do something.
Nicolello said that for "whatever marginal benefit there might be" it is another regulation and burden on people.
"At some point I believe government has to say enough in terms of putting requirements on everything that people do," Nicolello said.
It is estimated that 23 billion plastic bags are used in New York state every year, according to the bill.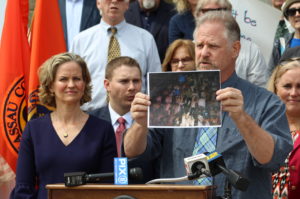 Since the laws were passed in Suffolk and Long Beach, plastic bag usage has gone down by 70 to 80 percent, Mulé said.
The announcement follows Gov. Andrew Cuomo's April introduction of a bill to ban plastic bags.
Mulé said it is necessary for a separate county law because it is not known when the state law would pass.
She added that it differs from the proposed state law, which bans plastic bags. Banning plastic bags would increase the use of paper bags – also posing an environmental problem, Mulé said.
Stores that do not follow the law, if approved, will have to pay a fine. Fines start at $250 for a first-time violation and go up to $750 for a third-time violation.
If violations continue, each day will constitute a separate, additional fine.
Penalties will be collected by the commissioner of the Department of Consumer Affairs and will go toward an Environmental Protection Fund created by the county.
There would also be a grace period of about six months after the law is enacted, Mulé said.