The Garden City Park School gym was transformed into a young reader's dream last Thursday when the school kicked off its summer reading program with Author's Night.
Twenty-two children's authors from the area filled the room – giving children the opportunity to hear first-hand about stories from the people who wrote them and get copies signed.
"I think that really inspires them and engages them and gets them excited about writing because they feel your passion and energy about your book," author Kadeja Wexler, a Little Neck resident, said.
Darren Sardelli, a children's poet from Long Beach, said he also thinks meeting authors helps inspires children to write.
When children see it's an actual person behind the words, it gives them hope that they can do it too, Sardelli said.
Not only did the event help inspire the young readers, it also helps keep the authors motivated, Sandy Lanton, from Plainview, said.
Lanton said writing can be a solitary act, and she is always thrilled when she gets to meet her readers.
Cindy Sommer, from Stony Brook, expressed a similar sentiment.
"It makes it worth all those hours by yourself," Sommer said.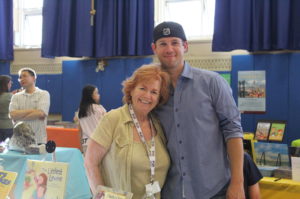 Among the authors was Garden City Park's own fourth-grade teacher John Contratti, who used his time as a teacher to inspire his book series "Mr. C."
Contratti has two books in the series, "Cooking with Mr. C." and "Mr. C. Takes Manhattan."
He said he enjoys meeting other authors and introducing his students to them.
Joyce Wheeler, president of the Garden City Park PTA, said the event, the first of its kind, was a success.
The school reached out to the entire New Hyde Park-Garden City Park district as well as neighboring districts, including Herricks and Mineola.
Wheeler said she couldn't be certain if other districts' students came by, but said there were a lot of faces she didn't recognize at the event.