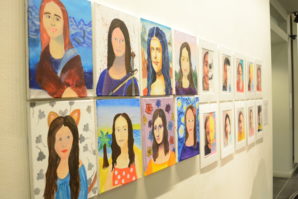 Conversation between children, teachers and parents buzzed throughout the Gold Coast Arts Center as young students dashed around more than 100 works of bright vivid colors in the spirit of Jackson Pollock, water color sunsets, portraits and charcoal drawings.
"You look at it. It's wonderful," said Harriet Becker, a Gold Coast board member and co-president of the North Shore Community Arts Council, gesturing to a line of works along the wall. "We have Mona Lisa, we have all these children who had to do pictures of themselves and then something abstract."
"You have to be really smart to do something like that," she said.
The students vary in age from about 3 years old to adulthood, as do their works. But what most share, teachers and students said, is a love of what they do and satisfaction seeing their work on display at this year's Festival of the Arts Student Art Show.
Dani Garofalo, a 17-year-old teaching assistant at the arts center, said the work on display showcases how much students have grown in their artistic style and what they're capable of.
"It's really rewarding," Garofalo said. "They can talk about it with their friends, they make friends in class, they're doing something they really like to do, and just to see it – I feel like it's extremely rewarding for them and for us as well, just seeing they've accomplished something so great."
"And day to day," Garofalo said, "they're getting better."
One of those artists is Maya Sedaghatpour, a 5-year-old painter and drama student who sometimes gives her projects to her family members to help them be happy.
Maya said she is still figuring out her favorite thing to do. But, the young artist said she enjoys colored pencils, crayons and painting, as well as music, and hopes to continue with art camp.
"Because I like it," Sedaghatpour, who also attends the North Shore Hebrew Academy, said.
As Head of School Ellen Schiff explained what takes place in the classes, she sometimes paused to talk with – and introduce – some of the center's 150 students and parents and point out what they did that year.
Typically, Schiff said, a student begins with basic skills like color and design. Over time students develop their own styles, exploring everything from ceramics to water color, and often venture into other artistic disciplines like acting and dancing.
"What it says about the school is we know how to teach, we know how to encourage, we know how to inspire," Schiff said.
As for the exhibit, Schiff described it as her "favorite show of the year."
"Seeing the satisfaction on the children and students' faces," she said, "is worth everything."
The Festival of the Arts Student Art Show will be on display until May 11. Entry is free.