Hot weather across Long Island is the perfect weather to be enjoying a few cold beers (if you're of legal age, of course) and the region is home to plenty of local breweries worth checking out.
Besides just beer, these locations offer weekly events as well as special events throughout the summer months and can be found across both Nassau and Suffolk Counties. So whether you're going out simply for a few drinks or you're doing it for the experience, here are a few locations to look into:
Nassau County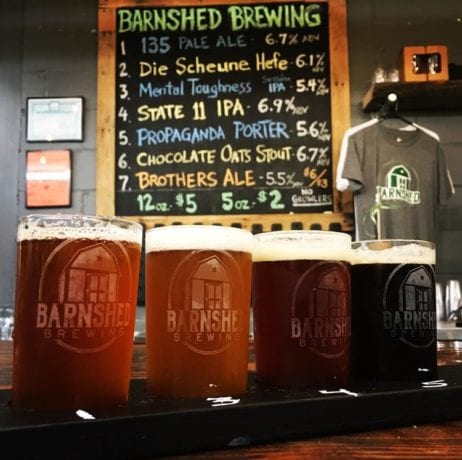 Barnshed Brewing: Located at 100 Lauman Lane in Hicksville, Barnshed Brewing is a smaller brewery just minutes from both the Bethpage and Hicksville LIRR stations. Barnshed has events going on all year long such as trivia twice a month and seasonal events, including an annual cornhole tournament and Summer Fest at the end of the summer, Halloween Bash, Drinkin' with Lincoln, St. Patrick's Day and the brewery's Anniversary Party in May. Owner and head brewer Bryan Murphy says Barnshed typically has between 10 and 12 beers on tap, with a wide variety among them.
"We're such a small brewery, which allows us to experiment with small batches," said Murphy. "We like seasonal beers, so when the weather changes, beers at Barnshed Brewing changes."
If you can't find someone to dogsit, Barnshed is pet-friendly to your furry friends brought in on a leash. If you can't make it down to the brewery's location, you can find Barnshed at Crossroads Farms in Malverne for this year's Food Truck Derby (July 19), the Long Island Craft Classic Beer Fest at Heckscher State Park on Aug. 10, and on Aug. 17, the brewery will be at the NY NY Baseball BrewFest at the Cradle of Aviation in Garden City.
Oyster Bay Brewing Company: The brewery has already showed its love to Long Island with its "Long Island Love" and "Barn Rocker" beers, and Long Islanders can return the love by paying a visit to 36 Audrey Ave. in Oyster Bay. Founded in 2012, Oyster Bay Brewing Co. says that its beers are "thoroughly New York at heart," as they blend "new and old world techniques with creativity and style."
At the brewery, Oyster Bay offers merchandise such as beer glasses and growlers and apparel branded with the brewing company's logos, and for those who are New York Islanders fans, they also carry merchandise and apparel for their "Barn Rocker" beer, branded in blue and orange.
Oyster Bay Brewing Company has its doors open seven days a week, from 1 p.m. to 10 p.m. Monday to Thursday, 1 p.m. to 12 a.m. on Friday, noon-to-midnight on Saturday and noon to 8 p.m. on Sunday.
Garvies Point Craft Brewery: On the north shore of Nassau County lies Garvies Point Craft Brewery, located at 1 Garvies Point Road in Glen Cove. With eight rotating beers on tap, the Garvies Point Taproom is the perfect spot for a drink off Glen Cove Creek and Hempstead Bay. The taproom is open Wednesday to Sunday and, besides just offering locally crafted beer, also has branded apparel and bar items to purchase.
Garvies Point has plenty of beers to offer at Long Island beer festivals this summer, including the Long Island Craft Classic at Heckscher State Park and the NY NY Baseball BrewFest at the Cradle of Aviation in Garden City.
Lithology Brewing: Less than one mile away from the Farmingdale LIRR station, Lithology Brewing continues to serve the Nassau County community with its 12 taps of locally crafted beer as well as wine and cocktails to satisfy anyone's drinking needs. Known as a farm brewery, Lithology uses "at least 60 percent locally harvested New York ingredients" for its beer, including hops, grains and their own strains of yeast.
Lithology hosts live music performances on Saturdays and has plenty of daily specials, including $1 off for Farmingdale locals on Tuesdays. In addition, the brewery also holds a monthly dance party called "Vibeology," which features a rotating lineup of DJs and performers.
Lithology's taproom is open Tuesday to Thursday from 5 p.m. to 10 p.m., 4 p.m. to 11 p.m. on Fridays, Saturdays from noon to 11 p.m. and Sundays from noon to 6 p.m. Lithology is another brewery participating in the Long Island Craft Classic and the NY NY BrewFest this year.
Suffolk County
Blue Point Brewery: On Main Street in Patchogue, Blue Point Brewery has set up its operations inside the building formerly known as Briarcliffe College after the school ceased operations last year, but the beer has been around much longer than that. Blue Point started back in 1998 with its flagship "Toasted Lager" beer and has only continued to grow since then.
The new site just outside the Village of Patchogue includes a second floor brewpub and tasting room with views of the brewing operations, daily live music, outdoor beer garden, Raw Bar, Firkin Bar and 30 taps. If you're a pet lover, you don't have to leave them at home as the brewery allows you to bring your companions along with you, but only in the outdoor beer garden. The brewpub is open Wednesday to Sunday every week, and on Friday, July 26, will be hosting its Summer Friday event which features live music from local favorites and a headline performance by New Politics. Guests will be invited to play one of many backyard games for chances to win free pints, swag, and more.
Besides Summer Friday, you can catch Blue Point Brewery along the streets of Patchogue at the final two Alive After 5 dates of the summer, July 24 and Aug. 8 or at the annual Long Island Maritime Museum's Seafood Festival Aug. 24-25, both of which Blue Point is the presenting sponsor for. The brewery will also be at the Long Island Craft Classic at Heckscher State Park and the NY NY Baseball BrewFest, likely serving up its signature beer popular with fans of the New York Yankees, the "Pinstripe Pilsner."
Great South Bay Brewery: On Long Island's south shore just a few short miles from the Great South Bay, the brewery has been pouring drinks for nearly the last decade in Bay Shore.
Serving up Long Island-inspired brews such as the "Robert Moses," "Field 5," and others with Long Island identifiers as part of the label, Great South Bay has plenty of beers on tap with plenty happening at the taproom, which is open six days a week. On Monday, the brewery hosts game night, where you can play one of many board games in a quiet bar with all of your friends. Wednesday is bingo night at the brewery from 7 p.m. to 9 p.m. for beer, prizes and Great South Bay gift cards and Thursday is trivia night from 7 p.m. to 9 p.m. with the chance to win a gift card to Great South Bay worth anywhere from $50 to $600.
Besides its nightly happenings, there are also some special events coming up in the next few weeks, including a cornhole tournament with NY Cornhole and live music on the Back Lawn with the Suburban Bros. Band on July 27, and on Aug. 18, will be the Greater Long Island Runners Club 5-mile long Aloha Run to Great South Bay Brewery.
The one day of the week Great South Bay closes its doors is on Tuesday, but Monday, Wednesday and Thursday the brewery stays open from 3 p.m. to 10 p.m., 3 p.m. to 11 p.m. on Friday, noon to midnight on Saturday and noon to 8 p.m. on Sunday. If you can't find a pet sitter or a babysitter, don't worry, Great South Bay allows you to bring your pets and your kids, as long as it's within the brewery's permitted hours.
Great South Bay will be participating in beer festivals later in the year as well. "We do participate in a lot of beer festivals all over the island," said Zach Popp, who works in sales for GSB. "Especially the bigger ones like the Great Beer Expo coming up this fall. And also a lot of events in the city." Like other breweries on Long Island, Great South Bay can also be found at the Long Island Craft Classic as well as the NY NY Baseball BrewFest, both happening next month.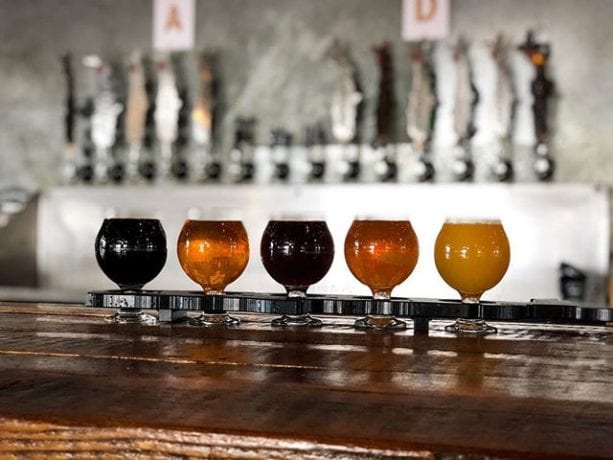 Greenport Harbor Brewing: Long Island's North Fork isn't just home to wineries, it has its fair share of beer, too. Celebrating its 10-year anniversary this year, Greenport Harbor Brewing has plenty for the avid beer drinker to do when taking a trip out east this summer.
"Every week is filled with events including live music all weekend long and trivia on Thursday nights," said Betsy Liegey, who works in branding for Greenport Harbor Brewing. "On Sunday, July 28, we will be hosting LuchaRumble – a wrestling event with WWE's Corey Graves among others." The brewery also hosts live musical performances at both of its locations in Greenport and Peconic on the weekends.
While both sites have plenty of beer on tap, including the brewery's popular "Other Side IPA," and seasonals such as the "Summer Ale" and "Leaf Pile" in the fall, there is plenty more than just drinking to do when paying a visit to the north fork.
"Our firehouse location (in Greenport) seconds as an art gallery, where we exhibit new artists regularly," said Liegey. "We have an opening for each new artist.  In January, be on the lookout for our annual Chili Cook-off where local chefs compete for top honors for the best chili."
The location in Greenport opens at noon all seven days of the week, closing at 7 p.m. Sunday to Thursday and 9 p.m. Friday and Saturday, while the Peconic site is open 12 p.m. to 8 p.m. Sunday to Thursday and the same noon to 9 p.m. as its other location on Friday and Saturday.
Montauk Brewing Company: Back in 2012, Montauk Brewing Company started off as a basement operation between a group of friends and, in just seven years, has grown to assimilate itself into The End of Long Island on the south fork.
"Montauk Brewing Company focuses on making the highest quality beer, while living an active lifestyle," said Erin Burns, taproom and events coordinator. "Our laid-back, no-frills way of life and 'Come As You Are' attitude invites fans from all over, with all sorts of backgrounds."
The brewery sticks to its active lifestyle by hosting "Bells and Brews" every Thursday at its Montauk location, which consists of a "free kettlebell training session led by Truth Training followed by Montauk beer," according to Burns. Montauk Brewing is also partnering with Bowery Farms Aug. 2 to help clean up the beach, which will be followed by food and drinks at the brewery.
With a tasting room in Montauk open from 12 p.m. to 8 p.m. seven days a week, one of Montauk Brewing Company's seven beers would be the perfect way to end a trip out to the lighthouse on the tip of Long Island or a day at the beach.
"Wave Chaser IPA continues to see explosive growth throughout Long Island and New York City," added Burns. "It offers incredible tropical aromas of grapefruit and citrus. Montauk Summer Ale is our No. 1 selling seasonal and, according to our fans, is the official beer of the summer."
The tap room is "friendly-dog friendly," as the brewery puts it, and is open for all ages, so don't worry about having to get rid of the kids after a trip out east. Montauk Brewing Company will also have its beer available in plenty of distribution centers and will be making an appearance at the NY NY Baseball BrewFest next month.