The Great Neck Library Board of Trustees formally accepted the library director's resignation and once more appointed Tracy Van Dyne as acting director on Monday night, with former library trustees and community members expressing frustration about why they're once more in this situation.
The director, Denise Corcoran, a veteran of the Queens Library system, was hired as Great Neck Library's director on Feb. 1, 2018, succeeding Kathy Giotsas, who was fired in spring 2017. Van Dyne, the assistant director, served as interim director in between them.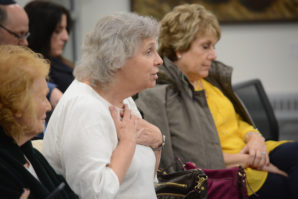 "I've worked in libraries for 20 years, I've been a librarian – is the job so onerous that someone who has been here a short time resigns?" Barbara Mehlman, a 44-year Great Neck resident, asked trustees. "I don't know if there is an answer but I don't know what is in the job that would make someone resign after a short time."
Janet Eshaghoff, a former Great Neck Library trustee at the meeting, said she is "very, very troubled that we're in this situation once again."
Rebecca Miller, the president of the library board, said the board takes the issue very seriously. She said the board intended to vote on preparing a request for proposals for an outside consultant to review how the library functions, give feedback and allow the board to make necessary changes.
"… We could reflect on it and make changes based on it that we feel need to be made and move forward into the director search and show that we take the departure of a director – again – very seriously and are willing to do the work of introspection that this would bring," Miller said.
Michael Fuller, a former trustee involved in Corcoran's hiring, attributed the resignation to extreme "micromanaging" by the library board in recent years.
"We spent many many months getting this candidate, [who] we wholeheartedly supported … and within a year she's resigning largely due, from what I understand, to micromanaging of the board and that answers your question as to why they can't keep people," Fuller said. "This board has always had a reputation of micromanaging and unfortunately it seems to have gotten to a point where a really strong director, who managed to run 24 branches or 22 in the County of Queens, somehow can't handle what's going on here."
Corcoran declined to comment.
The proposal itself was questioned on whether it was "transferring responsibility to an outside consultant," how a consultant can adequately gauge the level of "micromanagement," and whether it was necessary if many of the issues are already known.
The board failed to get a majority to move on preparing a request for proposals, with only three trustees voting in favor.
Marietta DiCamillo, a former library board trustee, said that to get someone qualified to come to the library, "aggressive action to say that we have a problem and now we're going to repair it" needed to be taken. The outside consultant would have been able to review emails and issue an "honest assessment" if the request for proposals was done right, she said.
"But having done nothing, you're not going to hire anybody," DiCamillo said. "You're out of the game."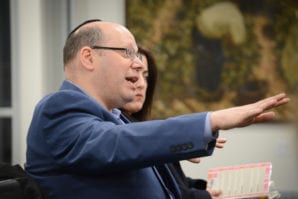 Fuller said that after having gone through two directors and a handful of interim directors in five years, the board is "dead in the water" when it comes to getting another qualified one.
"There were just people who couldn't seem to keep their hand off the wheel," Fuller said. "They felt they always needed to be in communication and talking to people and there always seemed to be drama going on behind the stage and why are there 18 meetings."
Rebecca Rosenblatt Gilliar, who served on the director search committee that selected Corcoran, said the board has another option: hiring someone to create a questionnaire to send to past directors.
"If we really want to find out why people left us, why don't we ask them?" Gilliar said. "I'm not saying you should do that, I'm saying it's another choice, and it seems to me an outside consultant isn't really the right way to go."
Miller said a director search committee will be formed and its exact composition is not finalized, but members of the public will be involved.
In recent years, Great Neck Library's directors have had short tenures compared with others on the North Shore.
Maggie Gough has been the director of the Manhasset Public Library since September 2011, for example, while the Port Washington Library's last director served 24 years, and other directors served there more than 30 years.
But since 2009, the Great Neck Library has hired three directors and had three interim directors. Among them are Jane Marino, who was hired in 2009 and served until 2012, Laura Weir, who was interim director from 2013 to 2014 until retiring, and Christine Johnson, who served as interim director from 2014 to 2015.
The Great Neck Library system spans the Great Neck peninsula and part of New Hyde Park, serving more than 40,000 people. It has the Main Library in Great Neck and three branches: Parkville in New Hyde Park, Lakeville in southern Great Neck, and Station in Great Neck Plaza.
The next Board of Trustees meeting will take place on Tuesday, Feb. 26, at 7:30 p.m. in the Main Library at 159 Bayview Ave., Great Neck.