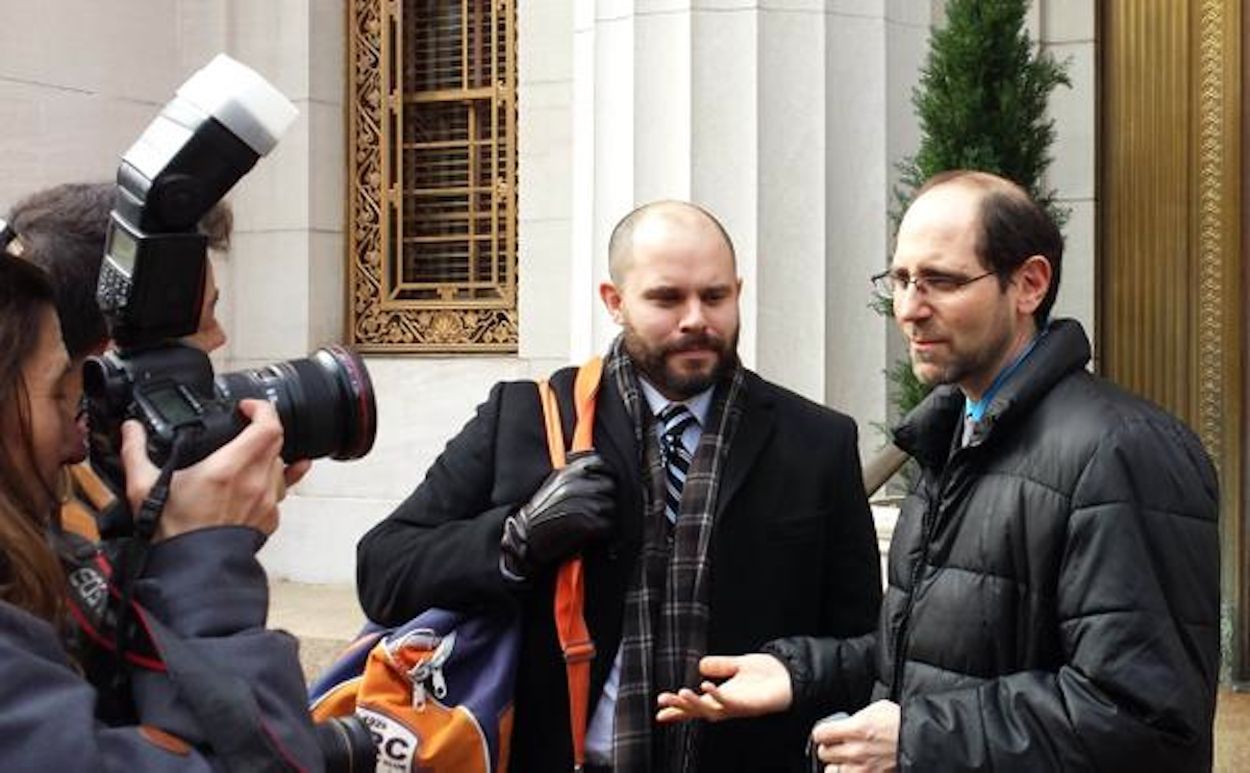 An attorney for Jesse Friedman argued for the full file on his client's case on Wednesday, in an effort to prove the former Great Neck resident's innocence nearly 30 years after his guilty plea in a child sex abuse scandal.
The arguments before the New York State Court of Appeals focused around the state's Freedom of Information Law, confidentiality and whether or not the law allows the disclosure of Friedman's case files.
Ronald Kuby, Friedman's defense attorney, argued that the confidentiality exemption to public information law does not apply here and that the files not disclosed could prove Friedman's innocence, according to the court brief.
Newsday also reported that Kuby said prosecutors "never showed anyone involved in the case was a confidential source."
Assistant District Attorney Judith Sternberg argued in court that the children only testified because they believed their privacy would be protected and that disclosing records could discourage victims from victims coming forward later, according to Politico.
"This case is about whether sensitive, humiliating, and graphic statements made to authorities by child sex crime victims about the most personal and private matters should be available to any member of the public under FOIL, not about whether Jesse Friedman committed the crimes to which he pled guilty and described in detail on national TV," the District Attorney's Office said in statement. "If the state's public records law is construed to compel prosecutors, police, schools, and other government agencies to release statements of sex crime victims to any sex offender, reporter, or member of the public who requests them, victims will be retraumatized, less likely to come forward to report abuse, and less willing to cooperate with law enforcement."
In a 1987 case, police had accused Jesse Friedman, his father Arnold, and three others of abusing hundreds of children in after-school computer classes in the Friedmans' basement. The Friedmans pled guilty to abusing 13 boys in 1988.
After serving 13 years in prison, Friedman was released on parole in 2001 and retracted his guilty plea. He said that law enforcement officials coerced his confession and manipulated alleged victims into making false claims.
Arnold Friedman committed suicide in prison in 1995.
In 2010, the U.S. Circuit Court of Appeals for the Second Circuit said there might be evidence suggesting Friedman was wrongfully.
A three-year investigation by former District Attorney Kathleen Rice's office rejected that notion, but representatives for Friedman debated that claim and said the "Rice report" had falsehoods.
Justice F. Dana Winslow, a Nassau County Supreme Court Justice who reviewed files related to the Friedmans' case, ordered the county district attorney's office to give "every single piece of paper" related to the case to Friedman in 2013.
An appellate court ruled that the district attorney's office did not need to release the files to Friedman, who sought them through a Freedom of Information Law request.
The legal saga followed the release of the 2003 documentary "Capturing the Friedmans," which was nominated for an Academy Award and directed by Andrew Jarecki.
Regardless of whether or not the court rules in favor of allowing Friedman to access his case file, Lonnie Soury, a spokesman for Jesse Friedman said they intend to pursue an innocence hearing for Friedman.
But, Soury said, the legal team is "cautiously optimistic."
"You never know how they're ultimately going to rule, but they asked some great questions and seemed open to our arguments," Soury said.