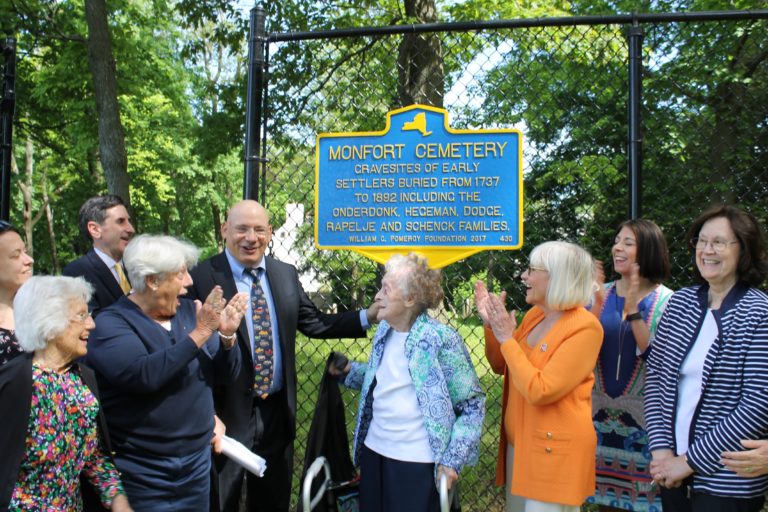 In the centuries that have passed since the area was first settled, the Monfort property has undergone a vast change. The location of a house and barn is now a parking lot for the post office; where there once were apple orchards is now the campus of Paul D. Schreiber High School and a turf field.
But tucked away on a hillside, shaded by trees, remains the Monfort Cemetery, which holds some of the area's earliest residents. A new marker unveiled on Monday will draw attention to this small patch of North Hempstead history that is off the beaten path.
"Our town is full of so much rich history and it is important to commemorate and preserve that history," said Town Supervisor Judi Bosworth. "These local residents helped to shape our town and our country."
Among those buried in the cemetery is Adrian Onderdonck, Bosworth's predecessor. He signed a declaration of independence to break away from the Town of Hempstead, which was loyal to England. He served as the first town supervisor for the newly created North Hempstead, a capacity in which he served from 1784 until his death two years later.
Three other signers of the 1775 declaration are buried in the cemetery: Martin Schenck, Thomas Dodge and Petrus Onderdonck. The latter two fought in the Revolutionary War. Other notable internees are Hendrick Onderdonck, who hosted George Washington when the president visited Roslyn, and Andrew Onderdonck, who was elected to the New York Senate over future Vice President Aaron Burr.
"I consider this the most historically important burial ground in all of North Hempstead, and possibly all of Long Island," said Howard Kroplick, the town historian.
According to the town, the cemetery has 154 internments, with the first person buried in 1737 and the last in 1892.
"The marker is a wonderful tribute and reminder of the many brave patriots from the American Revolution who lived in Port Washington and courageously fought to create our nation," said Town Councilwoman Dina De Giorgio.
Kroplick worked with the William G. Pomeroy Foundation, which provided North Hempstead with a grant to have the sign installed.
"People think that New York state sponsors these historical markers, but they stopped that in the '60s," he said. "The Pomeroy Foundation has been funding these markers, and they've been really great at reinforcing the history of New York."
Also in attendance were members of the Monfort family, who donated the cemetery to the town in 1984.
Bosworth announced that the town would begin a program to help restore the tombstones. Many have fallen over or have faded to the point of being practically illegible. Recently, the cemetery suffered extensive damage during Superstorm Sandy.
"We're going to bring in one of the world's experts in gravestone restoration and ultimately … we're going to bring [the headstones] back to what they should be," Kroplick said.