By Janelle Clausen and Jessica Parks
Two women who appeared to vehemently oppose transgender rights verbally harassed Mimi Hu, a Great Neck Library board candidate whose 6-year-old son was with her, at the Great Neck Autofest and Street Festival on Sunday.
In a video of the incident, the two women, Mersedeh Rofeim and Valerie Shalit, were heard calling Hu a "communist fascist" and asking "Are you a man or a woman?" One said  "take that —- to China" regarding support for transgender people and told her to "get out of my personal space" as Hu tried to walk past a stand.
The event comes as the Great Neck Library board elections draw near, with Qiping Zhang mounting a write-in campaign against Hu for a spot on a board tasked with overseeing library programs and finances for a library system stretching from Kings Point to New Hyde Park. 
It was not immediately clear why a candidate in the normally decorous library elections had been subjected to such an attack.
Civic groups and library officials quickly condemned the incident, which one group denounced as an example of "hate speech."
During the incident, Rofeim held up campaign flyers for Zhang for the Great Neck Library Board of Trustees, to Hu, who recorded the incident.
"This is who we want," she said, referring to Zhang, before pointing to Hu. "Not transvestite."
She and Shalit went on to chant "Shame on you!"
Rofeim continued to say, "No transgender to Great Neck. No transgender."
Hu confronted the two women in the video later, asking them if they knew this was hate speech and that, "You are not supposed to say things like this in New York – and you have a lawyer friend over there."
The two women replied, "This is America," they can say whatever they want and that Hu "will never be a library trustee."
Attempts to reach Rofeim and Shalit were unavailing.
The Nassau County police had no immediate comment on the incident.
In an interview after the incident, Hu said this was the second time she was confronted that day.
When getting a coffee at Starbucks, she was approached by a man who told her she was not right in the head if she supported two men marrying one another.
Bob Unger, a Great Neck attorney, said in a follow-up call on Wednesday that he was having coffee with a client in Starbucks when he saw Hu there and approached her.  
He said he had been told by various Chinese friends that Hu "had made statements that it's perfectly normal for a man to have sex with a man and vice versa" and asked if she felt that way.
Asked about the relevance of LGBT issues for a library board position, Unger said it's something that should not be normalized.
"In my view, which is not politically correct, someone who is not moral should not be sitting in any position of authority," Unger said.
The Great Neck Chinese Association condemned the harassment of Hu, who is a board member, and urged people to "not allow ourselves to descend into the darkness of bigotry." The group also said that it hoped Hu's son "can overcome the trauma he and his mother suffered and not foster any ill will of his own."
"Such hate speech degrades and intimidates fellow members of the Great Neck community and is the antithesis of the value of empathy, tolerance and equality that we preach to our children every day," the board said in a statement. "This kind of hate speech has no place in Great Neck and must be denounced promptly and forcefully."
Robert Schaufeld, the president of the library board, along with other trustees, also condemned the incidents.
"On behalf of myself, individually and as President of the Great Neck Library Board of Trustees, and on behalf of the Board of Trustees of the Great Neck Library, we denounce the reprehensible conduct that has occurred in connection with the upcoming library election," Schaufeld said. "The library is the cultural center of the community and is open to all. We are aware of and condemn such behavior which abridges our civil liberties."
In a statement posted on WeChat, a social media platform popular with the Chinese community, Zhang said she and her team "strongly condemn all hate speech and empathize with what happened to Mimi."
"Secondly, to reiterate once again … both my team and I have never used physical attacks and stigmatization since the election campaign," Zhang said. "Thirdly, we hope that all voters will express their aspirations through candidates in a rational and peaceful manner, with community solidarity at heart."
At least one message appears to have circulated on WeChat, connecting issues about LGBT rights, transgender bathrooms, refugees and affirmative action to "the current nominee" for Great Neck Library trustee.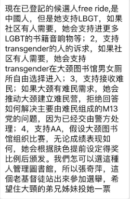 It then goes on to say that, "Undertaking a mission at this perilous moment, a sister from our church decides to step forward and represent us families with traditional values to run for board trustee of Great Neck Library" and named Zhang. 
Efforts to reach Zhang,an associate professor of library and information science at LIU Post, via phone and email for further comment on Tuesday and Wednesday were unavailing. 
Hu said on Facebook that after the event she had planned to go and knock on some doors for her candidacy with her son.
But now?
"Now he wants to stay at home because 'how can you be 100 percent sure that you won't knock at a hater's door?'" Hu said on Facebook.