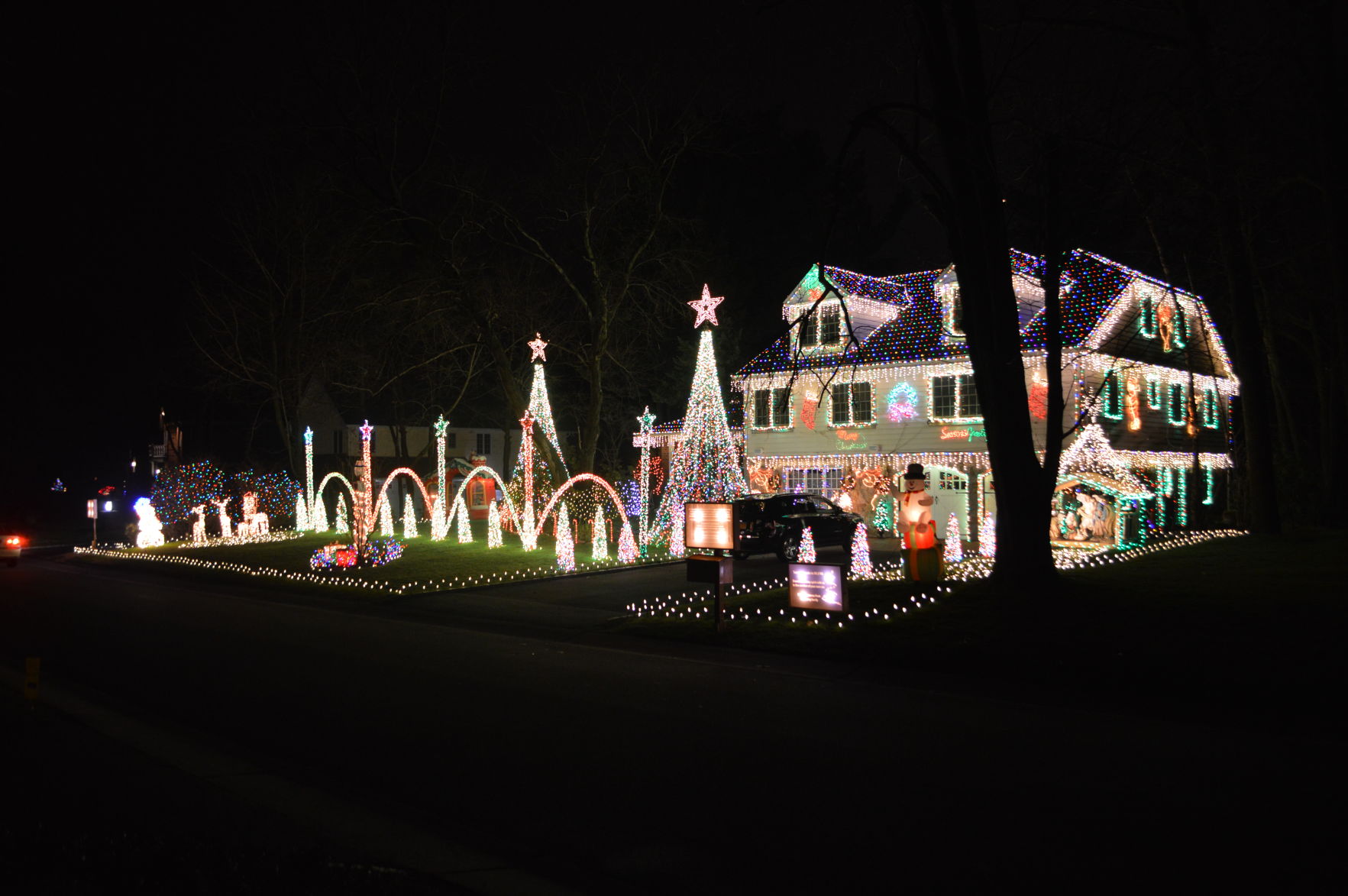 Three years ago, Bob Young received an anonymous letter saying that his house's holiday lighting display in Flower Hill was the reason the author didn't hurt himself or herself. 
"I considered self-harming when I got home," the letter read. "However, my parents decided to stop by your home on the way."
Young said the letter had a special impact on him because in September 2013, his daughter, Marie, 26, died from complications of an eating disorder.
"Decorating my house is so important to me," Young said. "It's what gets me through the holidays every year, because it's part of the grieving process and keeps me focused. It's now to honor the memory of my daughter."
Young began decorating his home, at 9 Sunnyvale Road, in 1996 when it was a smaller display put together by him and his wife, also named Marie, and their daughters.
Now, the display is made up of about 250,000 lights synchronized through music and generated with a computer program. 
Since Marie died, Young said, the lighting display has been a way to honor her every year. 
Young said over 10,000 people visit his family's display annually, and during the week of Christmas, about 100 people and cars are outside the house watching the show.
"It's gotten so big over the years," Young said, "and it has become such a more meaningful way to honor Marie."
Young's neighbors have complained about the lights and music recently, prompting Young and the village to agree on a schedule for the light show, starting on Thanksgiving and ending two weeks after New Year's Day.
The village trustees are discussing two laws to ease traffic on Sunnyvale Road by turning it into a one-way street during the scheduled light show and eliminating parking.
Young sent a letter to his neighbors explaining the importance of his lighting display, saying it's for the memory of his daughter and that he and his family "never intended to inconvenience anyone with our display of Christmas lights and joy, but some apparently feel it is an inconvenience."
After Marie died, the Marie Ashton Young-Erturun Foundation was started, Young said, and works with Project Heal, an organization that helps pay for patients' eating disorder treatment.
Every year, the foundation raises money to pay for the treatment of someone suffering from an eating disorder, Young said.
"Our goal each year is to donate enough money to sponsor someone through the treatment they need," Young said. "Someone who struggled like Marie."
Marie loved helping with the lighting display every year, Young said, and she enjoyed the holiday season. 
Young said Marie was a unique teenager who participated in fundraisers with the Red Stocking  Revue and enjoyed dancing and sports.
"She was an athletic girl and when she was in the fifth grade, she had a field day and came in second place in the softball throw," Young said. "She threw the ball 134 feet, which was further than most guys in the class. I was so proud of her. She was such a strong girl."
Just as Marie would help with the lighting display, Young said, his two other daughters, Noelle and Liana, do, too.
Last week, the display was to be featured on an ABC special spotlighting people who decorate their houses, Young said, but it was canceled.
Noelle, who just started college at the University of Dayton, was scheduled to come home for the weekend to appear in the special, Young said. Instead of canceling the trip, Noelle flew home to help decorate the house.
"We all love putting this together every year," Young said.
Young said he begins preparing for the holiday season in August, and starts stringing the lights around the house in September. 
This year, Young swapped out 40,000 incandescent lights with LED lights, and offered his neighbors the old lights to decorate their homes, too.
"Join us this year in making our neighborhood the brightest light show in New York to celebrate Marie's spirit," Young said in the letter to his neighbors. "Let us all embrace the spirit of Marie's life and protect it, not destroy it."
The anonymous letter he received three years ago, Young said, wasn't the only letter telling his family how the lights have cheered them up.
"That was the first letter we received, but it wasn't the last," he said. "They have all been similar and meaningful. It reminds us that we're spreading Marie's story."