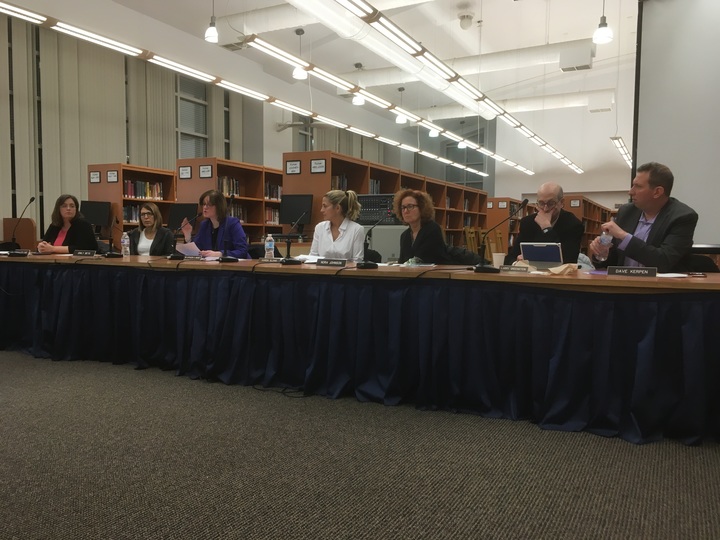 The Port Washington Board of Education spent most of Tuesday's meeting looking for ways to close a gap in its budget, but also reassured concerned parents that the district was doing everything it could to keep children safe in the wake of the Florida school shooting.
During the last meeting, the board had a $1.5 million gap in the budget. That number shrank to zero on Tuesday due to cuts in administration and office supplies. The total budget is currently $155,230,960.
"We're in a better place right now than we were last week, but we still have a ways to go," said board President Karen Sloan.
The draft budget does not include any money for hiring new staff, so it was suggested that  $950,000 could be taken from the unassigned fund balance which would be able to fund new teaching hires.
Assistant Superintendent Mary Callahan said the district had other sources from which to pull funds. She said that the board could take $900,000 out of the school's debt service fund, which she said was set aside for this purpose, and to consider taking an additional $962,228 out of the employees' retirement reserve.
Callahan said that the numbers had changed since the last meeting and will continue to change, especially when the district hears how much state aid will be provided by Gov. Andrew Cuomo.
"I would like to reiterate, as I do each time, that this is a moving target," she said.
Her report showed that the Port Washington School District spent $26,388.47 per student during the 2016-17 school year, down from $26,777.03 the year before. That number was the lowest of 12 local districts that included Manhasset, Great Neck and Jericho.
"Port Washington has been for many, many years, the most cost-effective of all of these districts," Callahan said.
During the public comment period, a parent raised the issue of safety in the district following the school shooting in Parkland, Florida, two weeks ago. She said her son at Paul D. Schreiber High School felt the security there was insufficient.
"It's difficult to say that people should rest assured because there's really just not any way to ever say that, and I'm very sorry to hear that any student would ever feel that their safety is at risk in our buildings," Sloan said.
She then ran through some of the security measures the district had undertaken, which were mentioned in a letter that she and Mooney sent out to parents the day after the shooting. She said that the district worked with local police departments to plan in case of an emergency, that a recent bond approved by the community was being used to install state-of-the-art security systems, and that more security staff had been hired.
"All of those things being said, it will probably never be enough, and we will always keep looking at everything we do and trying to improve that," Sloan said.
She added that the district was considering additional measures, such as metal detectors.
"We have made great strides but we can improve upon that," Mooney said.