During an emotional street renaming ceremony in honor of the late Army Ranger Sgt. James Regan, traffic stopped on both sides of the Port Washington Boulevard median on Thursday as Manhasset junior Patrick Weber brought tears to many in the crowd during his rendition of "The Star-Spangled Banner."
"I don't know about everyone else, but I have a few tears in my eyes right now," state Sen. Elaine Phillips said as traffic began to clear. "To see Port Washington Boulevard literally stop like that is pretty special."
Phillips, alongside Regan's parents, Jim and Mary Regan, took over a section of the road surrounded by Nassau County police officers with a large American flag hung by Port Washington Fire Department trucks.
James Regan was killed in the line of duty in northern Iraq in February 2007 after four tours, two in Iraq and two in Afghanistan, and was posthumously awarded the Bronze Star medal, the Meritorious Service medal and the Purple Heart.
Jim Regan, who affectionately refers to his son as Jimmy, said his son "has a smile on his face up above" despite the traffic congestion.
"Since Jimmy was killed in 2007, the Manhasset community has continuously shown their love and support for our family and the gravity for the sacrifice Jimmy made for our country," Jim Regan said.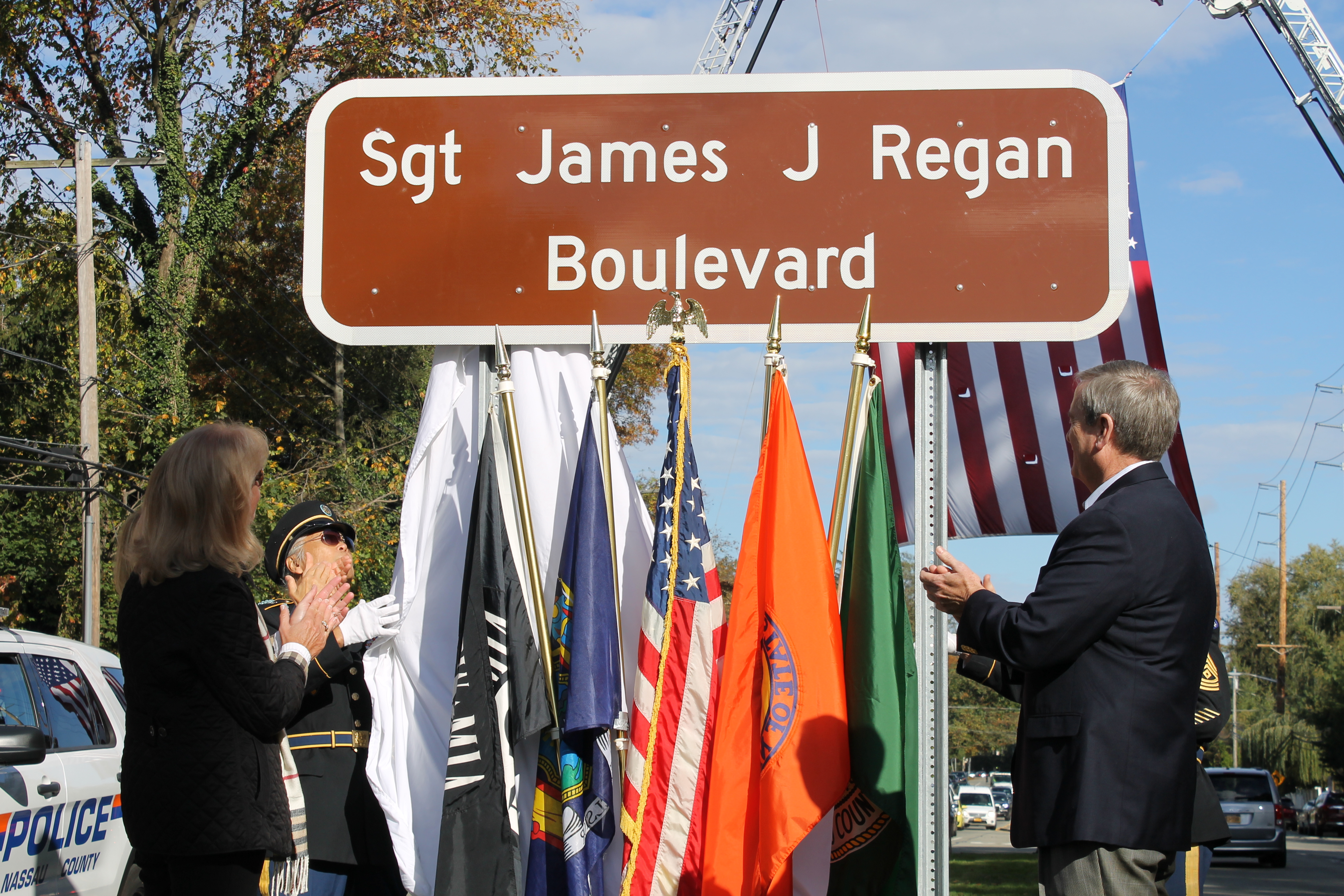 Phillips said James Regan, a lacrosse star at Chaminade High School, helped lead Duke University's lacrosse team to two Atlantic Coast Conference championships during his college years.
"Not only was Jimmy an inspiration while he was on the team, but to this day, he is an inspiration to the Duke lacrosse team where they wear his number, No. 10, on their uniforms," Phillips said.
After his death, Jim and Mary Regan founded the Lead the Way Fund to help Army Ranger veterans and their families, including a program to help soldiers transition back to civilian life after their return, post-injury support through the recovery and rehabilitation stages, a program to care for veterans and their families' emotional and spiritual needs as well as the Gold Star program for families of fallen Rangers.
According to Phillips, there are approximately 838,000 veterans in New York and 55,000 in Nassau County, including more than 3,000 who served in Iraq or Afghanistan.
"Recognizing this need, the Regans channeled their grief into something good, something amazing," Phillips said. "They honor James' life by dedicating themselves to helping his fellow Rangers."
Phillips and Assemblyman Anthony D'Urso, who was unable to attend due to illness, sponsored the legislation to rename a portion of Port Washington Boulevard between Northern Boulevard and Crabapple Road, near Regan's childhood home in Manhasset.
"The hope is when people drive by and see this sign, that for a moment, they will pause and wonder, 'Who is Sgt. James Regan? What did he do for our country?'" Phillips said. "They will take a moment to thank God and thank all of our fallen heroes."