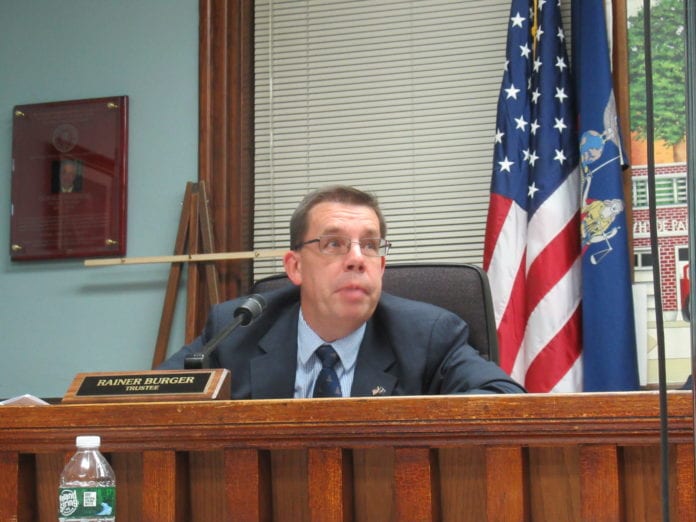 Work on the South 12th Street underpass and a substation on the corner of South 9th Street and 3rd Avenue in New Hyde Park is progressing as scheduled for the LIRR's third track plan, Trustee Rainer Burger said at a village meeting last Thursday.
"There are a lot of activities happening there," Burger said at a Board of Trustees meeting. "We do have the underpass that is being dug out right now."
The crews on the project are looking for a "push" in the middle of April, Burger said. Third Track Constructors, often referred to as 3TC, is the building firm working on the project.
Crews are continuing to excavate for the new pedestrian underpass on both the north and south sides of the tracks, the MTA said in a news release.
Following excavation, crews will begin to form the walls of the underpass, the MTA said.
A track outage is scheduled on April 24, Burger said.
The construction of the pedestrian underpass requires a double-track outage "bridge push," similar to the bridge push installations occurring on grade crossing eliminations as part of the project, the MTA said.
The underpass is scheduled to open in September, Burger said.
There is no night work scheduled for January but there could be some unexpected track work, Burger said.
"We've had our surprises so if you do see night work going on and you weren't aware of it please let us know," Burger said.
Burger also urged residents to call community hotlines for the project to ensure their concerns are documented.
Concrete pouring for the G14 substation foundations will occur this month, the MTA said.
Following the pouring and curing of the concrete, crews will return to the site to strip the concrete forms, the MTA said.
The substation structure is expected to be delivered to the site in March.