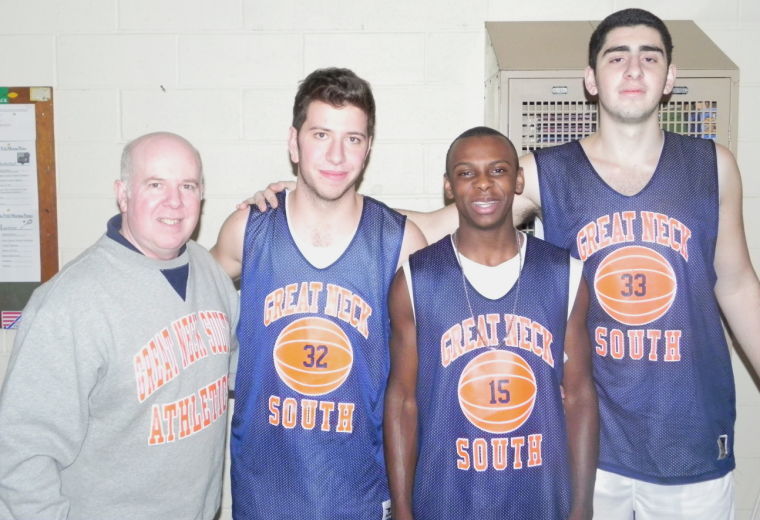 Mark Jason, Brandon Brown and Mitchell Finkel have been playing basketball together since second grade, and that childhood camaraderie is paying off for the Great Neck South Rebels.
Jason, Brown and Finkel are currently leading the Great Neck South varsity basketball team, which is first place in the AA-III conference with 7-1 record and a 9-2 record overall.  
Finkel, a 6'9" center, and Jason, a 6'3" forward, have posted gaudy numbers this season and helped make the Rebels a force on the boards.
As of December 31, 2012, Finkel was ranked second in Nassau County and sixth in Long Island for boys basketball rebounding.  Jason was ranked third in Nassau County and 10th in Long Island.  Finkel, averaging 11.7 rebounds per game, is only behind Mark Gjonlekaj of Roslyn, who averages 13.3 rebounds to Jason's 10.2  average.
As captains of their team, they attribute their success to their nearly lifelong bond and family influence.
Jason said he is influenced by his father's career with Great Neck North's football, baseball and wrestling squads through 1972 and the athletic achievements of his older brother David, who graduated in 2010 and played football, wrestled, ran track and also played for coach Stephen Leibertz in basketball. David was all conference in wrestling for Great Neck South in 2009-2010.
"My family has been my main influence, and an inspiration to keep playing over the years," Jason said.
Brown cited his father, Kenny Brown, as his influence to start playing basketball.  Kenny played basketball under Liebertz in the 1980s, and made varsity as a sophomore.
"Our depth is what gives our team an edge," Brandon Brown said.  "We have players on the bench that come in, who could start for other teams."
Finkel said he is influenced by his sister who played varsity basketball for Great Neck South all four years, and one of his cousins who played football, says the success they've had this season is a "team achievement."
Libertz credits the trio with developing their games and providing team-minded leadership for the Rebels.
'They've been doing a great job, I've known them for years and they're team players," Liebertz said about his team captains.  "They've come a long way."
Reflecting on Jason, Brown and Finkel's years as a trio on multiple basketball courts, Jason's father Paul, who has kept a close friendship with Liebertz since they played Kings Point Little League together as school boys, shared fond memories of their companionship.  
They first met 10 years ago while playing for the Police Athletic League (PAL), and then played in the Catholic Youth Organization (CYO) league for St. Aloysius in the Old Village of Great Neck in fourth grade along with James Smith, power forward on Great Neck South.  
Mark and Brandon won both the Nassau County and all Long Island CYO Championships in the fifth grade, where they were scouted and asked to play on an AAU Long Island Lightning Team for Coaches Tommy Ahern and Ernie Jones.  
Playing together, they went undefeated on their seventh and eighth grade Great Neck South Middle School teams.
While in eighth grade, Paul Jason, along with Brandon Brown's father Kenny, would alternate in taking them three days a week on weekday evenings to Rockville Centre to practice at the St. Agnes Gym and on Saturdays to Molloy College. Every Saturday, they would play a scrimmage game against the South Side Varsity team.
"These were eighth grade kids playing high school juniors and seniors, and they were giving them a good game and were winning," Jason's father said.  "The South Side Team couldn't believe these kids were in middle school at the time."
All three also played in AAU (Amateur Athletic Union) for the Long Island Lightning at the Island Garden in Hempstead.   
"They have honed their skills by playing travel basketball throughout the tri-state area and the east coast," Paul Jason said.
In addition to their athletic accomplishments, all three have excelled in academics.  Jason competed with the Great Neck South Robotics team at the National Robotics Championships this past May in St. Louis at the For Inspiration & Recognition in Science and Technology competition (FIRST), Finkel is an honor student taking multiple AP classes and Brown has been taking advanced mathematics since sixth grade and is currently enrolled in calculus honors classes. 
During the offseason, they all play together on the Great Neck South Island Garden Varsity League Team.
Finkel will be attending Pomona College in California to play for their Pomona-Pitzer Sagehens men's basketball team. Brown, a guard, and Jason are currently undecided in selecting a college or university to attend.