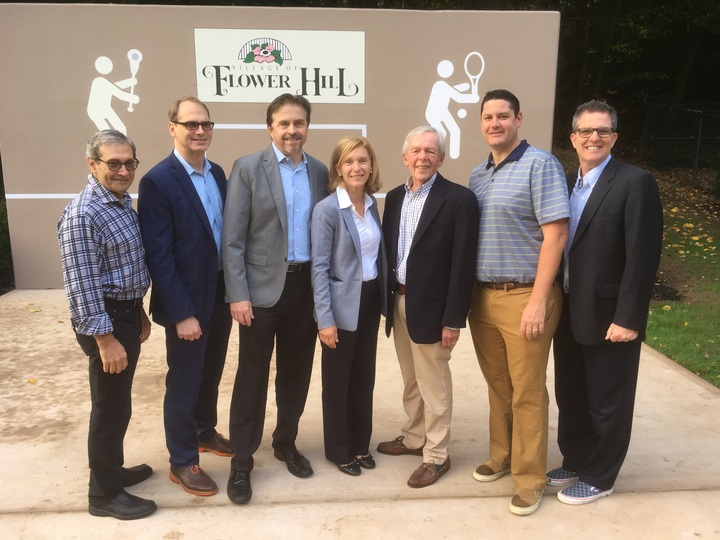 State Sen. Elaine Philips, Jack Martins, the Republican candidate for county executive, and the Flower Hill trustees gathered at Flower Hill Park early Monday morning for the opening of a new sports wall and swings.
The sports wall is a slab of cement that provides a place for residents to practice sports such as lacrosse and tennis by themselves. The swings are part of the existing playground.
"The sports wall — it's really turned out to something great," said Flower Hill Mayor Robert McNamara. "This park on the weekend is filled with residents. It's a great place."
The project was an important one for Phillips, who worked to upgrade the park during her time as Flower Hill's mayor from the beginning of 2012 through the end of 2016. As mayor, she oversaw projects to expand the playground and add a basketball court.
"When I was the mayor here three or four years ago, the idea was just to expand the more active part of the park," Phillips said. "And this area [where the sports wall is located] was kind of a dead area."
Martins set aside money for the park before he left office as a state senator at the end of 2016. Phillips, who succeeded him, saw the project through to the end.
There was also some landscaping done around the wall. Although McNamara raised the possibility of adding another bike rack, Phillips said this would likely be the last major addition to the park located along Port Washington Boulevard between Stonytown Road and Bonnie Heights Road. The only room to expand is a field near the boulevard, and Phillips said that part of the park should remain open.
Looking back on the evolution of the park, Phillips said she was proud of the progress that had been made.
"If you would have seen it before, it was a wasteland over here," she said.