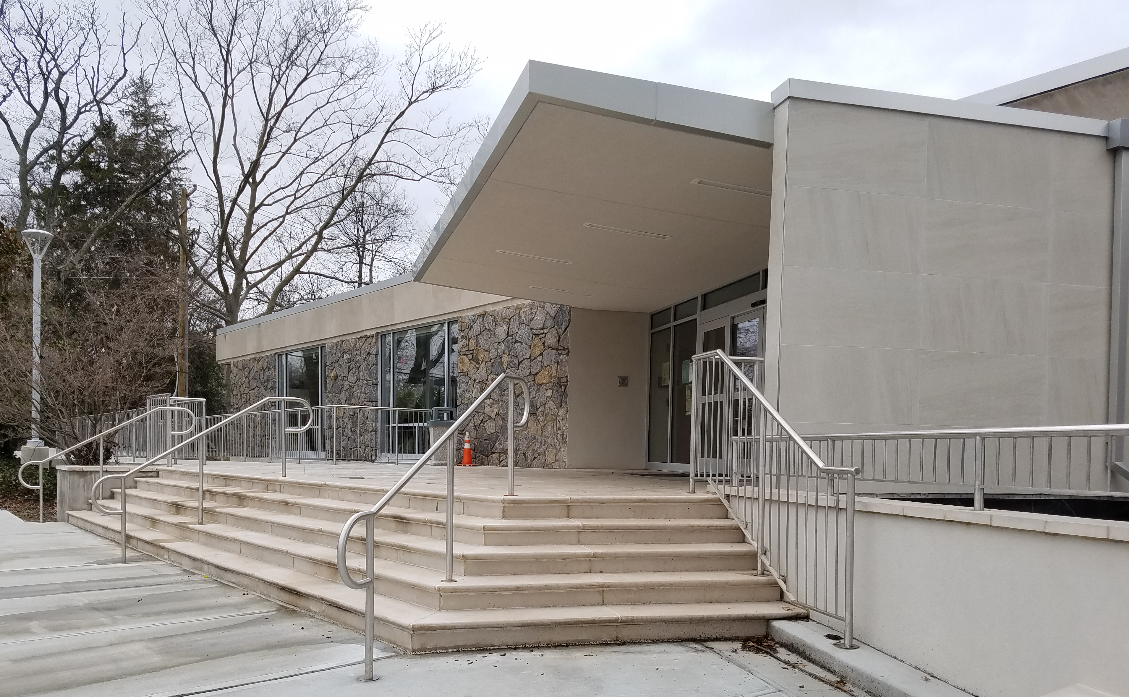 The Great Neck Library will be holding elections for four leadership positions on Oct. 30, with one of the races being contested.
Cheng Carey Ye, a candidate for Marie Franzoni's seat the Nominating Committee endorsed by the committee, faces a challenge from independent candidate Josie Pizer.
This election comes amid the search for a new library director after Kathy Giotsas' termination and the implementation of a new landscaping plan. It also follows the completion of multi-year Main Library renovations.
Pizer, an education consultant who serves on the board of Reach Out America, previously served as Great Neck Library trustee for eight years. She said that she hopes to continue giving back to the library.
"I am committed to working cooperatively and energetically with my neighbors and fellow trustees to present our entire community with library candidates who are forward thinking, diverse and committed to the growth of our library system," Pizer said in a statement.
Ye, an eight-year resident of Great Neck, has served as a board member of the Great Neck Chinese Association, the United Parent Teacher Council and the Saddle Rock Elementary School Parent Teacher Association and leads Cub Scout Pack 178.
In a statement, Ye said the Great Neck Library "provides quality materials and outstanding services" for the community and that library leaders have an important role to play.
"Members of the Nominating Committee are expected to be fair and open-minded with a clear vision for our library and continuing growth of our community," Ye said. "Members of the Board of Trustees are expected to be responsible and professional, with strong commitment, passion and team-working spirit."
Members of the Nominating Committee vet and recommend library candidates for trustee positions, but do not have the power to officially place anyone on the board of trustees.
Sam Gottlieb, who was endorsed by the Nominating Committee for Omer Soykan's nominating committee seat, is currently uncontested.
He is a financial advisor, attorney, and member of both Big Brothers Big Sisters of Long Island and the business development committee of the North Shore/L.I.J. Hospital Ronald McDonald House.
"The Library must continue to be a repository of free and readily-available resources to help our residents learn about our increasingly complex world," Gottlieb said. "Fulfilling this important mission requires that the Library be run by dedicated and committed individuals and I would be honored to assist in selecting these persons by serving on the Nominating Committee."
Nominating Committee terms are three years.
Meanwhile, Weihua Yan and Dr. Barry Smith were nominated to fill the expiring trustee seats of Marietta DiCamillo and Michael Fuller, respectively.
Trustees are responsible for all appointments, developing a strategic plan and overseeing management of the library and its programs.
Weihua Yan, a nine-year resident, serves as a board director of three companies and as the chief technical officer of yummybazaar.com, a company that curates international gourmet food. He also serves as a treasurer for Great Neck Cub Scouts Pack 178 and as a technology advisor for Apex for Youth, a nonprofit organization helping Asian youth in New York City.
Yan in a statement said that a library should serve as an "equalizer," and help people "pursue lifelong learning" and build relationships.
"It is a place to share and disseminate information about the community and the world," Yan said.
The Great Neck News also previously reported that Weihua Yan and Ye are listed as living in the same house and share an email address on WhitePages.
Smith is an emergency medicine attending physician at St. Francis Hospital and assistant professor of emergency medicine at Mt. Sinai School of Medicine. He is also a medical director for the Bureau of Fire, Bureau of Police and Empress Emergency Medical Interpreter Training.
In a statement, Smith said he believes the library has complimented Great Neck's "excellent school districts" and should provide a "wide and inclusive range of resources" reflecting the diversity of the community.
"To this end the library must continue to create new programs and improve our existing educational programs for all age groups," Smith said. "As a trustee, I will be steadfast in our joint pursuit of this system of educational excellence."
Trustee terms are four years.
Both the winners of the nominating committee and trustee races would take office in January 2018.
Residents living north of Northern Boulevard can vote at the Main Library at 159 Bayview Ave. in Great Neck. Residents living south of Northern Boulevard can vote at Parkville Branch, 10 Campbell St. in New Hyde Park.
Voting will take place from 10:00 a.m. and 10:00 p.m., with a board of trustees meeting following at the main library.