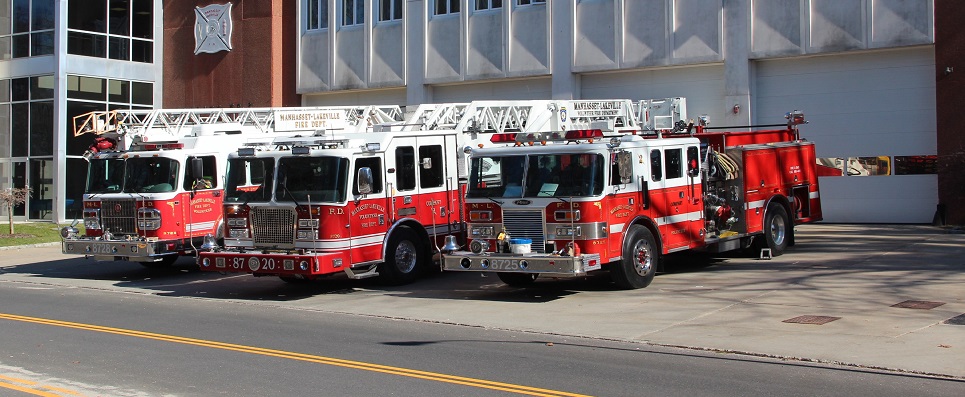 The Manhasset-Lakeville Fire Department wants the villages it serves to share building department data and records that would help firefighters make decisions as they approach an emergency.
The department has asked North Hills, Lake Success, Thomaston and Great Neck Plaza to give First Due Size-Up, a software program, access to the records so firefighters can better understand the scene of a fire or other incident, said Brian Stone, an assistant fire chief.
The software, a product of Garden City-based Locality Media, displays information about buildings' floorplans, construction, electrical systems and more in an easy-to-read format on fire departments' existing computers, said Andreas Huber, the company's co-founder and CEO.
"The most important thing for us is to have as much pre-incident information as possible before getting to the call," Stone said.
Fire departments could only gather such information for commercial properties by visiting them in person, Huber said. Information for residences has always been publicly available, but departments lacked a feasible way to gather it and put it in a database, he said.
First Due Size-Up aims to close that gap by pulling records into a central database that visualizes the information through an internet-based application, Huber said.
That can help firefighters make important decisions about how to fight a fire and determine how long before a building might collapse, Stone said.
"Fire chiefs have been asking building commissioners for information forever," Huber said. "And it's not that they don't want to share it for the most part; it's because there's no easy way."
The Town of North Hempstead and Nassau County agencies provide information to First Due Size-Up, but incorporated villages must give access separately because they have independent building departments, Stone said.
North Hills officials plan to provide the access, but first want assurances that the company will not share its data with anyone besides Manhasset-Lakeville, village Mayor Marvin Natiss said.
The village Board of Trustees hopes to approve access in January after getting a confidentiality agreement from First Due Size-Up, Natiss said.
"Manhasset-Lakeville will have the information they need, which will protect their firefighters, and that's the key," he said.
Huber said the program only offers a way to access the data and does not keep it or allow anyone but the relevant fire department to see it.
Manhasset-Lakeville has used First Due Size-Up since September and paid about $10,000 for it this year, Stone said.
The department is among more than 20 nationwide that have signed on, Huber said.
Other North Shore fire departments including Port Washington, Albertson, East Williston, Williston Park, Port Washington, Great Neck Vigilant and Great Neck Alert have signed on or started free trials, he said.
Officials in Lake Success, Thomaston and Great Neck Plaza did not respond to requests for comment.
North Hills also gets fire protection from the Roslyn Fire Companies for 183 properties in the Mews and Highpoint subdivisions there.
The village extended its contract with the Roslyn companies in August to include the Mews, which the Albertson Fire Department covered until it terminated its contract with the village in the spring.
North Hills' village Board of Trustees will hold a public hearing at its Jan. 18 meeting on a revised Roslyn Fire Companies contract that reflects the extra protection. The village would pay $59,523 under the new one-year contract, up from $53,844.37 under the current contract.
Reach reporter Noah Manskar by e-mail at nmanskar@theislandnow.com or by phone at 516.307.1045 x204. Also follow us on Twitter @noahmanskar and Facebook at facebook.com/theislandnow.