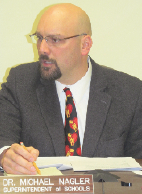 Mineola Superintendent of Schools Michael Nagler said at last Thursday's school board meeting he will conduct a walkthrough of district schools with school board trustees before proposing recommendations to upgrade school security at the next board meeting.
"We take the responsibility of our children's safety very seriously. We are looking to implement additional safety measures to make sure we are proactive in keeping our child safe," Nagler said.
Nagler said the school board received recommendations from Massapequa-based Intralogic and Bay Shore-based A+ Technologies on revising security measures in response to the Sandy Hook Elementary School shooting, 
Nagler said board Trustee Artie Barnett, who supports upgrading security in all district buildings, suggested the walkthrough. 
Their on-site findings along with the recommendations from the two consultants will determine a course of action, Nagler said.
"God forbid we fortify one building, and leave one out there – these measures we put in place I hope we never have to use, but they are necessary," Barnett said.
Security measures being considered include installation of additional security cameras, door-ajar notification, 'panic' buttons, card access doors and so-called "man traps."  
Nagler described "man traps" as secured vestibules that visitors pass through when entering district schools. Visitors' identification would be checked and their destination verified by a security officer before they could enter the premises. Door-ajar is an alert that sounds if an exterior door is opened.
Nagler recommended that the district begin with Mineola High School, and upgrade all buildings in "one fell swoop" at a cost of approximately $50,000. 
Nagler said the $50,000 would exclude "man traps" at the middle school, and the Hampton Street and Meadow Drive Schools, which Nagler said could not be covered in the current district budget. Nagler said the secure entry vestibules would be slated for next year's facilities upgrade budget.
Barnett said his primary concern is having the latest notification system in place at all buildings to enable alerting local law authorities if an emergency occurs.
"I'm not sure taking things one school at a time is best way to go, as opposed to getting our priorities done in all schools one step at a time," said Barnett, adding he suggested the walkthrough to "see what we're up against and what the costs are."
Security measures for after school programs, and special events such as Grandparents Day and the high school Senior-to-Senior Day, were also addressed at Thursday's meeting.  
"There is no good answer for that," Nagler said. "Security for after-school activities will be different then the rest of the day, and its the same for special events during school hours."
In other developments:
• Nagler said formulation of the school district's 2013-14 budget is "moving along."  He said he and Assistant Superintendent of Finance Jack Waters are "confident that we will deliver a budget that is less than 2.5 percent this year for the sixth year in a row."  
Nagler said they will not forfeit any programs, and will be adding a few items to their instructional expenses, along with new bus purchases, equipment and other vehicle purchases he has proposed.  
"Everything seems to be coming together, and we'll have more details at our next meeting on April 4," he added.
• Nagler updated the school board on the Meadow Drive School library expansion project, saying that it has "stalled a bit" due to weather conditions.  Nagler said he will attend a contractors meeting on the project next week.  Construction is expected to be completed by the end of June.
• Nagler announced that the district has received grants from state Sen. Jack Martins, one for $50,000 put towards the Jackson Avenue School's science lab, and another for $50,000 which Nagler said was later increased to $75,000 that was used to purchase iPads. That $25,000 increase is yet to be allocated, and Nagler suggested could be put towards security costs for upgrades discussed.
• Mineola High School students Kevin Merino and Bonnie Small performed their duet for the high school's musical production of "In The Heights" at Thursday night's meeting. The play is scheduled for March 15 and 16 at the high school. director Joe Owens played the keyboard as Merino and Small performed their piece entitled "Hundreds of Stories."