Progressive Gymnastics East in New Hyde Park is training a generation of ninja warriors.
Through the studio's ninja athletic warrior program, preschool to middle school students engage in a range of physical activities with the goal of improving their own fitness – not beating their peers.
"Our program helps athletes develop a greater understanding of the importance of exercise by providing them with challenges that require strength acquired through hard work and perseverance," said Antonio Rogers, co-director of the ninja warrior program.
While the program isn't centered around competing, on Sunday the studio held the United States Association of Independent Gymnastics Clubs Warrior Fitness Challenge.
There were no rankings for the 5- and 6-year-olds who competed earlier in the day, but the students got to learn about competition format.
For the children 7 and up,  the top three were named for each age group.
The first-place students were named champion and received a champion belt.
It was the first challenge of its kind on Long Island, according to Rogers.
Parents and siblings watched from the walls as the students faced various fitness tests around the studio.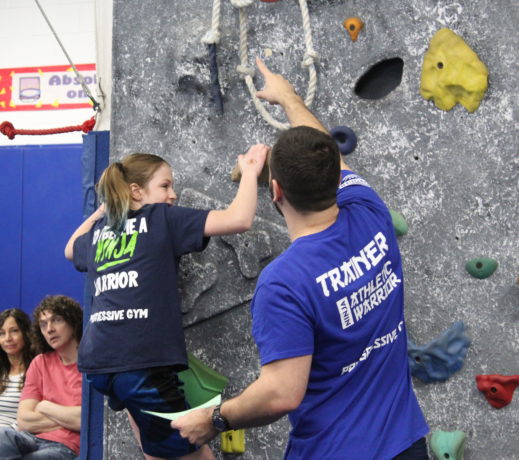 In addition to more conventional gymnastics activities, like tumbling, bars and balance beams, the students climbed rock walls and went through obstacle courses.
The courses are modeled after the "American Ninja Warrior" TV show on NBC.
Paul Spadaro, president of the United States Association of Independent Gymnastics Clubs, attended the competition.
Spadaro said the program was one of the best fitness programs he has seen.
The program, in its third year, is co-directed by Rogers and Alexis Valvis.
It was one of the first programs of its type aimed at children in the area, Valvis said.
She added that the children are hungry for the obstacle course feel.
The program and studio give them a safe place to challenge themselves, Valvis said.
Children can play around on the courses and equipment while they – and their parents – have peace of mind knowing the area is padded for safety.
But it's not all about fun.
"They work their butts off," Valvis said.
Rogers said the students trained for months for the challenge.
Sunday's competition was just for Progressive Gymnastic students, but in the following months the studio plans to host an open competition for students at other gyms.