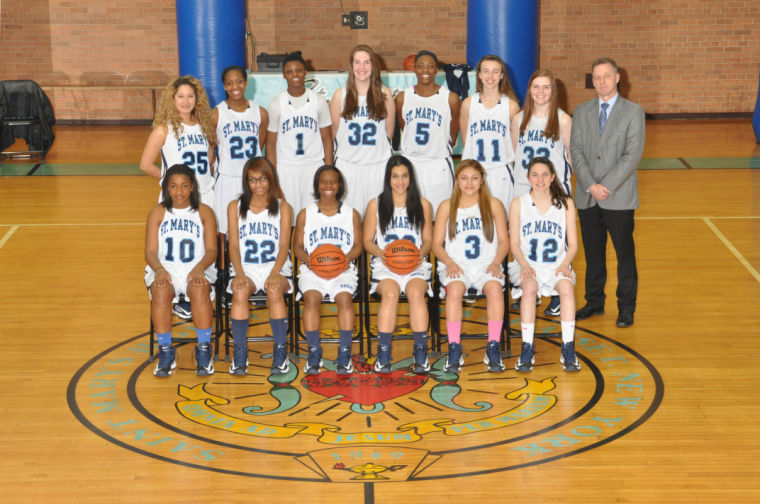 The St. Mary's of Manhasset varsity girls basketball team fell to St. Anthony's Friars, 48-36, in the Nassau/Suffolk CHSAA Basketball League championship game Sunday at Long Island University's C.W. Post. 
The Gaels (22-4) were undefeated in league play heading into the title game – including two previous wins over St. Anthony's The team,  which vastly improved on last year's mediocre 12-14 record, also qualified for the CHSAA AA state tournament and was slated to play Bishop Loughlin Wednesday, March 6, in the quarterfinals at St. Joseph's Hill Academy on Staten Island. St. Anthony's was scheduled to face play Archbishop Molloy at St. John Villa Wednesday in another state quarterfinal match-up.
Mei-Lyn  Bautista led St. Mary's with 14 points, leading a 11-1 run that brought the Gaels to within one at the half, 22-21.  The Friars then took control of the game in the third, outscoring St. Mary's, 17-9, in the stanza.  St. Mary's buckled down on defense in the fourth, but could get no closer, as the Friars matched their intensity and cruised to the win down the stretch. 
Jordan Augustus added 11 points, while McKayla Hernandez and Alyssa James chipped four points apiece .
The Gaels finished their regular season with a 68-42 victory over Holy Trinity on Senior Night. Bautista had 13 points in the Gaels victory over Holy Trinity.  Hernandez added 10 points, including two three-pointers, and Augustus chipped in six points, six rebounds and five blocks. All three players transferred to St. Mary's this year from The Mary Louis Academy in Queens.
 St. Mary's then towered over Our Lady of Mercy, 56-33, and Kellenberg Memorial, 50-45, to make their way to the diocesan championship. 
Alyssa James, who is one of the top-ranked seniors on Long Island, led the Gaels to victory over Kellenberg with 10 points, 18 rebounds, 12 blocks and 10 steals and again in defeating Our Lady of Mercy, scoring seven points with 13 rebounds and nine blocks. 
The Gaels are ranked among the nation's top 300 schools high school teams and 17th in New York State, according to MaxPreps.