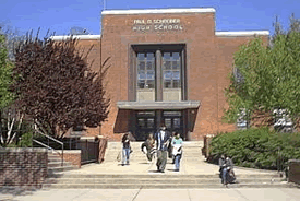 Swastikas and other language described as "derogatory and discriminatory" was found on the wall of a boy's bathroom at Paul D. Schreiber High School on Thursday.
"We are extremely saddened and deeply concerned by this incident," Port Washington School District Superintendent Kathleen Mooney said in a statement. "This behavior will never be tolerated and does not represent who we are as a school district and what we teach our children to be."
According to a statement from Schreiber Principal Ira S. Pernick, the graffiti was found in a stall of the boy's bathroom on the second floor near the social studies department. In addition to several swastikas, there were other anti-Semitic, homophobic and racial epithets.
The graffiti has since been cleaned.
The district said it was conducting its own internal investigation and would cooperate with a corresponding police investigation. Mooney said that the district was treating the incident as a criminal act and that the person responsible will be prosecuted to the fullest extent of the law.
"There will be no leniency afforded to anyone found guilty," Mooney said.
In response to the graffiti, the high school held an assembly on Friday to speak with students on the impact that such images has on the community. Parents were encouraged to discuss the matter with their children.
"I… want to signal to the rest of our student population that, together, we can promote the welcoming school culture all of us experience by standing together," Pernick said in a statement. He added that guidance counselors and other mental health faculty would be available to speak with any students disturbed by the graffiti.
The high school endured a similar incident last year, when a swastika was drawn on the wall of one of the boy's bathrooms. This summer, three swastikas were drawn on a car in Port Washington and on one side of Syosset High School.