Gov. Andrew Cuomo announced Friday a $72 million state investment for economic development projects, and Northwell Health was one of the three Long Island organizations chosen.
The state will allocate $30 million for the Center of Bioelectronic Medicine at the Feinstein Institute for Medical Research in Manhasset as well as $30 million to establish the Neuroscience Research Complex at Cold Spring Harbor Laboratory in Suffolk County as well as $12 million to help build the College of Veterinary Medicine at LIU Post in Brookville.
"These investments will further strengthen Long Island's key economic assets and pave the way for its future prosperity," Cuomo said. "This funding will help enhance research capabilities, foster the creation of new jobs, and help build a stronger and more prosperous Long Island for decades to come."
The $30 million for the Center for Bioelectronic Medicine was planned for the Nassau Hub development but was reallocated to the Feinstein Institute a day after Nassau County Executive Laura Curran denied a lease renewal for Blumenfeld Development Group of Syosset.
Northwell Health officials determined the Nassau Hub was not the best location for the center because of its needs for specialized space, hospital proximity and a cooperative work environment for scientists and researchers.
The center is currently housed at the Feinstein Institute, where bioelectronic medicine is being researched and invented regularly.
"The $30 million award announced today will permit Northwell Health to continue to grow the Feinstein Institute for Medical Research as one of the major national and international centers focused on bioelectronic medicine, which combines implanted computer technology with next-generation analytics to use the body's own neural pathways to fight and cure disease," Northwell Health CEO Michael Dowling said.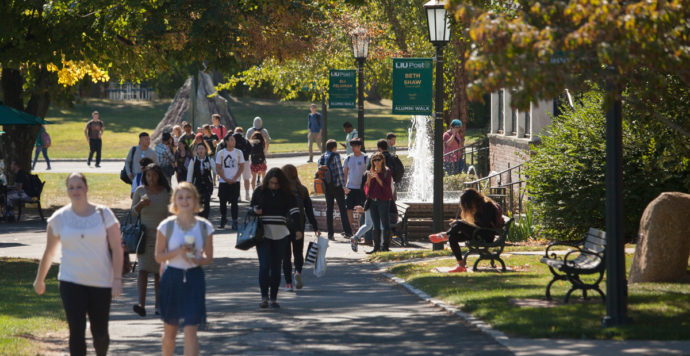 The LIU Post funding will help create the metropolitan area's first academic program offering a Doctor of Veterinary Medicine degree and will establish the fourth veterinary school in the Northeast alongside Cornell University, the University of Pennsylvania and Tufts University.
Nationally, there are only 30 veterinary schools with approximately 4,100 slots for students, sending many potential veterinarians to international schools.
"I want to thank Governor Cuomo for supporting the LIU College of Veterinary Medicine, which will have transformative impacts for our region and the nation," Long Island University President Kimberly Cline said. "Investing in the nation's newest veterinary college and the first in the New York metropolitan area is a transformative event for Long Island University, for the region, and for animal health, which will create great New York jobs and research opportunities."
The $12 million in state funding will go toward the $40 million construction plan for the approximately 47,000-square-foot college. Construction is expected to begin late this year with a potential opening in September 2019 for an initial 100 students and a projected 400 students by the fourth year.
Dr. I. Carmen Fuentealba will be dean of the College of Veterinary Medicine.
"Creating a veterinary school within miles of one of the world's great cities will be hugely attractive for prospective students, faculty and researchers," Fuentealba said. "Our goal is to create an animal health science and research center that builds on Long Island's life sciences corridor and has a major influence both regionally and beyond."