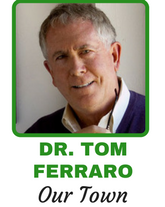 I was interviewed by the one and only Ann Liguori last Saturday  to help explain the benefits of a new golf product called Shoetips.
You may be familiar with Ann Ligouri from her WFAN days when she hosted "Hey Liguori, What's the Story?"
She was the first woman to host her own show on that famous all-sports radio station and that's when I got to know her.
She always took an interest in my psychoanalytic view of the athletes and we always had an easy conversation about the inner workings of guys like Tiger Woods, Mike Tyson and Dennis Rodman.
Ann now has a radio show from 9-10 a.m. Saturdays broadcast out of Peconic Public Broadcasting out on the East End of Long Island and as I prepared to do the show I thought it might be a good idea to interview her about her successes and about being a pioneer in sport broadcasting, a celebrity, an author and someone who is considered one of the most important female sports journalists in America.
It is not an exaggeration to say that Ann launched my media career.
Back in 1996 I was putting together a conference called America at Play at the Nassau County Medical Center.
I invited big-name athletes, sports broadcasters and psychologists to discuss the world of sports from a psychological perspective.
Christine Brennan of USA Today suggested I invite Ann to speak and she was gracious enough to do so. And thanks to her appearance and her ability to spread the word I have been getting calls from TV and radio producers ever since. That's the magic of Ann Ligouri.
So I thought it was high time to return the favor and arranged through her publicist to interview her about her start back in Ohio and her road all the way to the top of the sports broadcasting world.
It is exceptionally easy to talk to Ann.
She has great energy, warmth, wit and intelligence and is able to talk at length about many a subject.
She told me that both her parents started out in humble beginnings but both became professors and writers.
She was raised with her older brother to compete in sports and she became a 16 letter athlete in high school competing in volley ball, baseball, track and tennis. IN fact she player number one on the boy's tennis team and it was there that she learned how to compete with men.
This goes a long way in explaining how she became so dominate in sport broadcasting, an area jam packed with testosterone and maleness.
She had an academic scholarship to University of South Florida where she learned broadcasting.  And since then she has had the successful TV series "Sports Innerview with Ann Ligouri, hosted her WFAN show for many years, hosted her own show on Golf Channel called "Conversations with Ann Liguori," written a book called "A Passion for Golf: Celebrity Musings About the Game" and has written for a wide variety of newspapers including USA Today,.
She also is the founder and president of Ann Ligouri Foundation which raises money for cancer prevention and research in honor of her brother who passed away from leukemia.
In a word, Ann is a force of nature.
So I was particularly interested in how she rose to the top of her profession.
She told me that success is all about hard work, preparation, passion and honesty.
She also emphasized that there are no shortcuts on the road to success. It is all about persistent hard work and focus.
I recall many years ago she told me something I have always remembered.
She said when you are trying to connect and establish a relationship with someone that "it is never about the first phone call you make to someone but about the second call."
It is rare that I will be impressed by statements of any kind but I always remembered that bit of sage advice.
But in some way all the discussion of hard work, passion, persistence and honesty does not really get to the real secret to Ann's rise to the top of her field.
What I think is the actual secret is her generosity of spirit and goodness. She was the broadcaster who talked at my conference. She is the founder of a golf huge charity event each year that brings together an impressive group of people.  By playing in her event I got to meet Kate White the editor of Cosmopolitan Magazine.
I got to chat with NFL Hall of Famer Emmitt Smith and listen to MLB super star Tommy John tell me how he very rarely had his 'A' game and that his real talent was in learning how to win with his B, his C and his D game.
So I think the best way to explain Ann Liguori's overwhelming success is to understand how generosity of spirit is the real key.
Yes indeed it helps to be hardworking, highly intelligent and have passion for what you do but her real secret is having lots of love in her heart that she is not afraid to give to others.
God bless you Ann Ligouri.