A defining moment for an athlete is a point at which the essential nature or character of the player is revealed to all.
It tends to be characterized by an extreme of bravery, beauty, courage or kindness. These rare moments in sports are more transcendent than induction into the Hall of Fame or the podium awards at the Olympics because defining moments are surprising, unscripted, powerful and spontaneous.
One cannot predict when a defining moment is about to occur and for most athletes it never does. But on a special rare occasion, the crowd is treated to such a moment and it will become iconic and talked about for many years.
In 1965 when Mohammed Ali was 23 he knocked out Sonny Liston in 1 minute and 44 seconds of the first round and Neil Leifer of Sports Illustrated snapped what some say in the greatest sports photo of the century.
There was a young and powerful Ali towering over Liston who was flat on his back and beckoning him to "get up and fight, sucker!" That gesture of triumphant confidence is what you call a defining moment that only brazen youth is capable of.
In 2014 during the Ryder Cup golf witnessed a defining moment when Patrick Reed shushed the crowd at Gleneagles.
As he slowly dismantled Europe's Henrik Stenson to the shock and dismay of the European crowd, Reed decided to turn the tables on them with a shushing gesture every time he won another hole. This shushing gesture came to represent Reed's sheer will power, boldness, tenacity and humor and eventually earned him the nickname "Captain America."
We were treated to yet another defining moment closer to home during this year's 2019 U.S. Open at Flushing Meadows in New York City. In the 4th round of the women' singles matches the defending champion and number one seed Naomi Osaka from Japan faced the 15-year old American phenomenon Coco Gauff in front of a sold-out crowd of 24,000 excited fans at Arthur Ashe Stadium.
Nearly everyone present was pulling for Coco and what made this matchup even more emotional was that the crowd recalled last year when Osaka was greeted to loud boos during the awards ceremony because she had the nerve to beat Serena Williams.
Such is the way of sports and fan attachments.
Reed faced hostility when he beat Stenson during his Ryder Cup matches in Europe and Osaka faced hostility when she beat Serena Williams. And this year it was back to the future again with Osaka facing yet another hostile crowd all pulling for the young American sweetheart.
In the event, you have been hiding under a rock and have not heard what happened let me be the carrier of good news. Osaka beat Coco which in some way was inevitable.
Post-match interviews always take place on the court following the match with the winner being interviewed in front of the crowd and the loser slouching her way back to the locker room to cry in private.
But this time Naomi Osaka whispered something into the ear of Coco and insisting that she be interviewed first by telling Coco it would be better to express her feelings to the crowd and that the crowd wanted to hear from her.
After that is was all tears from Coco and then from Osaka. When the mic was placed in front of Osaka the interviewer said what everyone in the crowd was thinking "Wow, you really are a class act Naomi!" Which of course she is.
Even though Naomi Osaka is a mere 21 years old herself and actually just starting out on her tennis career, she has defined herself in a brief two minute period as gracious, generous, kind and humble.
That moment was like the other two defining moments I described. It was spontaneous, unpredictable, emotionally charged and iconic.
Such is the value of competitive sports. Because sport is so public and yet so emotionally personal in nature it offers opportunities for these defining moments to occur. Iconic moments like the three described define not only the players involved but these moments also define what it means to be a real human being. Mohammed Ali showed us that humans can have savagery yet beauty.
Patrick Reed showed us that humans can have incredible tenacity and yet be humorous. And Naomi Osaka showed us that one can be a champion and yet be extremely humble at the very same time. Such is the wonder of sports.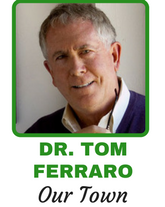 So let us take a moment to say thanks to the transcendent Mohammed Ali, Patrick Reed and Naomi Osaka for providing the world examples of what it means to be a real human and a real champion at the very same time. And that's not an easy thing to do.