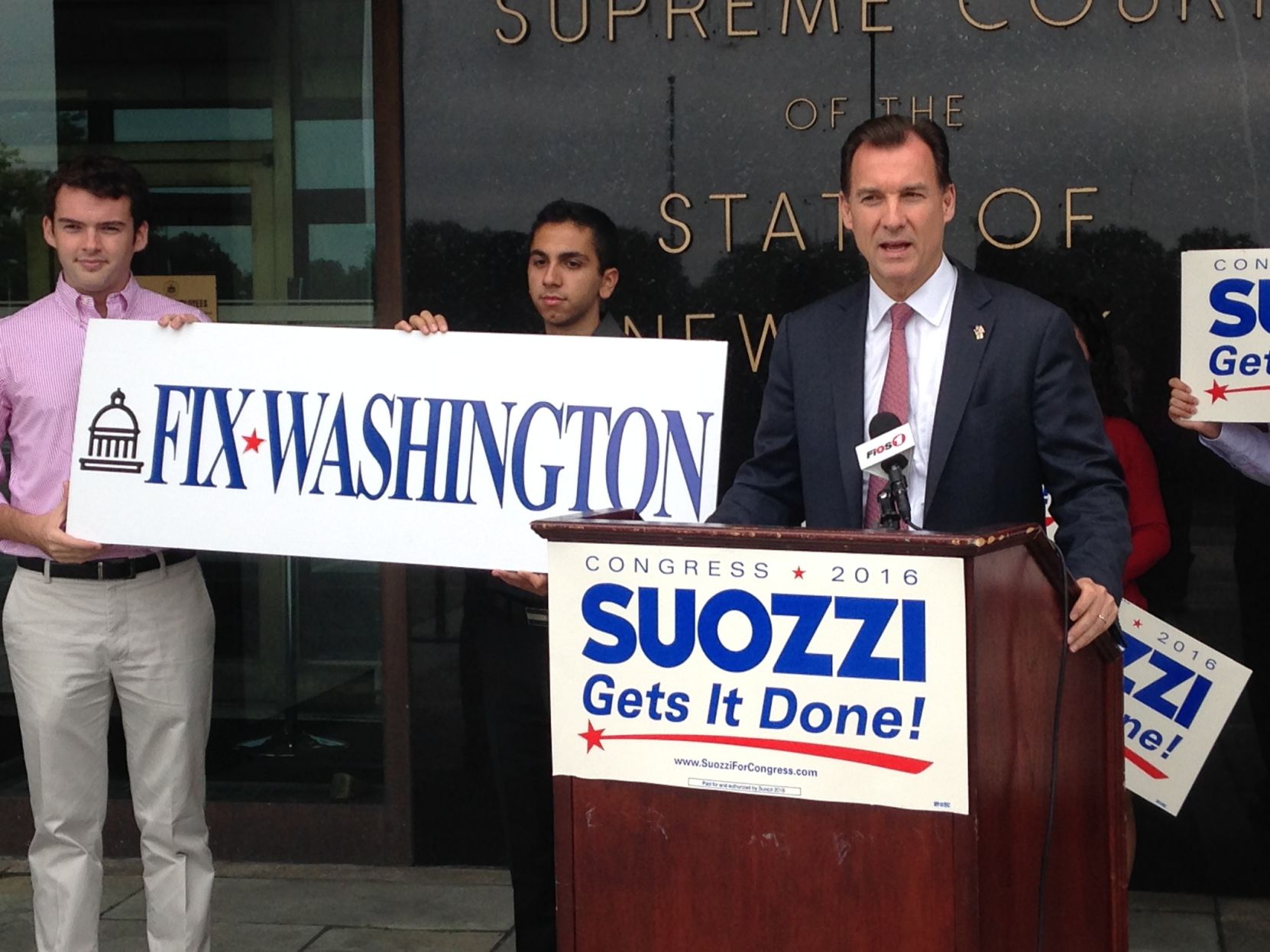 Democratic congressional candidate Tom Suozzi is trying to run on a "Fix Washington" ballot line to attract 3rd Congressional District voters who won't want to pull the lever for a Democrat, he announced Monday.
Suozzi's campaign will file a petition with "thousands" of signatures with the state Board of Elections in Albany to run on the line, which stands for his pledge to find compromise and solve problems in a polarized Congress, he said.
Suozzi also slammed as "hypocritical" attacks by the National Republican Congressional Committee and state Sen. Jack Martins, his Republican opponent in the North Shore district, on property tax hikes Suozzi implemented as Nassau County executive. Martins raised Mineola's property taxes 31 percent as mayor, Suozzi said.
"Fighting about who raised property taxes is not the way to fix the problems in Washington, D.C.," Suozzi said. "It's a cynical little game by a bunch of phony-baloney hypocrites."
Named after his 2004 "Fix Albany" campaign to reform the state Legislature, the "Fix Washington" line is an effort to attract Republican, Conservative and Independent voters exasperated with a Congress that gets re-elected despite few results and low approval ratings, Suozzi said.
The line will come with policy positions on issues such as campaign finance and congressional redistricting which Suozzi will flesh out in his campaign, he said. 
Suozzi similarly had a "Team Glen Cove" line when running for mayor of Glen Cove, his home city.
The Board of Elections must find at least 3,500 registered 3rd District voters signed Suozzi's "Fix Washington" for it to accompany his Democratic line on the Nov. 8 ballot. If it does, Suozzi still will have fewer ballot lines than Old Westbury's Martins, who will be on the ballot for the Republican, Conservative and Reform parties.
Calling him "Taxin' Tom," the NRCC and, to a lesser extent, Martins' campaign have slammed Suozzi in recent weeks for raising property taxes 19.4 percent in 2003 and 3.9 percent in 2005, taking a $65,000 raise and imposing an unpopular 2.5-percent home energy tax during his eight years as county executive.
Suozzi called those attacks "sheer, utter hypocrisy" because Martins voted for six property tax increases as mayor of Mineola to rein in the village's $33 million deficit and voted to increase his mayoral salary 61 percent from $18,000 to $29,000.
Suozzi's tax hikes helped bring Nassau from the brink of fiscal collapse in the early 2000s and led to 13 bond rating upgrades, he said.
"The record's clear. I did the right thing," Suozzi said.
But E. O'Brien Murray, Martins' senior campaign strategist, said higher taxes "did nothing to right the ship in Nassau County." 
Martins was re-elected as Mineola's mayor and as a state senator multiple times, Murray said, while voters "overwhelmingly rejected" Suozzi in 2009 and 2013 after he implemented the home energy tax.
"If he can't fix Nassau County, what makes him think the voters want him to try to fix anything?" Murray said.
Chris Pack, an NRCC spokesman, called Suozzi's bid for a "Fix Washington" line "laughable" and said Suozzi is "trying to deflect from his record of raising taxes on Long Island families."
"There is only one candidate in this race who has cut taxes and that's Jack Martins," Pack said in an email, pointing to tax cuts Martins fought for in the state Senate.