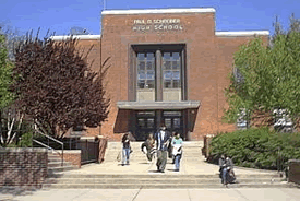 Around 300 Port Washington students will perform at the Tilles Center for the Performing Arts in the Port Washington District Choral Festival on March 13.
Student musicians in fifth to 12th grade, for the third annual festival, will perform for each other, as well as family, friends, teachers and staff and community members.
The last two festivals featured the district's orchestra and band programs.
All of the students will close the concert with a newly composed piece by Sara Carina Graef, a composer who has performed around the country and teaches music at California State University, Los Angeles.
According to a news release, "Graef has written works for different ages and genres that have been performed throughout the United States and Europe."
The performance will incorporate the school district's yearly theme, "Igniting the Light of Learning."
Graef's composition and appearance, a release said, was funded with help from the Ed. Foundation, a nonprofit group that supports educational initiatives.
Students and teachers from the choral program will also collaborate with Graef "for a close interpretation of her work, as well as learning about her compositional strategies," the release said.
The district said the performance was made possible by the Arts Education Program at the LIU Tilles Center for the Performing Arts in Brookville, and is co-sponsored with a grant from Helping Enrich the Arts in Port Washington, a community organization that supports and promotes arts in the school district.
"The district thanks HEARTS and LIU Tilles Center for their continued support of our districtwide arts events," Kevin Scully,  Port Washington director of creative arts, said. "Partnerships like these are a hallmark of the Port Washington community. We are extremely grateful."
"Once again families, community members and music enthusiasts will have the opportunity to marvel at our talented young singers," Superintendent of Schools Kathleen Mooney said. "We are extremely appreciative and proud that so many of them will experience the joy of performing and premiering a renowned composer's work on one of our area's grand stages."
The event is open to the public and admission is free.
The district also announced that another musical performance, the school's All-District Band and String Festival, will now be held in the Sousa Elementary School gymnasium.
The festival, which will take place on March 1 at 7:30 p.m., was originally scheduled to be at Weber Middle School, but with renovations to Paul D. Schreiber High School, the high school musical was forced to move to Weber.