At 13 years old, Ching Sun Wong came to the United States from his poor Chinese village with just two things: the ability to make noodles and a desire to bring "noodle culture" to a larger audience.
Now nearly 70 years later, Wong, the founder of Wonton Food Inc., has opened Ren Wen Noodle Factory at 7 Great Neck Road in Great Neck Plaza to do just that.
"His dream is to open a noodle restaurant that can serve everybody," Alice Mok, the vice president of marketing and finance for Ren Wen Noodle Factory, said, "transcend all the genders, transcend all the nationalities, all the ages."
Stanley Kwong, the president of Ren Wen Noodle Factory, said that when designing the eatery, they aimed to showcase both a friendly and homey feeling and the quality of materials used in making their noodles.
"Ren means people and 'wen' means culture, so it's the worldview, what people think, what people love. And here, we want people to have the like-mind of 'we like noodles," Kwong said. "So this is a place where noodle lovers could come together and enjoy good noodles. We also try to convert non-noodle lovers into loving noodles."
Robert Barbach, an architect who was recommended to Wonton Food for developing the project, said he and the owners discussed how they could best go about presenting "the noodle culture."
"These were two old commercial spaces that needed to be completely removed so that we could come in and start and put in what you see as a fresh face," Barbach said. "We had the balance of the ability to come and pick up for take up and have a comfortable dining area. But this will also serve as a base of operations for sales."
A mural at the center of the eatery depicts a row of people talking together and enjoying various dishes, as well as founder Ching Sun Wong smiling in the center. Anyone walking by could also look inside to see the open space.
"The idea was when you drive by at night and you see the lights glowing, this is going to be very warm and welcoming," Barbach said.
The menu features a variety of small plates, dumplings, broth noodle bowls and sauce noodle bowls like "lightning pork," a 10 piece noodle mixture featuring minced pork, sichuan peanuts, gochujang and vidalia onion, and "fire noodles" for those seeking a spicy flavor.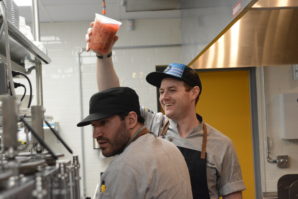 Emmett McDonough, the head chef at Ren Wen, said that when developing the dishes he dove into cookbooks, eateries in Flushing and Chinatown, and also worked closely with his colleagues.
The result was a "playful" but also serious menu.
"We wanted it to be slightly playful, but serious enough for people to enjoy our food – but playful so they could have a good time," McDonough said. "We're a fast-casual restaurant that serves a finer style fare than your normal fast-casual."
The Great Neck Plaza-based restaurant will also likely be the first of many, according to Mario Arena, the vice president of operations and culinary development for Ren Wen Noodle Factory, with a second location opening this June in Forest Hills, Queens. Other locations are also being looked at.
But, Arena said, Great Neck had a particularly unique draw with its diversity, location and people.
"This is the ideal location for any restaurant to come and open up in," Arena said. "We love the people here, we love the culture, and we're here to stay."
Ren Wen Noodle Factory is open from 11:30 a.m. to 9:00 p.m. seven days a week. For more information, call (516) 809-8889.