The Roslyn Rotary Club honored Roslyn High School senior Devin Rosenthal as the January Student of the Month and senior Spencer Lazar as their February Student of the Month at a luncheon on Feb. 15.
Rosenthal's community service has included working in the auditorium crew, running and executing several community-based performances including the Annual benefit Fashion Show, the Wounded Warrior Fundraiser concert, college presentations and school concerts.
He has also volunteered at the Chabad of Port Washington Hebrew School as an office assistant and teacher's assistant where he has designed a computer program to organize and track student attendance, constructed a physical card-key entry system to track each student's entry into school which populates information into an attendance program, assisted office manager with general clerical duties, including ensuring each class has proper materials for class, photocopying, filing, basic office organization, accompanying teachers in classrooms and aiding in executing projects assigned to students.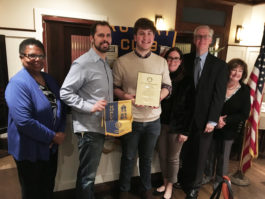 Lazar's community service has included serving on the Sinai of Roslyn Teen Youth Board as religious and cultural vice president, creating organizing and leading various temple youth events including recycling, Mitzvah Day, "Torah at your Table" sessions, participation in CANSTRUCTION food drive & competition, volunteering at NYC Soup Kitchens.
He volunteered and acted as Teen Coordinator at Hand in Hand Program at Temple Sinai of Roslyn scheduling and running activities for teen volunteers and children from the Dept. Homeless Services.
He led and planned professional development sessions among the teens. Lazar also volunteered at SUNY Downstate Medical Center doing data entry, filing medical charts, transporting patients by wheelchair, dispersing information and reading to patients.
He was a volunteer summer counselor at Sunrise Day Camp, a camp for children with cancer and their siblings.