In this the second of a three-part series on horse racing we shall talk about the life of a jockey.
These tiny super athletes are the guys who put their life on the line every day for our entertainment. And they really are small people. They all hover around 115 pounds but other than Petey Anderson they all look well-proportioned and well dressed.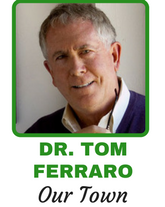 I remember playing golf against Willie Shoemaker up in Saratoga back in the 1960's and I asked him what size his golf shoes were. He told me "kids size 13", I get them custom made."
My family has been part of the racing world for three generations so I've been around jockeys my whole life.
It's an insular world that takes care of its own. I grew up playing golf with Eddie Arcaro and Willie Boland and the stories I've been told amazed me as a kid.
Arcaro once told me of the time an Arabian prince invited him onto his yacht off of Miami Beach and the prince asked if he wanted to hit golf balls off the deck.
Eddie said sure and the next part of the story nearly destroyed my mind. Arcaro said that there was a servant who would unpack sleeve after sleeve of brand new Maxfli golf balls, placed them on a tee and Eddie and the prince would hit them out to sea.
That story still hurts me to tell. In today's money that's about $4 a shot. Wow, what a waste! Arcaro also told me a few of his gambling exploits with the prince. He had a match one day at La Gorce Country Club in Miami with the prince and Jackie Gleason.
They were betting insane amounts and when they got to the 18th green Eddie had a two-foot putt to win $15,000. Remember this is back in the 1950s so let's say the putt was worth about $150,000.
His body froze up and he could not bring the putter back so he asked Gleason what he should do. Gleeson said " Just walk up to the putt and as you walk by it hit it without stopping."
Arcaro hits the putt way too hard, it smashed into the back of the cup, bounces into the air and then goes it. Such is the life of the jockey.
Lots of action at every turn and as I said last week the world of racing brings together celebrities, athletes, the rich and of course Everyman.
Last week I lined up an interview with one of the great journeyman jockeys Mike Luzzi at Belmont Racetrack.
We sat in the Jock's room right next to one of those mechanical Equicizers they use to get fit and we explored his past, the tricks of the trade and the lifestyle of the jockey.
Mike, like so many in the game, was introduced to race riding by his family.
His granddad was the famous trainer Buddy Raines and Mike's older brother was also a jockey. He started riding seriously at age 16 at Delaware Park Racetrack but soon came to New York to compete against the big boys like Angel Cordero Jr. and Chris Antley.
Mike Luzzi won the Eclipse Award as Outstanding Apprentice Jockey of the Year in 1989, has since won over 3,400 races, is 48 years old, weighs 113 lbs. and is still going strong. He told me that each rider has a different style and a different "seat" as he races and that he can tell who the jockey is just by the way they look on a horse.
I asked him to comment on some of the great race riders. He said Pat Day was small, light on the horse and very patient.
He said Cordero was like Arcaro and would ride low on the horse and raced fearlessly. He said Jose Santos was a very smart rider who never showed his hand.
Then I asked him about who may be the greatest female athlete in history, Julie Krone. She has ridden many of our horses and I have many fond memories of her.
He told me that Julie was socially gifted and that what the public may not know is that one of the key traits of a jockey is to be able to communicate well with both the owners and the trainers.
This reminded me of something Jerry Bailey told me many years ago when I interviewed him for a television show.
Bailey said his career turned around only when he learned to talk and communicate well with the owners and trainers and that his rise to the top of racing had more to do with changes in his verbal skills than his physical skills.
You will note that now Jerry Bailey does color commentary on TV during all the Triple Crown races.
Luzzi told me that as a jockey you must do your homework before the race, you must listen and then collaborate with the trainer, and after the race you must be honest, give needed feedback to the trainer and be able to take your share of criticism since the jockey is often blamed for the loss.
I asked about strategy during a race and he said one always has Plan A which is developed with the trainer.
However at the beginning of a race Plan A may be lost in a bad break and therefore Plan B must be employed which comes down to knowledge, awareness and instinct.
This reminded me of the time I spoke with Al Leiter, the great Mets pitcher who told me "An athlete's real talent is to be able to win with your B, C or D game. Winning is all about making adjustments on the fly because you rarely have your A game working."
And the last thing Mike Luzzi and I spoke of was diet.
I recalled how Laffit Pincay Jr would take the red eye from California to New York, traveling first class and would have two peanuts to eat.
He would cut them each in half and then again in half so he would feast on those 8 little peanuts during the flight and sip water.
Such is the life of the jockey. Luzzi told me that the days of eating and purging are long gone. "We are now in the era of Tiger Woods where you exercise, consult a nutritionist and watch your diet religiously. Jockeys are now far stronger and more fit then they have ever been.
Such is the world of big time professional race riding. Tiny warriors with flat stomachs and big hearts.
Thank you Mike Luzzi for all the memories and for all the thills.