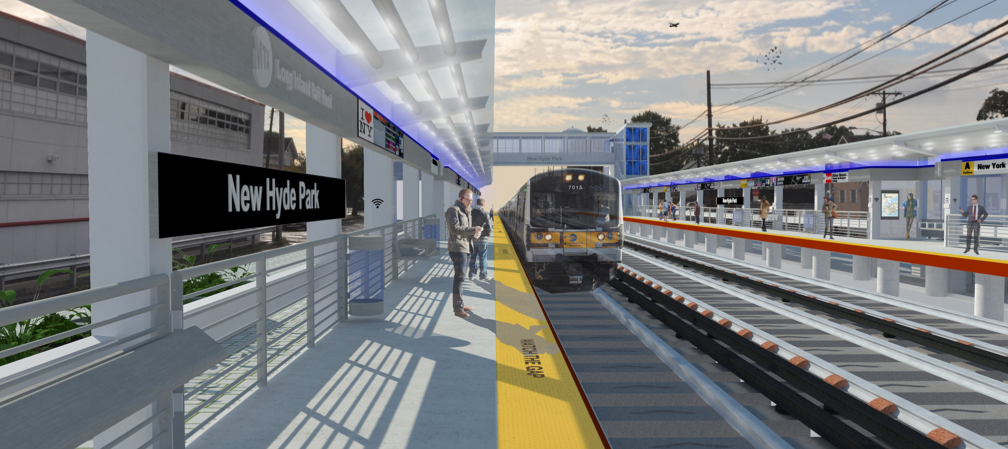 The Long Island Rail Road's third track project could bring some renovations to Floral Park's train station — if residents and officials there ask.
The station is not among the five along the 9.8-mile corridor slated for fixes as part of the LIRR's $2 billion plan to add a third track along a key stretch of its Main Line, according to a draft environmental study released last month.
But planners could add it if they receive enough formal public comments asking for fixes, project officials said.
It is uncertain what kind of renovations the elevated station could get, but civic leaders and village officials say handicap accessibility would be an important component. The station has an escalator but lacks an elevator and is not wheelchair accessible.
The changes are badly needed for disabled train riders, young families and seniors, and would sweeten the deal for Floral Park, said Nadia Holubnyczyj-Ortiz, president of the village's Hillcrest Civic Association.
"We need to have a backup plan, otherwise it's all going to go by and we're not going to get anything," said Holubnyczyj-Ortiz, who uses a wheelchair.
The LIRR has started a $121 million renovation at the Hicksville station, the busiest on Long Island. 
Upgrades at five others — Mineola, New Hyde Park, Merillon Avenue in Garden City, Westbury and Carle Place — would include handicap accessibility fixes, waiting rooms and longer, wider, heated platforms, according to the LIRR's environmental study.
Project officials have previously said Floral Park would not get such upgrades because work would start east of the station itself. 
But public feedback has led planners to avoid taking residential property and eliminate the seven street-level crossings along the corridor, among other elements, officials said.
"The modifications and developments in this proposal since its announcement in January demonstrate that it is truly a reflection of months of discussion and input from local officials and communities throughout the project corridor, and we encourage the public to continue to comment on the draft environmental study that was released last month," Shams Tarek, a project spokesman, said.
The LIRR will collect comments on paper, electronically and at six public hearings in January before closing the comment period Jan. 31. It will incorporate them into the final environmental study of the project, due out next year.
Holubnyczyj-Ortiz started publicly advocating in September for handicap accessibility at the station. She is now publicly encouraging other residents to submit written comments asking for renovations, which will make them more likely to be included in the final environmental study, she said.
Floral Park Mayor Thomas Tweedy wrote a villagewide letter published last week saying the LIRR has a "moral and legal imperative" to make the station handicap accessible.
Holubnyczyj-Ortiz and other civic leaders have criticized Tweedy and village officials for not negotiating with project planners to get more benefits for the village if the project goes through.
She still has reservations about the project, but not working actively to get station fixes would be a missed opportunity for the village, she said.
"If you're not putting this out there then you're not advocating for your village, period, and anything else is going to be too late," Holubnyczyj-Ortiz said.
Tweedy rejected the assertion that he has not been an active player in talks with project planners.
He has criticized the LIRR for not maintaining the Floral Park station, complaining about cracked concrete and broken stairs.
Tweedy and other village officials have advocated for handicap accessibility for years and brought it up with planners after the project was first announced, he said. Planners have since maintained that station renovations are outside the project's scope, he said.
Tweedy said he thinks the railroad should make the station accessible outside of the third track project, not treat necessary repairs as a bargaining chip.
"They have a moral compunction to do it," he said. "It shouldn't be part of the deal. They should have done it already."
Project officials say the Floral Park station was not included the scope of this project because of local opposition to work proposed in the LIRR's 2005 larger plan for a third track between Queens Village and Hicksville.
Four tracks already run through Floral Park, so work to make room for a third track is not necessary there, but is required at the other stations along the corridor, project officials say.