Confused about THC and THCa? You have come to the right place for answers.
While unheated cannabis won't get you high, there's a misconception that raw weed can.
To clarify, heating increases potency, while eating raw weed doesn't cause a high. The THCa vs. THC debate creates confusion, so fact-checking is crucial.
Wondering why THC produces a high but THCa doesn't, how THCa converts to THC, or if raw cannabis is a superfood?
Find answers here. Discover more about THCa vs. THC and make an informed decision.
While we debate which is better- THCa vs. THC, we must address the elephant in the room- What is THC?

THC stands for delta-9-tetrahydrocannabinol. It is a naturally occurring compound found in the cannabis plant, particularly in the flowers and leaves.

THC is the primary psychoactive component of cannabis, meaning it is responsible for the "high" or intoxicating effects associated with marijuana use.

When consumed or inhaled, THC binds to cannabinoid receptors in the brain and central nervous system, triggering various physiological and psychological effects.

These effects can include relaxation, euphoria, altered perception of time, increased appetite, and impairment of memory and coordination.
Although THCa is the precursor of THC, scientists first discovered delta-9 THC in 1963. For some reason, it took researchers a little longer to discover THCa.

The early interest of researchers was to study hash and charas imported from Europe. Since THC acids slowly convert into THC during storage and processing, they could not discover the cannabidiolic acid earlier.

Nonetheless, THCa was discovered in 1965 by Professor Friefhelm Korte from the University of Bonn. He discovered this acid form of THC as a major constituent of hashish.

Recently, researchers have found that THCa amounts to 90% of the total THC content in cannabis extracts. When heated appropriately, about 70% of this acidic form changes into THC.
THC vs THCA? Difference Between THC And THCA
Regardless of the similarity in their abbreviated names, THCa vs. THC has an altogether range of differences.

Tetrahydrocannabinolic acid is an inactive compound in the trichomes of freshly harvested and living weed plants. On the other hand, THC is a psychotropic compound.

Notably, THC is the active version of THCa and is absent in freshly harvested cannabis. Although both THCa and THC have similar chemical compositions, THCa has an additional carboxyl group. Therefore, you can think of THCa as the potential precursor of THC.

Unlike THC, THCa molecules cannot bind with CB1 or CB2 cannabinoid receptors in the human body. Due to the additional carboxyl group, THCa's large three-dimensional shape does not correspond to the CB1 receptors.

For psychoactive effects, a cannabinoid must bond with the CB1 receptor. Due to the inability of THCa to do the same, THCa cannot get you high.

Moreover, the most common misconception about weeds is that there is a lot of substance present in the plants before harvesting.

However, living plants only accumulate THCa. In the battle of THCa vs. THC, this THCa has to be converted into THC.
THCA To THC: Chemical Conversion
There is no natural THC in raw weed plants but only THCa flower. So, where does THC come from? Making THC requires its acidic form to undergo chemical conversion.
In uncovering the story of THCa vs. THC, a new chapter of converting THCa into THC comes up.

It is simple and involves the decarboxylation of THCa.

Decarboxylation is a chemical process employing heat or light to remove carboxyl groups from the primary cannabinoid.
By decarbing the THCa crystalline, inactive cannabinoids can react with your endocannabinoid system.

THCa converts to THC only if decarbing takes place. Moreover, without the process, no beneficial nutrients will reach your body despite many THCa benefits.
THC works in our bodies because of its specific molecular structure, while THCa remains ineffective for the same reason.

So, when THCa converts to THC, it gains that chemical structure our endocannabinoid receptors can use.
After converting into THC, the compound holds the perfect shape for the body's CB1 receptors.

You can only experience the euphoric effects of weed after this chemical bond is made.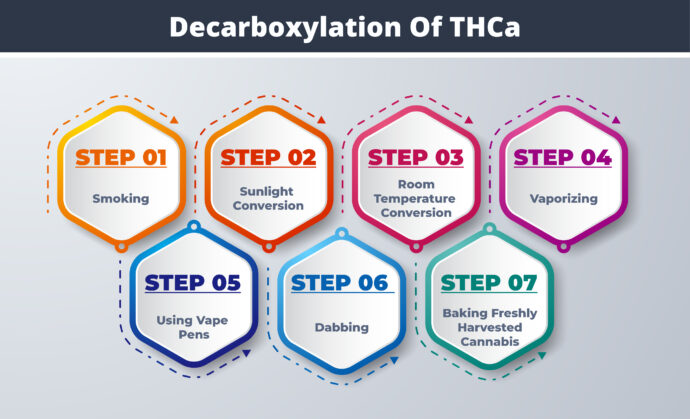 THCa converts into THC once it is heated by boiling and drying. Hence, the preparation of marijuana for edibles includes the decarboxylation process.

However, there are several techniques for carrying out this process. Let's unpack some of the ways in which you can decarboxylate your raw weed.
If you want the therapeutic benefits of THCa without the high of THC, there are plenty of ways. Since THCa is a compound in cannabis with high bioavailability, the number of ways to consume it only depends on your creativity.
You can eat the raw cannabis plant, like leafy green vegetables, by adding it to juices, salad dressings, salads, or sauces.

However, as a beginner, you must not overly use the plant in your diet as doing so may have side effects.
Another popular method of consuming THCa is by drinking raw cannabis juice. Apparently, cannabis influencers are behind the raving trend of cannabis juices.

All thanks to their influence, it is easy to find cannabis drinks on the menus of cannabis shops and cafes.
Nonetheless, it does not mean you cannot make it in your kitchen. It's pretty straightforward to make raw cannabis juice. All you need to do is to follow the same process of making kale juice.

However, the recipe needs to use cannabis leaves instead of traditional leafy greens.
Since the juicing process does not involve heat or light exposure, there is no conversion of THCa into THC. Therefore, cannabis consumers can savor THCa for medicinal purposes without the involvement of THC.
In addition to other methods, you can use raw cannabis tincture of edibles available on the market. These pre-made products contain high levels of THCa, including other cannabinoids.
Importantly, the main advantage of using these ready-made cannabis items is they have precise dosing information labeled on the product.

Therefore, if you consume these products, you will know how much cannabinoids, THCa or THC, are getting into your body.
Cannabis juicing and raw eating trends have a drawback: you cannot estimate the concentration of cannabinoids you ingest using these methods.
Uncovering THCa vs. THC- Does THCa Get You High?
Humans and some animals have special receptors in their bodies in the endocannabinoid system.

This system is responsible for maintaining homeostasis in the human body, which also impacts the central nervous system, immunity, and other critical systems.

Studies show that THCa does not bind effectively to CB1 and CB2, the two primary ECS receptors. However, it does not reflect that THCa is useless in the body.
Notably, sublingual and oral consumption of THCa allows cannabis users to gain benefits without decarboxylation. Due to this, THCa enters the body without converting it into THC.
According to researchers, there are some mechanisms by which cannabinoid acids work in the body.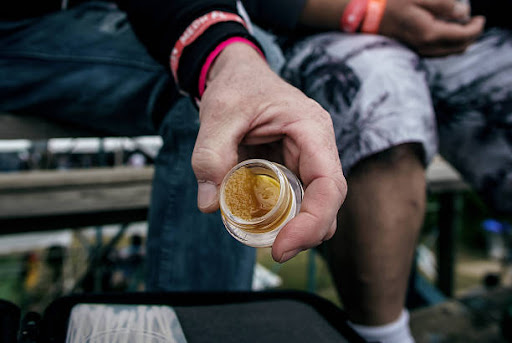 There is not enough research on THCa as scientists are still studying the working and benefits of this cannabinoid. However, the research shows the promising benefits of THCa as a potential therapeutic compound.


Some of the strong and researched benefits of THCa are:
Since cannabis is federally illegal in the United States, there is limited ongoing research on THC. The clinical data is mostly anecdotal or stated by practitioners in states where cannabis is legal.


However, there are some primary benefits of THC that one can experience after decarbing raw cannabis strain.
Consuming Cannabis – Raw Strain
Generally, raw cannabis works much differently than decarbed one. The cannabinoid acids like THCa are stored in the adipose tissues of our body.

Mainly, adipose tissues are known as body fat that is present in different organs.
So, when you consume raw cannabis, the THCa in the plant takes four to eight weeks for full saturation in body fat.

Once adipose tissues completely absorb all the cannabinoid acids from your meal, you will experience full medicinal effects.

Therefore, consuming cannabis juices can increase the daily intake of cannabinoids without fearing the high THC.
What Is A High THCa Percentage?
It is common for budding cannabis enthusiasts to get overwhelmed with the potency calculation. Basically, one cannot determine the potency of a product or meal just by looking at the percentage of THCa in it.

Unfortunately, no single standardized method is available to cannabis consumers in the industry yet. Therefore, manufacturers do not have a clear method for presenting testing data to consumers.

Hence, reading lab reports and even product labels becomes tricky.
In a simplified manner, we'll say that each method gives a varied potency value even for the same sample of cannabis.

Generally, both these techniques involve the use of different amounts of heat, which affects the decarboxylation of cannabis.
Since gas chromatography employs high temperatures, most of the THCa content in the raw cannabis converts into THC.

Whereas, unlike GC, liquid chromatography does not demand high temperatures for testing THCa levels.
Consequently, these testing techniques show diversified potency values for the same strain and sample amount of cannabis.

We suggest you talk with your dispensary staff to learn how the potency of specific products will impact your THCa experience.
THCa, a precursor to THC, makes it crucial for cannabis consumers to calculate the potency before consumption. Although THCa is a non-intoxicating cannabinoid, considering the strain's potency will help you control its dose.

As we have mentioned earlier, gas chromatography is the only method that uses high temperatures for decarboxylation, unlike liquid chromatography.

Even though it effectively decarb the sample, constant heating and decarboxylation lead to a significant loss in sample weight.
Although the true amount of THC is difficult to estimate, research suggests that 30 to 70 percent of THCa in the plant may not change during smoking.
Does THCa Add To The Total THC?
No, THCa does not add to the total THC content in the specific strain or products of cannabis plants. Only about 70% of the 90% of THCa is converted into THC upon appropriate heating.

Therefore, it depends on the method you choose for decarbing your cannabis, which ultimately decides its total THC content.
Does THCa Make Living Cannabis a Potential Superfood?
Many people consider raw cannabis an effective superfood because of the high THCa content in live plants.

Since the research has revealed the beneficial compounds of cannabis, budding cannabis chefs are incorporating live cannabis leaves and buds for culinary purposes.

Besides huge levels of THCa, raw cannabis contains a wealth of nutrients, including minerals, enzymes, vitamins, and healthy fatty acids.

Therefore, cannabis juicing is a worthwhile consideration for many cannabis enthusiasts around the globe.
THCa is part of a hot trend of becoming the desired cannabinoid for great recreational pleasures.

Moreover, the emergence of this cannabinoid in medicinal fields and culinary circles is hyping its worth as a versatile marijuana phytochemical.
Final Thoughts On THC VS THCA
To wrap up, consuming raw weed won't produce a high due to the lack of active THC.

THC detox methods can help eliminate weed from your system. There are valid reasons why people choose to consume marijuana in its raw state, primarily because of THCa molecules.

Conversely, heating or decarboxylating cannabis converts THCa into THC, resulting in a euphoric high. Regardless of how you consume it, understanding the plant's properties is crucial.

In the end, only a handful of cannabinoids among the numerous compounds in cannabis are genuinely vital for human health.